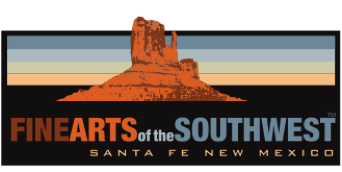 © 2010-2021 by Fine Arts of the Southwest, Inc. All rights reserved.
Unauthorized reproduction or use is strictly prohibited by law.

A lovely historic Navajo silver hollow-form
button ring by Austin Wilson, c.1930's-1940's
Austin Wilson (1900-1976) was one of the giants of 20th Century Navajo silversmithing and this beautiful ring is
fully indicative of the outstanding overall quality of his work. Wilson spent the majority of his career working for
the prominent Indian Trader, Charles Garrett (C.G.) Wallace (1899-1993), where he created many of the great silver masterpieces Wallace supplied to Museums and important private collections around the country.
This beautiful ring has several of the signature characteristics of Wilson's work, highly-accomplished and extremely sophisticated hollowform fabrication and precisely-executed and profuse decorative stampwork designs. The beautiful flower stampworked design in the center of the ring encircled by a border of crescent designs bears this out well.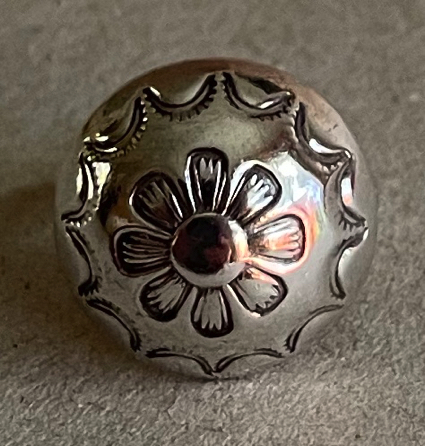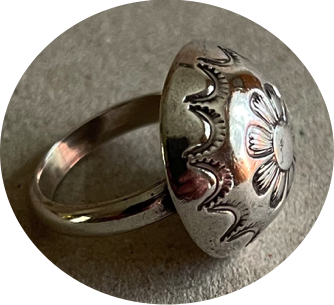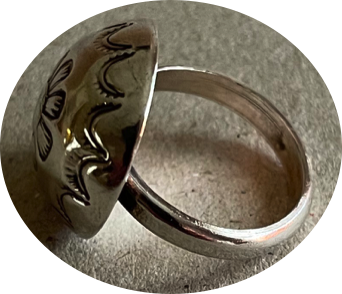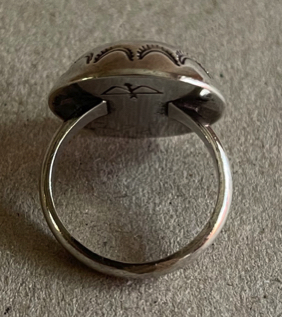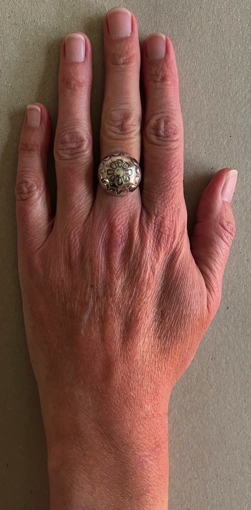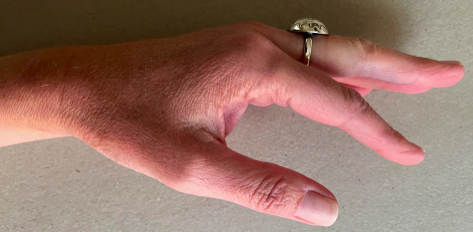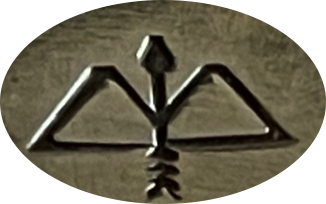 The ring measures 3/4" across its face and it is a size 6 1/2 measured on a professional graduated ring sizer.
It weighs an extremely comfortable 6 grams or 1/4 ounce. It is in excellent original condition and it is properly signed on the interior with Austin Wilson's distinctive bow and arrow insignia. Wilson was one of the very first historic Navajo silversmiths to sign his work consistently and his hallmark is well-known as a guarantee of the finest quality silverwork.
This ring is a lovely, easy to wear piece by one of the greatest Navajo silversmiths in history, a piece to be worn with pride. Wearing this ring will help you attain the Navajo ideal state of "Walking in Beauty".
Price $875