© 2010-2021 by Fine Arts of the Southwest, Inc. All rights reserved.
Unauthorized reproduction or use is strictly prohibited by law.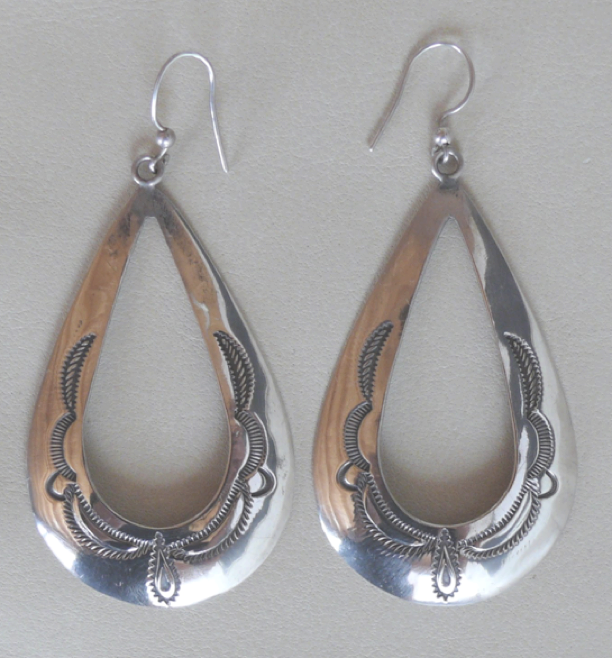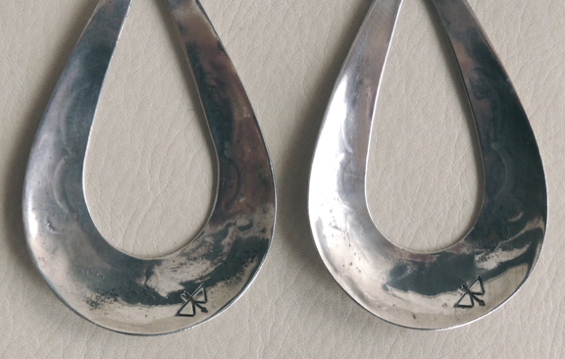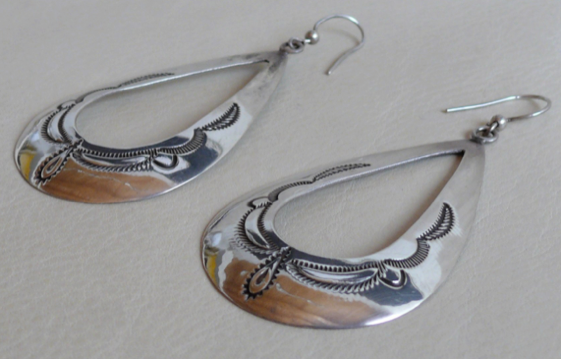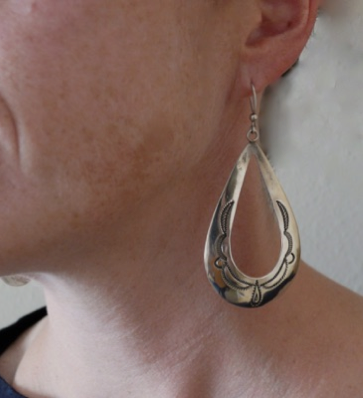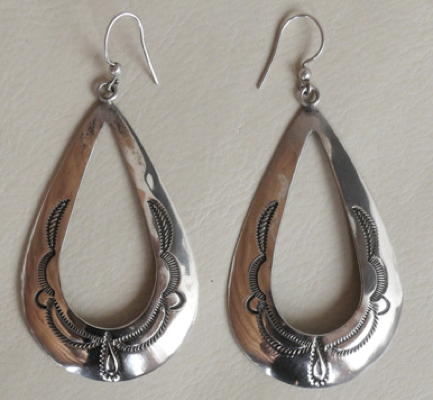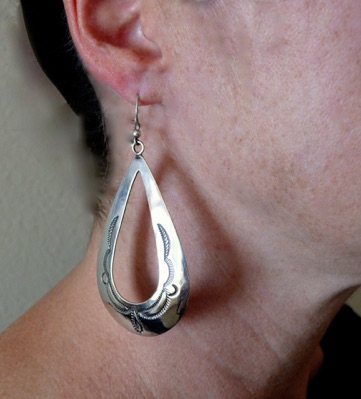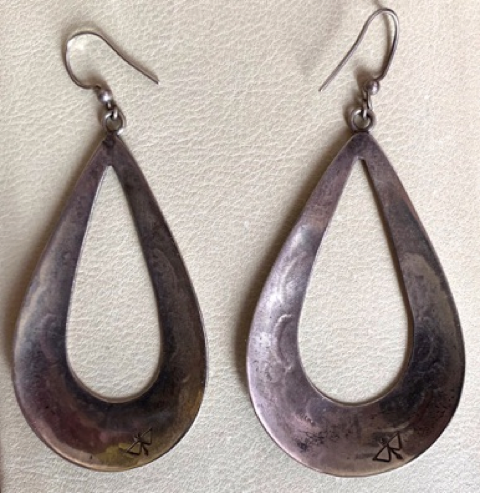 An extremely fine and dramatic pair of vintage Navajo silver dangle earrings by Austin Wilson, c. 1940's
Austin Wilson (1900-1976) was one of the finest and most influential Navajo silversmiths of the 20th Century.
He spent his silversmithing career working in the Gallup region of far Western New Mexico, primarily for the famed Navajo and Zuni Pueblo Indian trader, Charles Garrett (C.G.) Wallace (1896-1992) and also for another influential local trader, Charles Kelsey who managed the important Charles Ilfeld trading concerns in and around Gallup. 
Wilson's work is characterized by its remarkable eye-popping visual presence and the traditional beauty of its silver, and its near-perfect, often highly-detailed stampwork and repoussee decoration. Wilson's craftsmanship is always flawless and his often-daring conceptual ideas such as the remarkable swooping shape of these sculptural earrings are often exceptionally creative and completely original. The elongated loops of these earrings are most subtly and gracefully shaped, lightly repousseed all the way around giving them an unusually beautiful way of catching the light and a great visual grace, elegance and openness. This is extremely difficult to do, requiring a remarkable degree of skill and concentrated effort. In addition to his obvious silversmithing skills, Austin Wilson was also a gifted teacher, his most accomplished students was his clan nephew, the now world-renowned master Navajo Silversmith, McKee Platero (b.1957).
These very dramatically-sized earrings measure a full 3 1/4" in length from the top of their hanging loops to the
bottom of the earrings and they are 1 1/2" wide at their widest point. The earrings weigh an extremely comfortable and surprisingly light for their size 7 grams or 1/4 ounce each. The earrings are in excellent original condition and are properly hallmarked with Austin Wilson's distinctive bow and arrow insignia on the back of both earrings. We have had three other pairs of Austin Wilson's hanging loop earrings over the past 35 years and this pair is undoubtedly the finest.
Perfect with an evening gown; just as perfect with jeans and a tee-shirt.
Price $1,150