© 2010-2022 by Fine Arts of the Southwest, Inc. All rights reserved.
Unauthorized reproduction or use is strictly prohibited by law.

A wonderful framed collection of seven painter's
palette knives owned and used by Taos Modern artist, Beatrice Mandelman, c. 1940's-90's
This unique fine art presentation piece is a wonderful transformational tale about artist's tools long used for years by an important American artist to make beautiful works of art eventually becoming beautiful artworks in their own right.
The story actually involves not one but two famous Taos, New Mexico artists. First and most significantly, is the important Taos Modern painter, Beatrice (Bea) Mandelman (1912-1998). Bea Mandelman was a real pistol, a dynamic and powerful artist whose abstract modernist paintings literally pulsate with explosions of energy and color.
These seven artist's palette knives were regularly used by Mandelman over the course of her long career in Taos to help create her paintings and works on paper. And, after many years of doing so, each of them has become in fact a miniature painting in its own right, a wonderful if somewhat accidentally composed Beatrice Mandelman Abstract Modernist painting.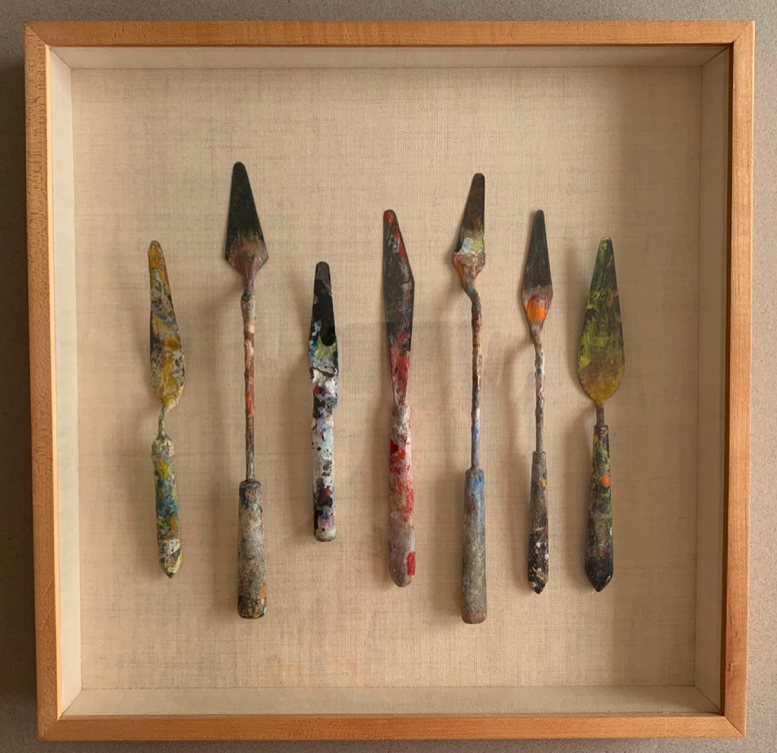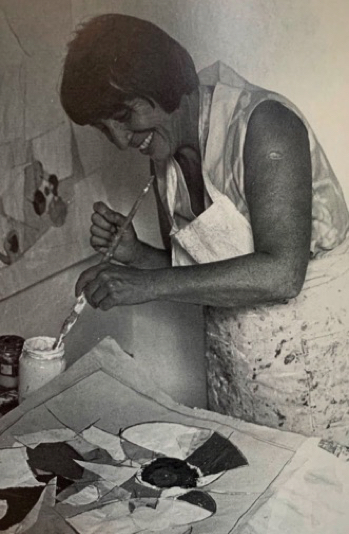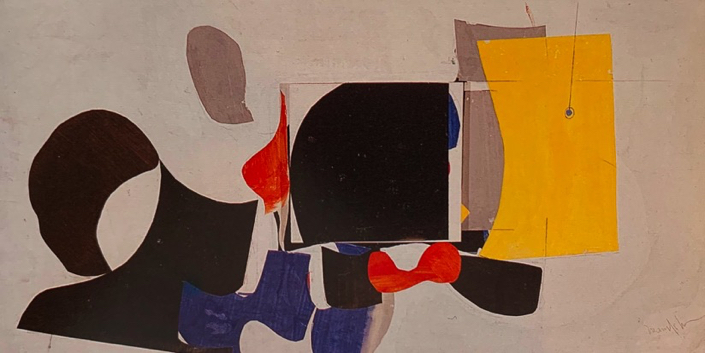 At left, Beatrice Mandelman c. 1970's. Above, Beatrice Mandelman,
"Torchlight", c. 1960's, acrylic, collage, masonite, 23 7/8" x 48".
Photo sources and © "Beatrice Mandelman, Taos Modernist" by Robert Hobbs, University of New Mexico Press, 1993, pp. 86, 93.

…the mystery of the land and sky, and the light of Taos, that's what it's all about. How does one relate to this vast, vast emptiness of the landscape?
How does one dare to take that experience and put it into an expression?
-Beatrice Mandelman, 1993
Quotation source and © "Beatrice Mandelman, Taos Modernist"
by Robert Hobbs, University of New Mexico Press, 1993
The second artist involved here is the well-known and highly-accomplished Taos and Santa Fe Native American artist and officially recognized Native Treasure, Tony Abeyta (Navajo b.1965). Abeyta recognized the artistic and historic value of these palette knives and purchased them from Beatrice Mandelman's Taos estate after her death and then had them beautifully mounted and framed in this lovely fabric-lined light maple wood shadow-box style frame. We acquired the piece directly from Tony Abeyta's Taos Gallery in 2005.
The frame measures 15 1/2" in height by 16" in width and is 2" in depth. It is in excellent original condition with a handwritten notation by Tony Abeyta on the reverse. This framed collection of what are essentially miniature Beatrice Mandelman paintings is a unique, exceptionally creative and historic artistic presentation and an impressive and compelling piece of art in itself to behold; a wonderful and fascinating part of the long and distinguished legacy of art in Taos.
To view several Beatrice Mandelman works on paper available on our website, please click here.
Price $1,150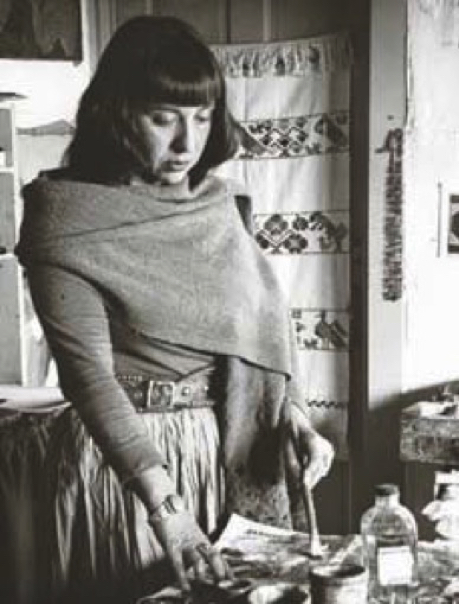 Beatrice Mandelman working in her Taos studio, c. 1940's
Photo source and © wikipedia