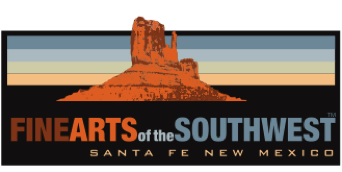 © 2010-2021 by Fine Arts of the Southwest, Inc. All rights reserved.
Unauthorized reproduction or use is strictly prohibited by law.

A very beautiful, contemporary inlaid Sterling silver Southwestern cuff bracelet by Brett W. Bastien, Santa Fe
Do you actually have to be a Native American to make great Native American jewelry? In strictly technical by the book Santa Fe Indian Market terms the answer is yes, but in real-world artistic terms it is most definitely not the case.
And numerous excellent examples abound. Take French-Moroccan born master Southwestern, jeweler Evelyn (Eveli) Sabatie (b. 1940) whose chance meeting with renowned Hopi jewelry artist Charles Loloma at a Hopi laundromat in 1968 turned into an apprenticeship and a subsequent long career as an outstanding Southwestern jeweler. Or Arizona Native arts dealer, Jerrold Collings, who through direct apprenticeship became one of the greatest Living Chemehuevi Indian basket weavers despite not having a drop of Chemehuevi or other Native American blood.
Then there's Illinois-born ceramic artist, Rick Dillingham of Santa Fe, whose completely inventive style of native-inspired Southwestern pottery impressed even the greatest of our Native American Pueblo potters, such as
Maria Martinez, Margaret Tafoya Dora Tse-Pe and Dextra Nampeyo.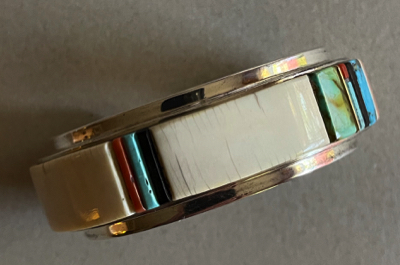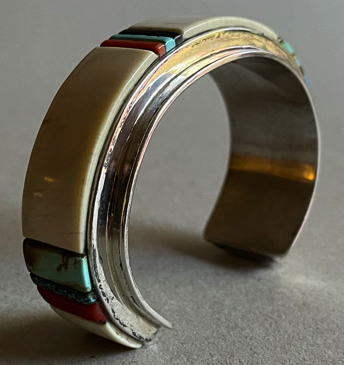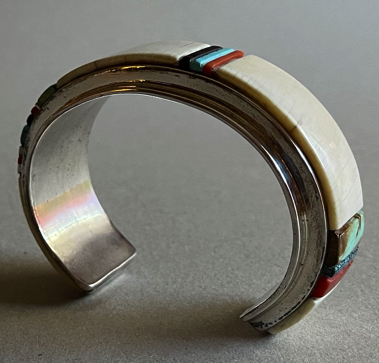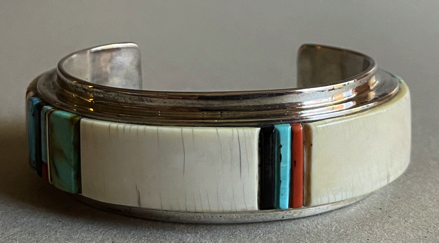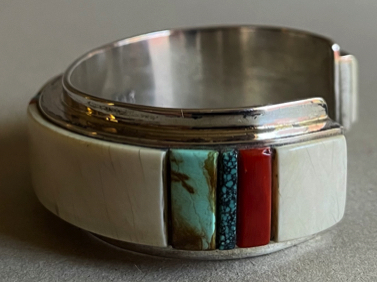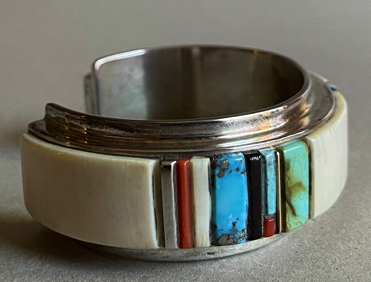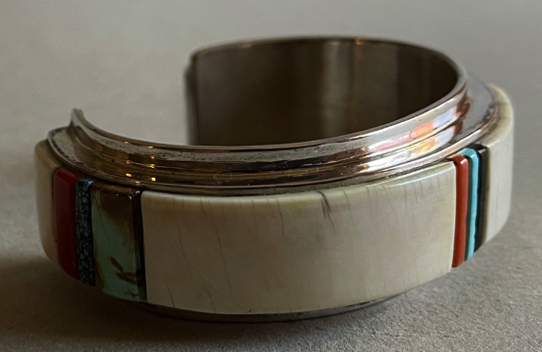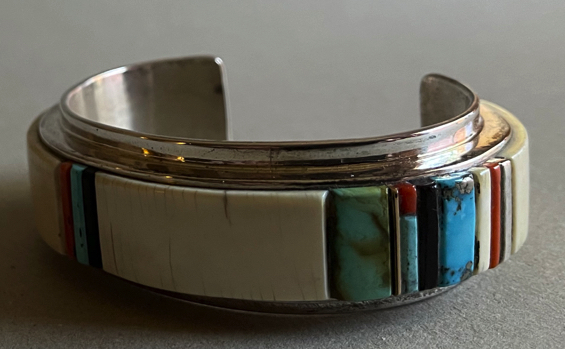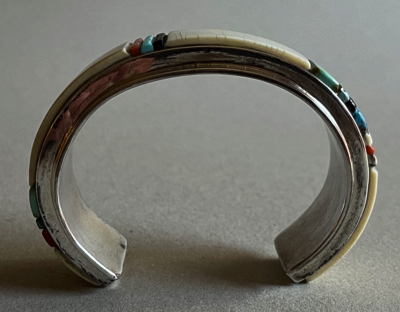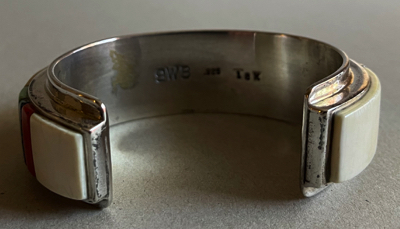 All of which brings us to the contemporary Santa Fe jewelry artist, Brett W. Bastien, who is one of the very few non-native graduates of the prestigious Institute of American Indian Arts (IAIA) in Santa Fe. There he learned from two of the finest Native artists of the modern era, Hopi Modernist jeweler, Duane Maktima and Hopi ceramic artist and painter, Otellie Pasiyeva Loloma. Brett's jewelry has a wide stylistic range, he works in classic Navajo styles of fabrication and Tufa-casting and also works in Modernist Hopi stone inlay style, but whichever his pieces are always distinctly his own characterized by their exceptional craftsmanship and this lovely inlaid cuff bracelet is no exception.
The color and textural palette of the inlays is superb, composed primarily of four large panels of creamy white fossilized ivory accentuated by smaller inlays of various other precious materials; three different types of turquoise, Lander Blue, Morenci and Royston, red and orange Mediterannean coral, ironwood, an 18K gold spacer bar and a silver spacer bar. The stones are all superbly cut and beveled and perfectly fitted.
The bracelet measures 1" in width all the way around. The slightly raised center inlaid panel is 5/8" in width.
The bracelet's inner circumference end-to-end is 5 3/4" and the gap between the terminals is just slightly under 1 1/2" for a total interior circumference of just under 7 1/4". The bracelet weighs a substantial, yet completely comfortable
113 grams or 4 ounces and is in excellent original condition. There is a small amount of tarnish on some areas of the bracelet which could be easily removed if desired. There is also a remnant of an adhesive label on the interior which could also be easily removed if desired. The bracelet is signed "BWB" in Brett Bastien's customary hallmark and is also marked "18K" and ".925" for Sterling silver.
This is an extremely elegant and beautiful piece of precious contemporary jewelry by a very talented Santa Fe artist.
SOLD