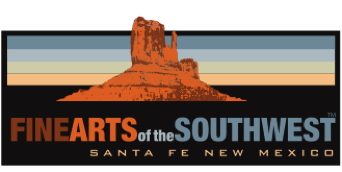 © 2010-2021 by Fine Arts of the Southwest, Inc. All rights reserved.
Unauthorized reproduction or use is strictly prohibited by law.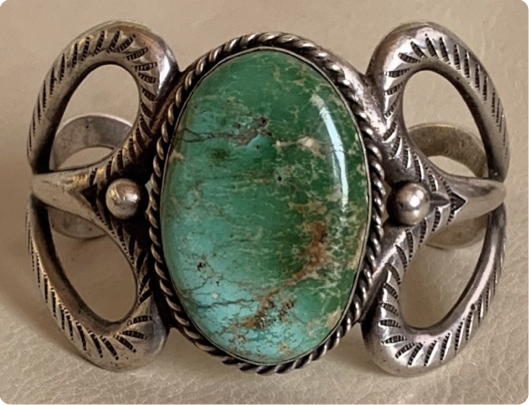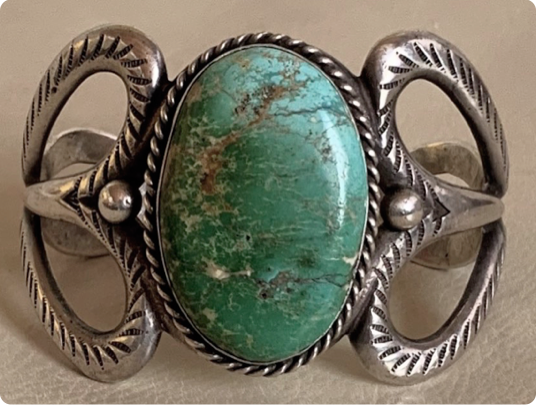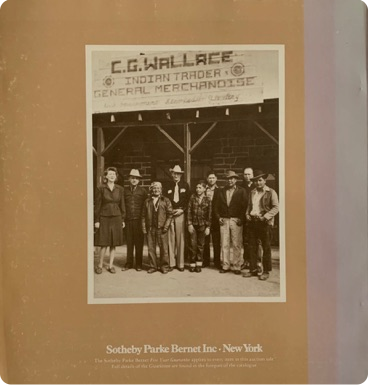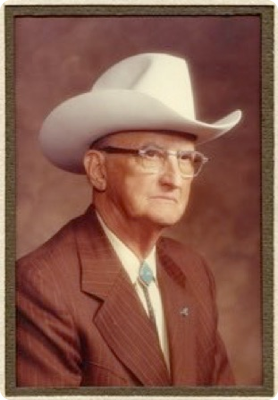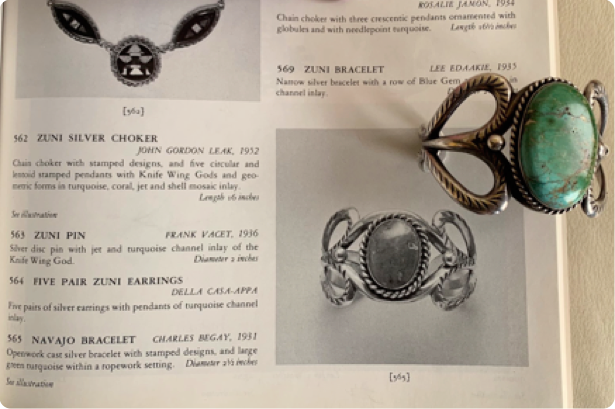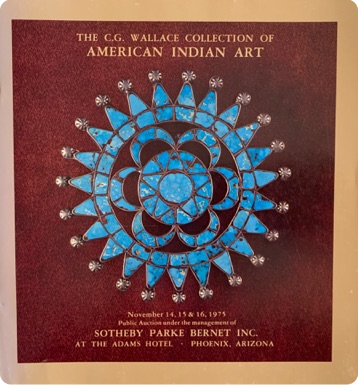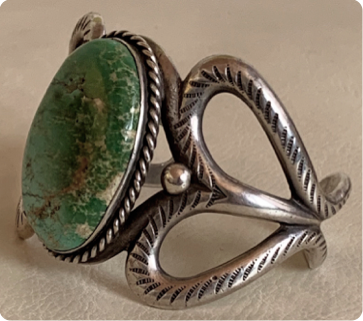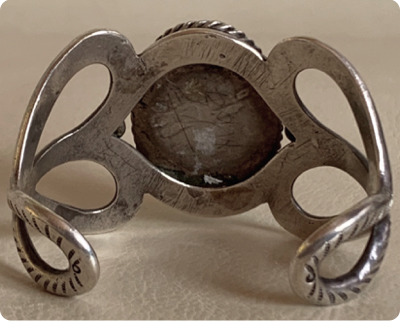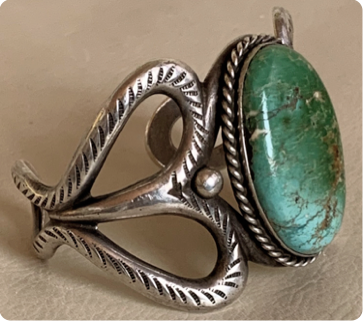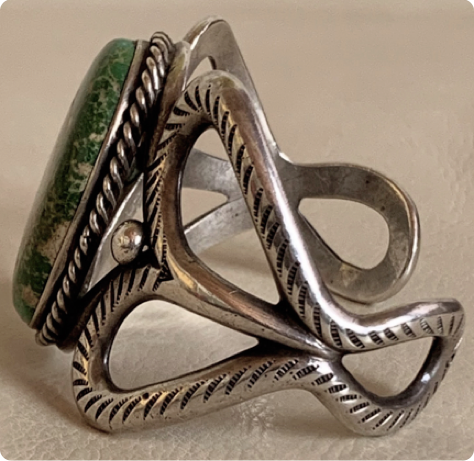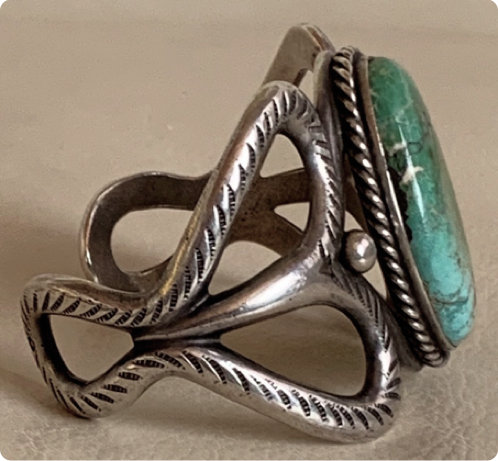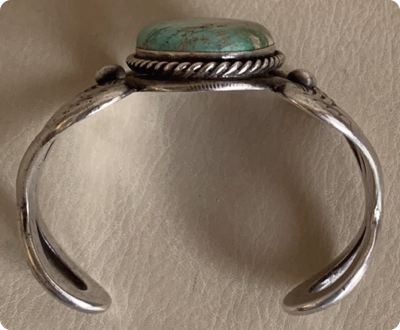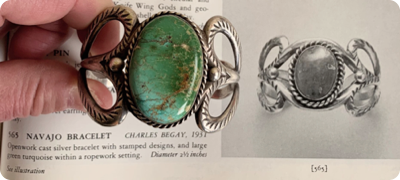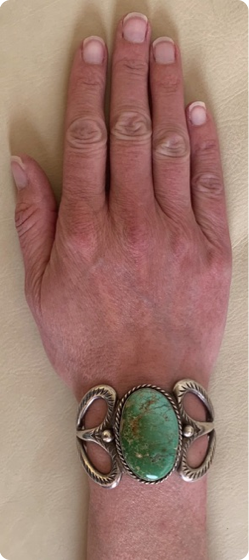 A historic Navajo tufa-cast silver and turquoise
cuff bracelet originally made by Charles Begay for the C.G. Wallace Trading Post, Zuni Pueblo NM, c.1931
Sometimes there's quite a lot of detective work involved in what we do, and sometimes as in the case of this bracelet, the case turns out to be pretty darn interesting indeed. On the face of it, this appears to simply be a very beautiful and particularly very well-crafted historic Navajo tufa-cast silver bracelet from the 1930's or thereabouts and, as it happens it is precisely that based upon the incredible family history we just turned up. This bracelet has a very close and extremely similar "fraternal" twin so to speak, both born of the same parents at around the same time in the same place, but both are slightly different and frankly, we think our "brother" of the two bracelets is somewhat better looking in our opinions. Here's the fascinating detective story of this unique and beautiful piece; sit back and enjoy…
Let's start with examining a marvelous slice of 20th Century Southwestern history, which is the interesting man under whose auspices this bracelet would ultimately be made in or around 1931, Indian Trader Charles Garrett (C.G.) Wallace (1896-1993) who came out to the Southwest in 1916 at the tender age of 20 from his native North Carolina. The young Wallace secured a position with one of Gallup's most prominent trading companies, that of Louis Ilfeldt. Working his way up quickly, Wallace had opened his own post at the nearby Zuni Pueblo by 1920 at which point his phenomenal career and meteoric rise to prominence, fame and fortune began to really take off. Wallace recruited the very best Navajo and Zuni silversmiths to do the very best work with the very best supplies including the very best turquoise, coral and other stones which he sold to his increasingly prominent and rapidly expanding clientele. The accumulated talent at Wallace's post was a veritable all-star team of many of the finest Native American artists in the country at the time; from silversmiths, Austin and Ike Wilson, Ambrose roanhorse, Roger Skeet, Sr. and Della Casa Appa to stone carvers Leekya Deyuse, Teddy Weahkee, Leo Poblano, Daisy Hooee Nampeyo and John Gordon Leak.
Sotheby Parke-Bernet's auction catalog of the C.G. Wallace Collection sale in 1975. This was one of the finest collections of American Indian Art ever assembled. The "twin" piece to the Charles Begay bracelet we are offering here was Lot #565 in this sale and it was pictured and described on pp.99 of this catalog. It sold at the auction for $500.00, which simply and only accounting for inflation, is equivalent to $2,300 today.
Tufa casting silver is one of the most difficult and painstaking of all traditional navajo silversmithing techniques to master and the silversmith who made this bracelet, Charles Begay, was clearly a master of it. Typically, a well-carved tufa stone mold is good for 3-4 casts and from this one we know that at least two successful ones emerged; C.G. Wallace's own personal bracelet, pictured at left in the auction catalog above and our bracelet pictured at right above which as you can see has a somewhat larger turquoise stone and silver bezel platform and slightly different stampwork decorations on the shank. With all due respect to Wallace, while his version was very very good and has the historic glow of celebrity for appearing as Lot #565 in the famous 1975 Sotheby Parke-Bernet auction of C.G. Wallace's personal collection we like the proportions, turquoise and overall appearance of our piece a bit better.
It is well worth noting that in the Sotheby Parke Bernet sale, Wallace's version of this bracelet sold for the princely sum of $500.00 which was a HUGE price for a piece of historic indian jewelry at that time. Simply and only accounting for inflation, this is equivalent to $2,300 today. However, the vastly increased appreciation of, interest in and exploding popularity of Native American art in general and Native American jewelry in particular over the past 45 years pushes that valuation that much higher. According to an old friend and colleague of ours who was personally present at the 1975 Sotheby Parke-Bernet Wallace auction, it was quite a scene indeed:
"I was at that sale, none of us could believe the prices that day, helped sell
because they put images of the bracelet on huge screen in front of a big crowd.
C.G. was hanging out in back of the room smiling all the time."
The bracelet is not signed as it was made before Native American artists typically began signing their work. Thus, it is quite unusual that we would be able to learn the name of the silversmith who made a now 90-or-so year old historic bracelet, but we only do because of the excellent documentation information which C.G Wallace kept on the very similar companion bracelet also made by Charles Begay in his own personal collection.
That said we know very little at all about Charles Begay except for the obvious fact that he was an extremely good silversmith. It is well worth noting that the several lots in the Sotheby's auction sale immediately preceding lot #565 are all prominent members of C. G. Wallace's "A-Team"; artists such as Frank Vacit, John Gordon Leak, Della Casa Appa etc. so clearly Charles Begay deserved to be in their exalted company which is s serious endorsement of his artistry snd skill, it's like having played for the 1927 New York Yankees alongside Babe Ruth and Lou Gehrig.
The bracelet measures 1 3/4" in width at its widest center point and tapers down to around 3/4" in width at the terminal ends. The inner circumference end-to-end is 5 1/4" and the gap between the terminals is very slightly under
1 1/4" for a total interior circumference of slightly less than 6 1/2".
The bracelet weighs a satisfying 78 grams or 2 3/4 ounces. We are not completely sure which turquoise mine the extraordinarily beautiful, large, hand-shaped, old mine-cut blueish-green turquoise stone with medium brown matrixing that the bracelet is set with is from, but it appears to be from one of Nevada's great early mines such as the famed Number Eight or one of the Royston district mines which were some of the earliest operating American turquoise mines opening in the late 1920's and early 1930's. The turquoise stone itself measures 1 1/2" in length and 1" wide and it rises a considerable 1/4" in thickness above its silver bezel.
"It was known from the beginning by all miners that the place
to sell all their big turquoise was C.G. Wallace's."
-C.G. Wallace, 1975
This bracelet is a fantastic, early and uniquely-documented historic piece made by an obviously talented Navajo silversmith working with his highly-talented counterparts for the most prominent Indian trading company of its day. Beauty, quality, rarity, history, age, documentation. Doesn't get a whole lot better than that.
Price $3,750