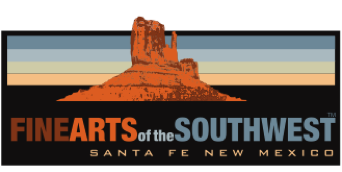 © 2010-2023 by Fine Arts of the Southwest, Inc. All rights reserved.
Unauthorized reproduction or use is strictly prohibited by law.
YEARS BEFORE HE BECAME A GROUND-BREAKING, WORLD- RENOWNED JEWELER, Hopi artist Charles Loloma (1921-1991) was a highly-accomplished pottery maker. From 1947-1949, he and his wife, Otellie Pasiyeva Loloma (1921-1993) attended The School for American Craftsmen at Alfred University in New York on a scholarship and
fell under the influence of the school's exceptionally talented master ceramicist and pottery instructor, Lynn Lovejoy Phelan. Together, the Lolomas subsequently created and began making a revolutionary, never before seen
and completely non-traditional Modernist form of Hopi pottery which was very strongly influenced by Japanese and Chinese methods and traditions.
Eventually, the unique attractiveness of Loloma's pottery got him into jewelry making in a somewhat circuitous fashion. In the mid-to-late 1950's, the Lolomas were operating a small pottery studio, shop and living quarters in Lloyd Kiva New's Kiva Craft Center in downtown Scottsdale, Arizona which was a sort of artist's co-operative combining living space, studio space and showroom space to a number of talented artists. At that time, Charles and Otellie had already begun acquiring a considerable reputation for their distinctive "Lolomaware" ceramics and were starting to attract a lot of attention at their small shop in the Kiva Craft Center.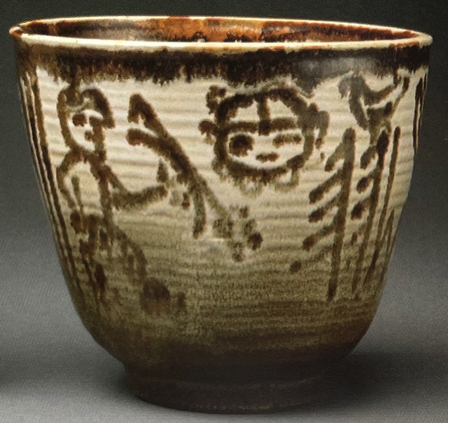 At right, a similar Charles Loloma painted ceramic bowl, also dated 1949.
Photo source and © "Loloma, Beauty is his Name" by Martha H. Struever, Wheelwright Museum of The American Indian, Santa Fe, NM, pp.29

One of the panels from the ancient Paleolithic 22,000 year-old cave paintings at Lascaux, France.
Photo source and © French Cycling Holidays
At left, Kiva Craft Center, Fifth Street, Scottsdale, Arizona, c.1950's. At right, Charles and Otellie Loloma
in their "Lolomaware" pottery studio and showroom at The Kiva Craft Center, Scottsdale, AZ, c. 1956
Left photo source and © Scottsdale Historical Society. Right photo source and © Museum of Northern Arizona Photo Archives
The various paints and glazes Loloma used in making this bowl are a subtle, sophisticated and harmonious palette of creams, white and a soft medium yellow-brown-green and the bowl's surface has a wonderful, lightly ridged texture which complements the painted design perfectly. Under Lynn Phelan's careful tutelege, Loloma had learned to be extremely meticulous regarding the formulation of his glazes and paints going to great and detailed efforts to mix the various compounds and minerals precisely to achieve a large variety of different surface textures and colors. We had the opportunity a number of years ago to closely examine Loloma's early studio notebooks which he maintained studiously throughout most of his career and there were pages and pages devoted to precisely detailed glaze formulations and pottery firing chemical compounds and clay mixtures. The overall visual effect here is extremely organic and natural with a distinctly modern yet completely classic and timeless presentation. It's a particularly masterful, magical and well-made piece.
The bowl measures a very nicely-sized 6" in diameter and it is 4" in height. It is in completely excellent original condition, and quite remarkably so for its present 74 years of age and is formed and fired so finely that the bowl literally "pings" like fine porcelain when lightly tapped with a finger on one side. There are no cracks, no chips and
no significant abrasions and a thorough examination of the vessel under Ultraviolet light reveals no restoration or overpainting in evidence anywhere. The bowl is beautifully and simply signed and dated by the artist on the bottom as follows: "Loloma 49". The bowl also has a very nice provenance as well, having come from the personal collection
of a notable American art collector and Museum Director.
This exceptional, elegant, early bowl is one of America's greatest modern art ceramics made by America's greatest modern-day Native artist. As such, it's an unparalleled piece of pure artistry and art history, a coveted prize for
any art collection anywhere.
SOLD
This bowl is a most unusual and important piece of Loloma's early ceramic oeuvre, its painted design is exceptionally unique and we have only seen two or three others like it all from the same early time period 1948-49 when Charles
and Otellie were studying ceramics and working at Alfred University in NY. There is a very similar Loloma ceramic vessel, also from 1949, which is shown above at right.
The vessel is beautifully and elegantly formed with graceful thin slightly outwardly flaring upright walls with
lovely, intentionally visible clay coils. The inside of the bowl is plainly done in a lovely creamy whitish-yellow glaze.
The outside of the bowl is an extraordinarilyy well-rendered tableau of a complex multi-figured hunting scene involving
a native bow and arrow hunter, two deer figures, a mountain range, corn plants and birds all arranged in a linear formation like a cave art or rock art panel encircling the entire outside of the bowl. It's so artfully done it's almost unreal, it has an innocent almost childlike primitive aspect to it yet an incredible visual sophistication like a panel from the ancient Neolithic cave paintings of the Lascaux Cave in France or the extraordinary, also ancient rock art petroglyphs and pictographs of the American Southwest many of which are native to Charles Loloma's Hopi mesas birthplace and home. The virtuoso artistry and cultural knowledge and awareness on display here is simply astounding.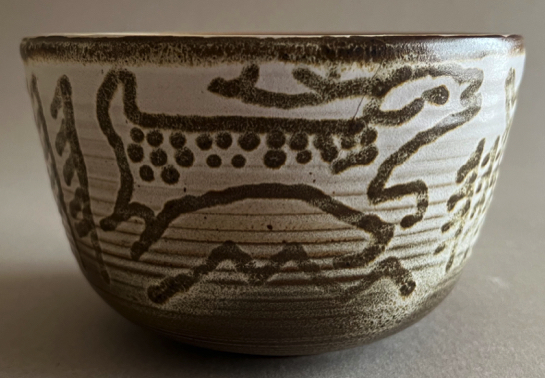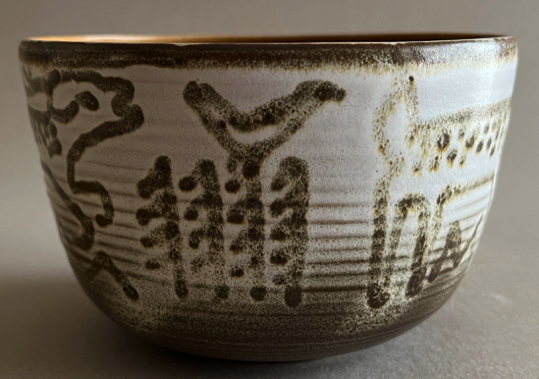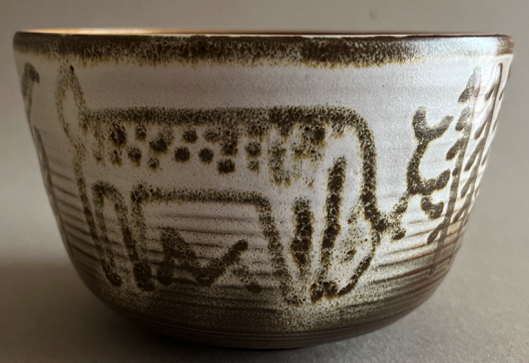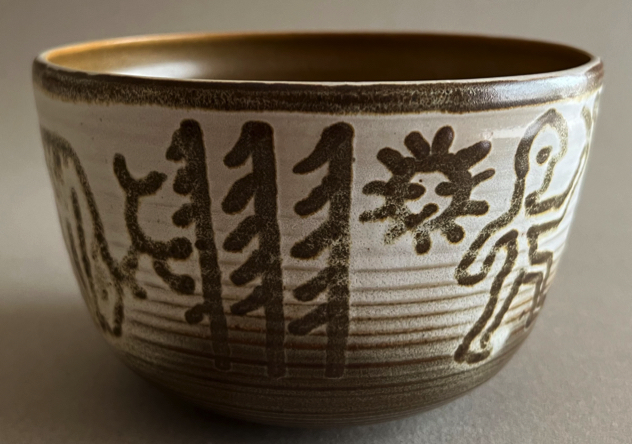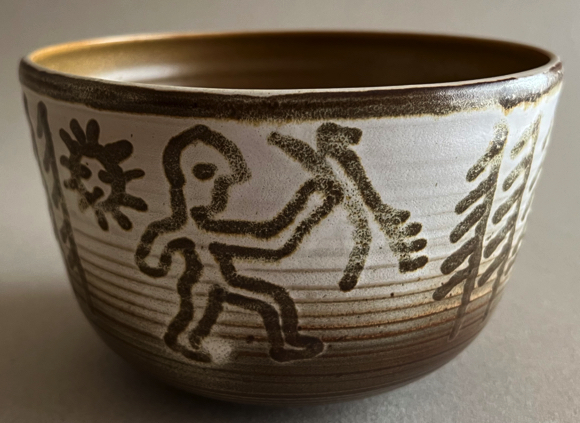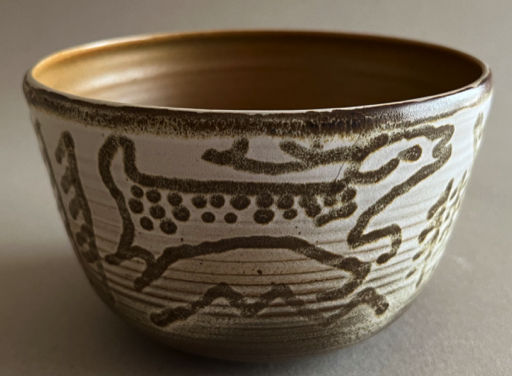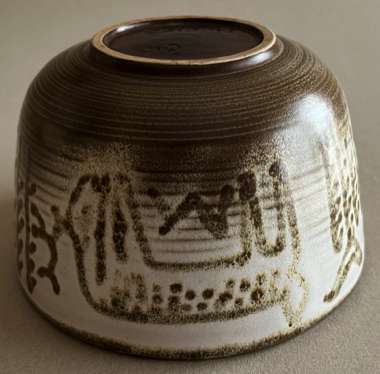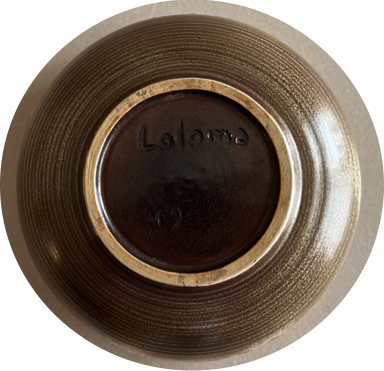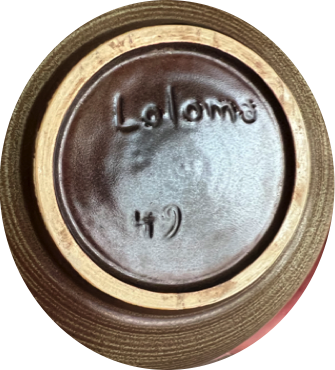 One of those whose attention was fascinated was Loloma's close neighbor and fellow artist at Kiva Craft, the revolutionary Modernist jewelry maker, H. Fred Skaggs, who was so taken with the Loloma's pottery that he offered
to trade Charles jewelry-making lessons in exchange for pieces of pottery. In this somewhat unlikely manner, Fred Skaggs thus became Loloma's mentor in jewelry-making and Loloma always later credited Skaggs with being the single biggest influence on his subsequent jewelry career.
Another highly influential pair of clients of the Loloma pottery studio were renowned American Modern Architect, Frank Lloyd Wright and his wife, Olgivanna Lloyd Wright who in addition to being important personal clients in their own right also introduced the Lolomas to many of their important private architectural clients such as the Price family of Oklahoma who owned a winter home in Scottsdale and whose patronage became very significant patrons.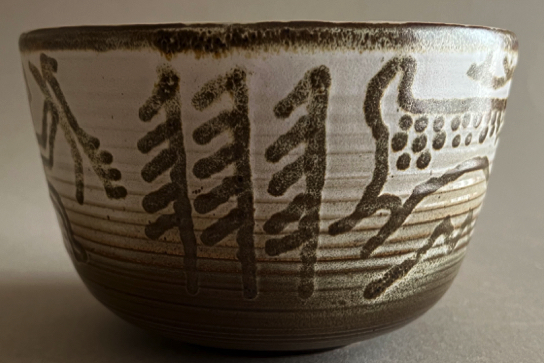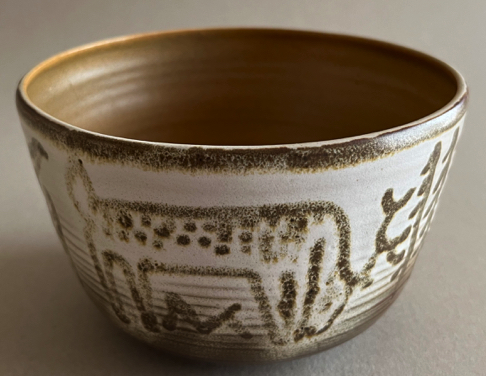 An early and extremely rare Charles Loloma
Hopi painted and glazed pictorial ceramic bowl depicting a hunting scene, 1949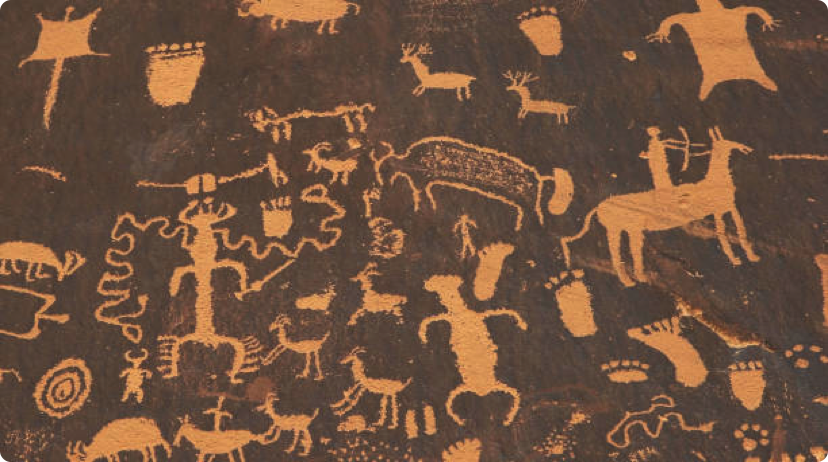 "Our people have made pottery for generations, but it doesn't stand up like modern chinaware…we hope to give it new life…by teaching our people about glazes…"
-Charles Loloma
An ancient Southwestern Rock Art panel in Canyonlands National Park, Utah.
Photo source and © istock