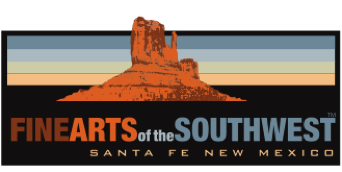 © 2010-2023 by Fine Arts of the Southwest, Inc. All rights reserved.
Unauthorized reproduction or use is strictly prohibited by law.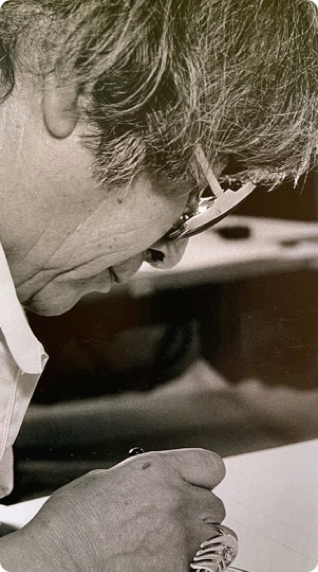 Renowned Hopi jewelry artist, Charles Loloma (1921-1991) was a proud member of the Hopi Badger Clan and his famous, distinctive "Badger Paw" ring design is beautiful evidence of this. At left, Charles Loloma's original cast-silver "Badger Paw" ring, c. 1960. At center, Charles Loloma wearing this ring. At right, the "Loloma Studio" estate re-issue "Badger Paw" ring, c. 1990's.
Photos source and © Martha H. Struever, "Loloma Beauty is His Name", Wheelwright Museum, Santa Fe, 2005
A Loloma Studio limited-edition of
Charles Loloma's personal Hopi cast-silver
"Badger Paw" ring, c.1990's
ex: Charles and Georgia Loloma Collection
This beautiful ring is an official "Loloma Studio" estate authorized limited edition re-issue of Charles Loloma's personal tufa-cast silver "Badger Paw" ring, c. 1960, pictured below, a ring Loloma famously wore almost all the time and which is now owned by a private collector. This ring signified Loloma's deep pride in and identification with his hereditary membership in the powerful Hopi Badger Clan.
Loloma also depicted the badger, who is referred to as "Honan" in the Hopi language, in various other types of artwork such as the beautiful original colored pencil drawing also pictured below. In fact, if one looks very closely at the front paws of the badger depiction in this drawing, one can see that they are portrayed in almost the exact same form as Loloma's badger paw ring and this drawing which also came to us from Loloma's own personal collection may in fact have been the original template for the design of this ring.
This official "Loloma Studio" estate re-issue of his badger paw ring was made in a lost-wax casting process based
exactly on Charles Loloma's original ring shortly after Loloma's death in 1991 by his widow, Georgia Voisard Loloma working in conjunction with the Internationally-renowned French jeweler, Pierre Touraine, who was a longtime friend and close jewelry collaborator of Charles Loloma's. As can be seen here, the casting is virtually identical to the original piece in almost every way. It is unknown exactly how many rings there are in this edition, the most knowledgable estimate
is somewhere between fifteen and twenty-five, we ourselves have seen perhaps five or six silver ones over the past thirty
or so years since they were made in addition to two gold ones. A limited number of silver bracelets and necklaces using Loloma's "Badger Paw" design were also made.
This ring measures a size 8 to 8 1/4 on a professional graduated ring sizer, but due to its uniquely shaped oval shank
(a Loloma design innovation) it will comfortably fit fingers from size 8 up to size 9 1/2 or even 10. The ring's face is a hair under 2" in height and is 1 1/4" in width at the widest point. It weighs a very comfortable 28 grams or 1 ounce. Due
to the unique and beautiful curvature of the top silver badger paw section, the fairly large ring fits and sits particularly well and very easily on the hand following and hugging the contour of the finger closely and beautifully. As is so well demonstrated here, the quality and comfort of fit is always a signature characteristic of the work of the finest jewelers.
The ring is properly Loloma Estate hallmarked with a facsimile of Loloma's famous 11-stroke engraved last name signature and "Studio" on the back. The ring is in excellent original condition and looks for all intents and purposes
as if it was almost never worn. It also has a perfectly impeccable provenance, we acquired it directly from the estate
of Charles and Georgia Loloma following Georgia Loloma's death in 2021.
This ring is a classic, iconic piece of Native American jewelry art, beautifully designed and originally crafted by the great master himself and later most skillfully and faithfully re-created in his memory by his officially authorized family Estate working in close collaboration with his esteemed former artistic colleague.
Price $1,950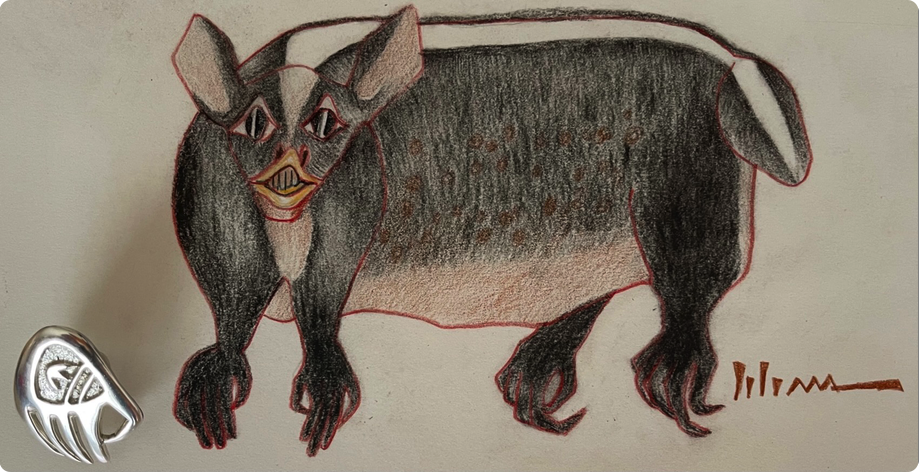 An original Charles Loloma colored-pencil drawing of "Honan" the Badger from Charles Loloma's personal collection. The front paws of the badger are almost identical to the design of this ring.