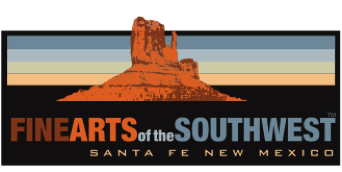 © 2010-2021 by Fine Arts of the Southwest, Inc. All rights reserved.
Unauthorized reproduction or use is strictly prohibited by law.

A pair of beautifully-inlaid Hopi round silver
stud earrings by Charles Loloma, c.1980
These are the gold standard of silver studs from the brilliant mind and skilled hands of the most
innovative and important Native American jeweler of his era, Charles Loloma (1921-1991).
The earrings are a delicious visual feast; a duo of beautifully-crafted compositions, like miniature round Modernist paintings in metal and stone. They are gorgeously inlaid with three different panels in various shades of white, mottled cream and milk-chocolate colored fossilized Mastodon ivory, accented with a very small panel of blue lapis lazuli, all nicely complemented by a fine handwrought gold spacer bar. Loloma's unparalleled artistry with design, color and texture is most splendidly on display here.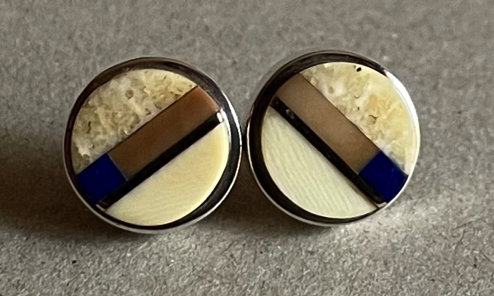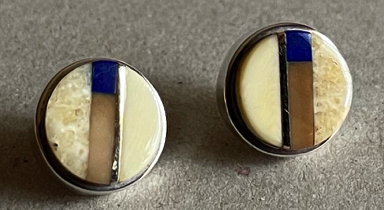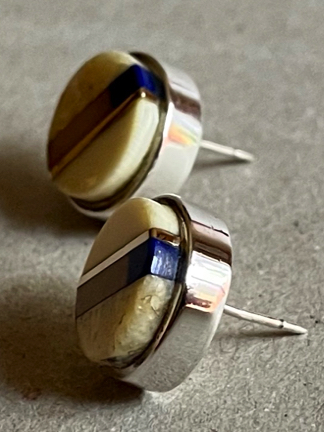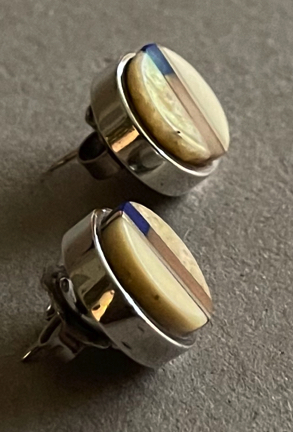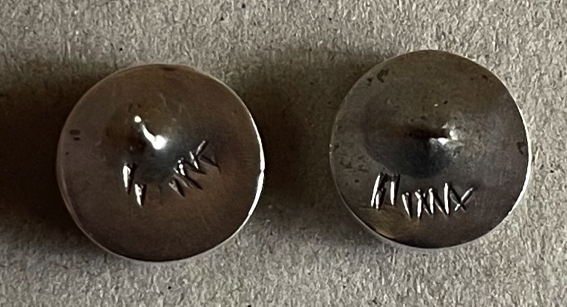 "Charles Loloma perceived beauty in the earth, in the water, and in the sky. And with great precision and boundless imagination, he reflected it truly in the nearly perfect things that came from his hands."
-N. Scott Momaday, from Charles Loloma's eulogy, 1991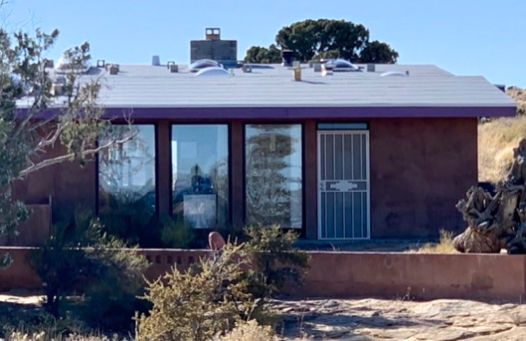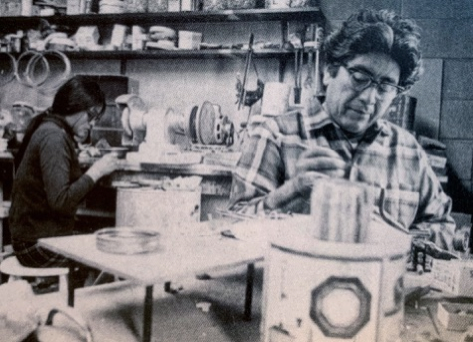 At left, a modern day view of Charles Loloma's former studio in Hotevilla, Arizona.
At right, Charles Loloma and his apprentice Verma Nequatewa at work in the studio, 1970.
Photo at right source and © Martha H. Struever "Loloma, Beauty Is His Name", Wheelwright Museum of the American Indian, Santa Fe, 2005, pp.21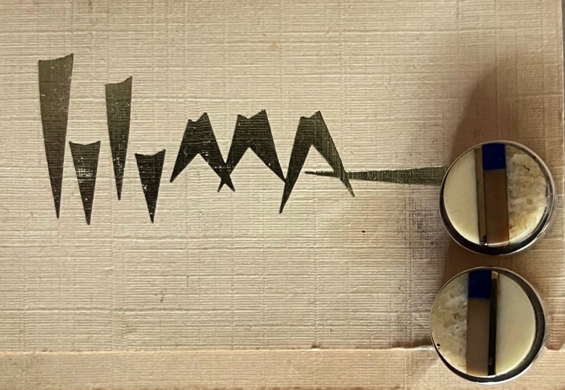 The earrings displayed on an original gold-embossed counter card from the Loloma studio. This is how Charles Loloma originally presented these earrings for sale in his studio display case. Please note that this countercard is not included in the sale of these earrings.
We have had perhaps eight or nine other sets of inlaid Charles Loloma stud earrings over the years and we
can say without hesitation that to our eye these are among the most beautiful that we have ever seen.
On top of that, they have absolutely perfect provenance; coming from the collection of Georgia Voisard Loloma,
Charles Loloma's second wife.
The earrings measure a very nicely-sized 9/16" of an inch in diameter and 1/4" in depth and they weigh an extremely comfortable 4 grams or 1/8 ounce each. Both earrings are properly signed "Loloma" on the back in Charles' characteristic, 11-stroke hand-engraved signature. The earrings are in outstanding original condition; the silver posts are very slightly bent, but this is of no consequence.
If you've been waiting for that perfect pair of Loloma studs, now's your chance, but don't wait too long.
Pieces this good have a way of disappearing very, very quickly.
Please note that we cannot ship these earrings internationally as they may contain endangered materials.
SOLD