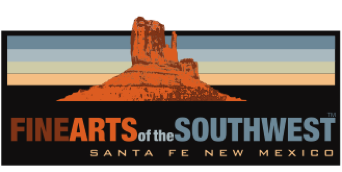 © 2010-2021 by Fine Arts of the Southwest, Inc. All rights reserved.
Unauthorized reproduction or use is strictly prohibited by law.

A wonderful pair of Hopi inlaid silver "shield"
style earrings by Charles Loloma, c. 1970's
These are some of the renowned Hopi jeweler's most delightful artistic creations. Of this particular design, Loloma said that he intended for these earrings to make a woman's face "smile". And they do so most beautifully with their subtle shapes and contours lifting the face and "framing" it just perfectly.
The earrings are beautifully inlaid with a lovely palette of precious materials composed of two panels of deep brown desert ironwood, a panel each of milk chocolate-colored and white fossilized ivory, a small piece of red-orange Mediterranean sea coral, two small gold spacer bars and one large silver spacer bar.
The overall design scheme recalls the appearance of a stylized Hopi kachina mask which is a motif Loloma repeatedly explored in various jewelry designs. In a subtle but very interesting detail, The earrings inlaid panels are finely shaped in a slightly and deliberately asymmetrical manner as you can see from closely examining how the width of the silver border around the inlaid panel varies along the edge of the earring. This is yet another perfect touch of the great Master's hand in evidence.
The earrings measure 1" in height are are 1" in width at their widest point. They weigh an extremely comfortable 6 grams or 1/4 ounce each. They are in excellent-plus condition and each earring is properly signed "Loloma" on the back. The earrings were originally mounted on old-style clip closures and we recently had these professionally converted to 14K white gold post mounts by a fine jeweler in the Phoenix area who was formerly a close colleague and working associate of Charles Loloma's and who still works regularly with Loloma's niece and studio heir, Verma "Sonwai" Nequatewa. The jeweler also carefully cleaned the earrings ultrasonically and polished them so that they essentially look nearly brand new despite the fact that they are over 40 years old.
"Loloma made many earrings that were shield-shaped triangles with rounded corners.
It was important, Charles told me, that the wider portion of the earrings be at the top.
This made a woman's face "smile". He felt that when they were worn the opposite way it had the effect of pulling the wearer's face down, creating a frown."
-Charles Loloma quotation, October, 1977, from Martha H. Struever,
"Loloma, Beauty Is His Name", Wheelwright Museum of the American Indian, 2005, pp. 26.
Charles Loloma earrings just do not get more beautiful and precious than this fine pair. You can just imagine how much wearing them will make you and everyone around you "smile" with pleasure.
Price available upon request
Note: We are not able to ship this item internationally. Shipping restrictions to certain states may also apply.