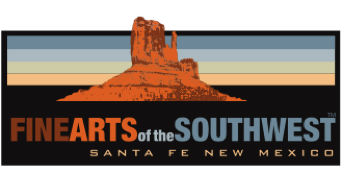 © 2010-2021 by Fine Arts of the Southwest, Inc. All rights reserved.
Unauthorized reproduction or use is strictly prohibited by law.

An outstanding Hopi tufa-cast silver cuff
bracelet by Charles Loloma, c. 1969-70
This is the sort of ground-breaking piece which completely revolutionized and redefined Native American jewelry;
what it was and what it could be. Quite simply, no one in the Native American arts world had ever seen anything like it before Loloma came upon the scene although its antecedents are clear to see in Loloma's own personal artistic inspirations. In the late 1950's, while living in Scottsdale, Arizona and making pottery with his first wife Otellie Pasiyeva, Loloma began experimenting with jewelry-making. He fell under the influence of the pioneering Modernist jeweler, H. Fred Skaggs, who was his neighbor at The Kiva Craft Center in Scottsdale, AZ where they both lived.
Skaggs, who liked the pottery Loloma and Otellie were then making, offered to trade him jewelry making lessons for pottery. Skaggs was a master craftsman who worked extensively with different methods of metal casting, tufa and lost wax. Skagg's innovative and distinctive work shows the extensive use of contrasting metal textures and surfaces to empathize forms and designs and this influence is clearly evident here in this bracelet. Loloma subsequently worked extensively in tufa and lost wax casting throughout the late 1950's and 1960's exploring these mediums widely and creatively and continued to do so over the course of his career. This particular bracelet was most likely made around 1970. According to our information, it was originally purchased from Charles Loloma by Lovena Ohl, Manager of
The Heard Museum gift shop in Phoenix in about 1970 and then sold to a Phoenix resident from whom we acquired it.
"If there is beauty in a piece of art, a person
can absorb it and become more beautiful."
-Charles Loloma
At this time, the Heard Museum was preparing to launch the first-ever retrospective museum exhibition of Charles Loloma's work which took place in December of 1971. The exhibition was an overwhelming smash hit and Loloma's career took off. The bracelet measures 1 5/16" in width at its widest center point and tapers down slightly to 1 1/8" wide at the terminal ends. The inner circumference end-to-end is 5 1/4" and the gap between terminals is 1" for a total interior circumference of 6 1/4". It weighs a satisfying and extremely comfortable 83 grams or 2 7/8 ounces. The bracelet is in excellent original condition and it is properly and beautifully signed "Loloma" on the interior.
This is an extremely beautiful early work by a brilliant artist; simultaneously a gorgeous and precious bracelet and is also a small Modernist silver sculpture. It could be just as easily and appropriately displayed in The Museum of Modern Art as in The National Museum of the American Indian.
SOLD
Fifty years of Loloma family jewelry; Charles Loloma at bottom, Verma "Sonwai" Nequatewa at top. To view our listing of this Sonwai bracelet, please click here.
Years before he became a jeweler, Charles Loloma was a highly-accomplished pottery maker. Here, this bracelet is pictured inside a beautiful Loloma ceramic bowl which was originally commissioned from Loloma by the great American architect, Frank Lloyd Wright. Note the similarities in the organic surface textures of the bracelet and the bowl.