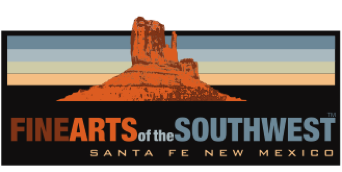 © 2010-2022 by Fine Arts of the Southwest, Inc. All rights reserved.
Unauthorized reproduction or use is strictly prohibited by law.

A beautiful pair of Hopi tufa-cast silver
earrings by Charles Loloma, c. 1970's
Ex: Charles and Georgia Loloma Collection, Phoenix AZ, Santa Fe, NM
How many times do you get to buy a great piece of art directly from the private personal collection of the great artist who made it? That's precisely what has happened here; we bought these beautiful hopi tufa cast silver earrings made by Charles Loloma (1921-1991) directly from the collection of Charles Loloma and his wife Georgia Voisard Loloma.
Loloma made these earrings around the 1970's and kept them until his death in 1991 when his second wife, Georgia Voisard Loloma continued to keep them in their collection until her recent death in 2022 when much of her and Charles' personal collection was sold at auction where we purchased them.If that isn't absolutely perfect provenance we don't know what is.
Tufa-casting is a painstakingly difficult method of making jewelry and Charles Loloma was a true master of it, capturing the ideal combination of strength and delicacy which is the hallmark of great tufa-casting. The lovely, organic, earthy texture of the cast silver surface in the face of the earrings and the beautiful contrast between the rougher unpolished texture in the earring's center and the smooth brightly polished edges catches the light perfectly.
"If there is beauty in a piece of art, a person can absorb it and become more beautiful."
-Charles Loloma
"Charles Loloma perceived beauty in the earth, in the water, and in the sky. And with great precision and boundless imagination, he reflected it truly in the nearly perfect things that came from his hands."
-N. Scott Momaday, from Charles Loloma's eulogy, 1991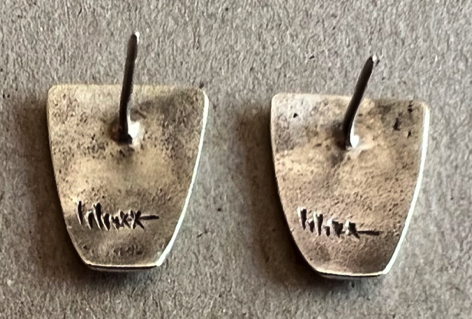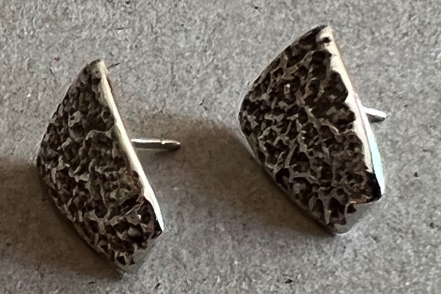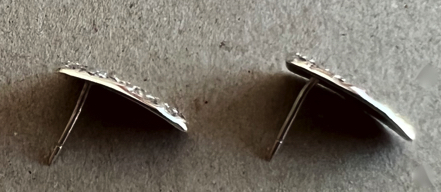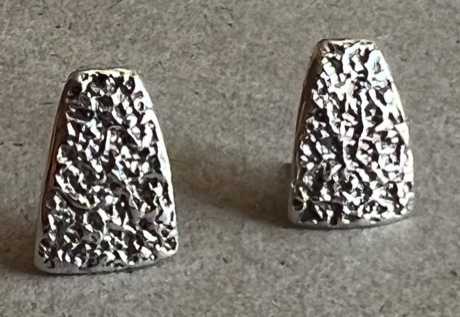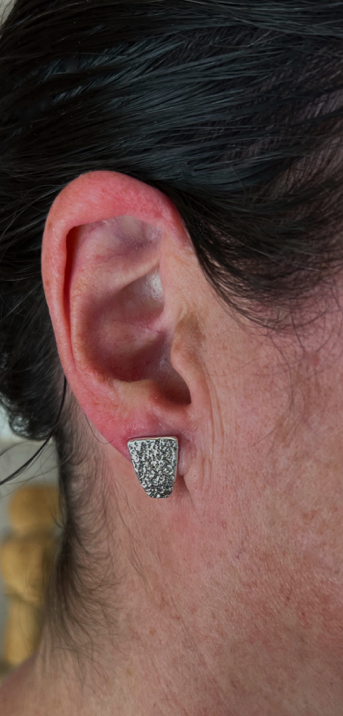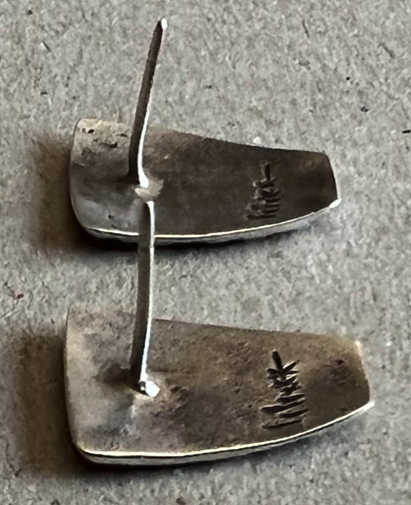 The earrings measure 9/16" in height and they are 7/16" in width at their widest points. They weigh a very comfortable
2 grams or .07 ounce each. The earrings are in completely excellent original condition. One of the earring's post is very slightly bent, but this is of no significance. Both earrings are correctly signed with Charles Loloma's customary 11-stroke hand engraved signature of his last name on the back.
These wonderful earrings were clearly good enough for the great Master to keep and enjoy for many years.
Now is your chance to do the same.
SOLD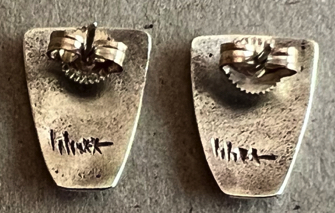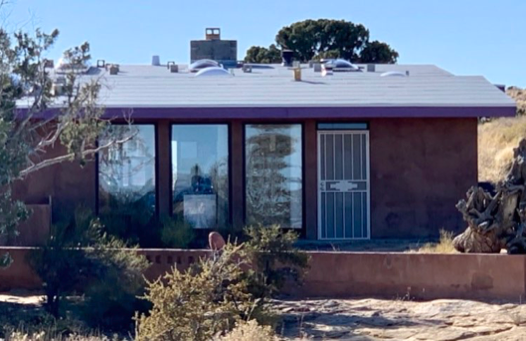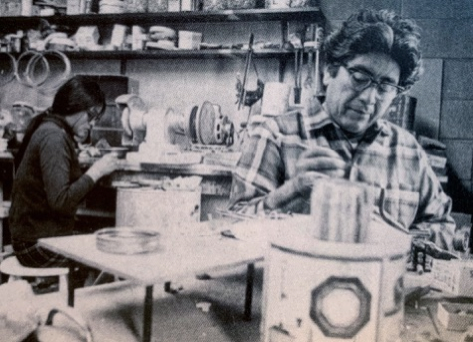 At left, a modern day view of Charles Loloma's former studio in Hotevilla, Arizona where these earrings were originally made. At right, Charles Loloma and his apprentice Verma Nequatewa at work in the Loloma studio, 1970.
Photo at right source and © Martha H. Struever "Loloma, Beauty Is His Name", Wheelwright Museum of the American Indian, Santa Fe, 2005, pp.21