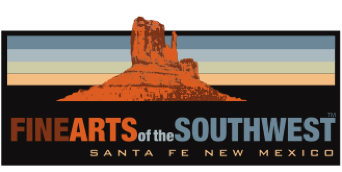 © 2010-2021 by Fine Arts of the Southwest, Inc. All rights reserved.
Unauthorized reproduction or use is strictly prohibited by law.

An extremely elegant pair of Hopi tufa-cast
gold earrings by Charles Loloma, c. 1980's
Ex: Martha H. Struever Collection, Santa Fe
These are the absolute gold standard of Southwest gold earrings, made by the great Hopi jewelry master, Charles Loloma (1921-1991). They have all the characteristics of Loloma's finest work; elegant design, beautiful harmonious balance and a marvelous use of color, form and texture, making the metal "sing" radiating with the literal meaning of his last name "Loloma" which in Hopi means "Beauty". The subtle contours of the earring's shape accent the ear perfectly and the textural contrasts between the variegated front surface and the highly polished edges all the way around is just superb and catches the light in a marvelous manner.
The triangularly-shaped earrings are mounted on gold posts and measure 5/8" in length and are 3/8" in width
at their widest points. They weigh a very comfortable 1/8 ounce each. They are in superb original condition and they are properly signed "Loloma" on the back of one of the earrings. They are not quality marked for gold content, as Loloma did not always do this, but they appear to be 14K.
As an additional plus, these earrings have outstanding provenance. They came from the Santa Fe collection
of the longtime colleague and friend, the renowned Santa Fe Native American arts dealer Martha H. "Marti" Struever (1931-2017) who sold them in 2012. Marti was a longtime friend and colleague of Charles Loloma's
and one of the primary authorities on his work. In 2005, Marti curated a Loloma retrospective exhibition at
Santa Fe's Wheelwright Museum of the American Indian and also authored an excellent exhibition catalog
entitled "Loloma, Beauty is his Name."
Put some serious beauty in your life every day with these lovely and easy to wear little beauties!
SOLD