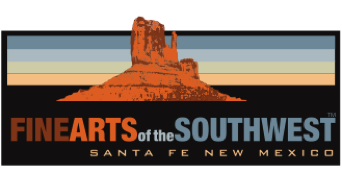 © 2010-2021 by Fine Arts of the Southwest, Inc. All rights reserved.
Unauthorized reproduction or use is strictly prohibited by law.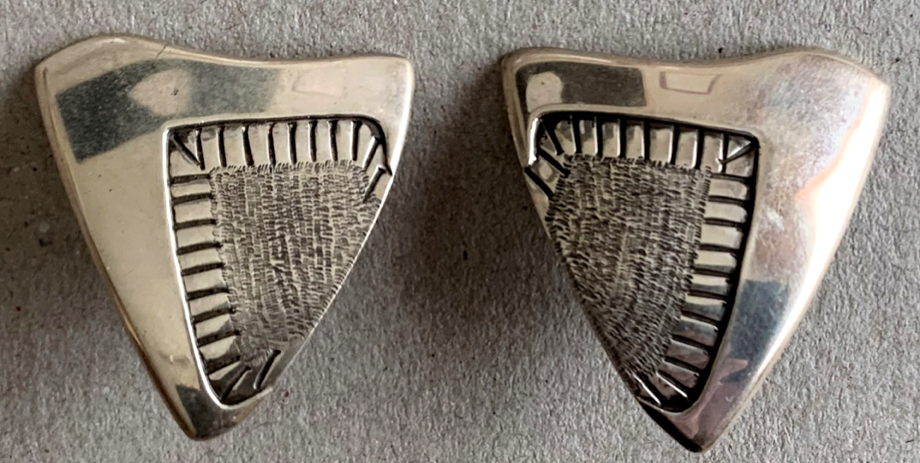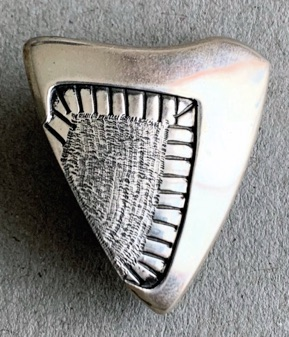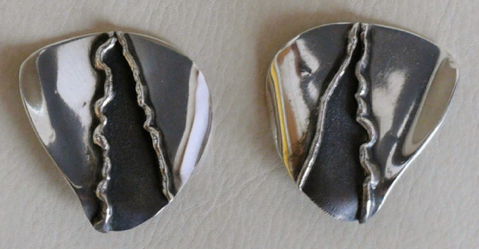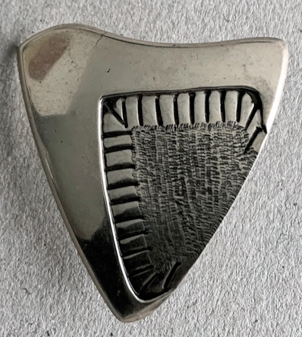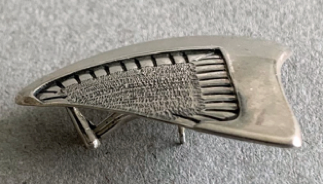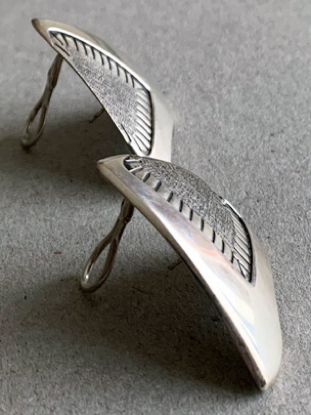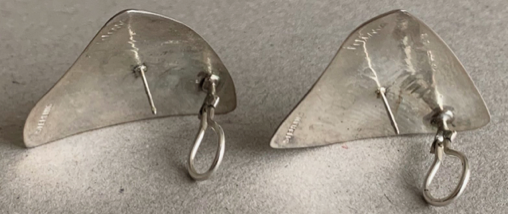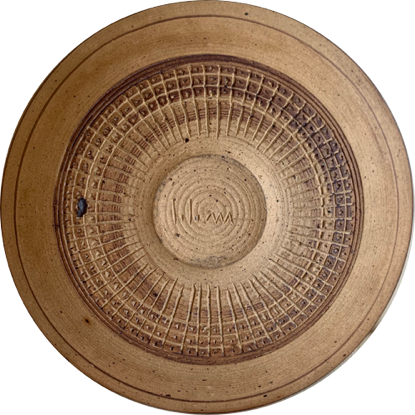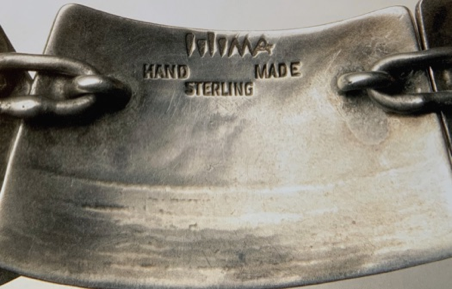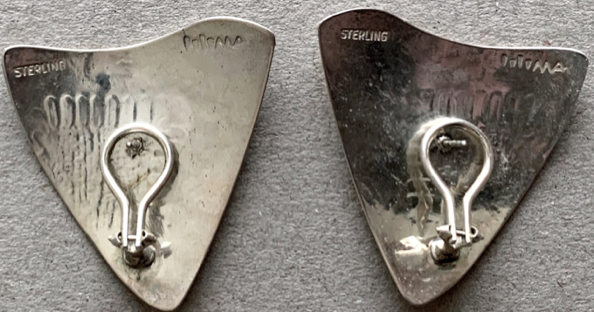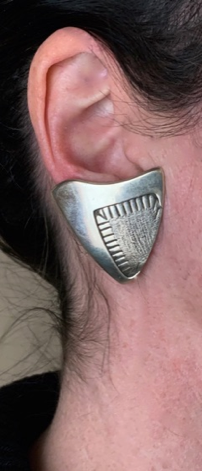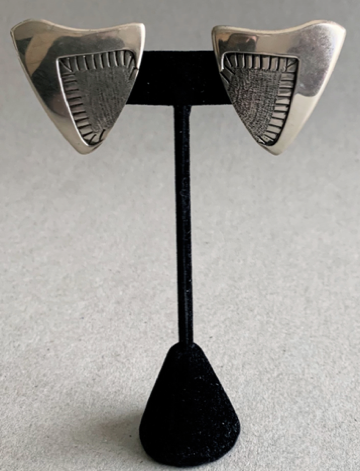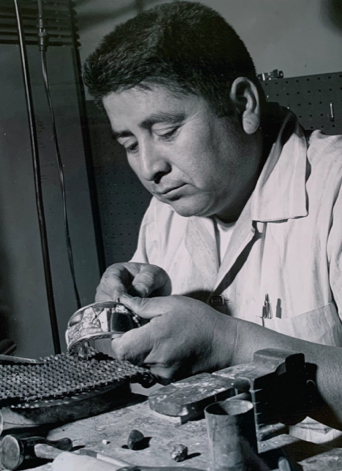 An extraordinary early pair of fabricated Hopi silver "shield" style earrings by Charles Loloma, c. 1959-1960
Charles Loloma (1921-1991) made these marvelous earrings at a critical point in his career. This is the moment and the time when his brilliance as a ground-breaking jewelry artist began to be apparent. He had first trained as a painter and a ceramicist in the 1930's and 40's and had made wonderful Hopi art pottery throughout the 1950's when he also started initially experimenting with jewelry design under the close instruction of his neighbor in Scottsdale, AZ, the pioneering American modernist jeweler H. Fred Skaggs. Around 1957, Loloma also undertook a short apprenticeship with the ground-breaking California College of Arts and Crafts jewelry master metal caster Robert Winston, so the stage was set so to speak and beginning around 1959-1960 when these marvelous earrings were made Loloma came out with one extraordinarily innovative design after another, primarily done in cast or fabricated silver sometimes with stone inlay, employing an astounding array of gorgeous organic shapes, unique, wonderful, highly inventive textures and delightful designs; a remarkable progression of earrings, bracelets, rings, necklaces and buckles.
H. Fred Skaggs silver "shield" earrings, Scottsdale, Arizona, c. 1950's
These finely fabricated silver earrings are built solidly on some of the flowing organically inspired Modernist silver designs Loloma first learned from Fred Skaggs. Skaggs made similar shield shaped silver earrings in a variety of surface textures with various undulations and casting marks and inscribed designs and here Loloma takes those initial steps into an entirely new realm of organic abstraction. These pieces work beautifully with the wearers face and body with their eye-catching and impressively dramatic swooping large shapes. Using stampwork, chisel work and inscribing Loloma has essentially created here a pair of three-dimensional miniature modernist silver paintings which have beautifully stamped and textured interior panels that give a beautiful contrast to the silver textures between the shiny and brightly polished areas and the inscribed rougher textured areas. The designs have a very interesting and distinct stylistic similarity to stacked ears of Hopi corn; a decorative motif Loloma used often in his pottery designs. And, emphasizing their completely handmade sculptural nature, the pair of earrings are just very slightly different in some of the details of their creation, a slight difference is contour here or curvature there.
Hopi ceramic bowl with stylized corn designs by Charles Loloma, c. 1955
The earrings measure a sizeable 1 1/2" in maximum height by 1 1/2" in maximum width and Loloma initially mounted these earrings on clip closures, as was typical of this time period. We had our outstanding professional jeweler, who was a longtime associate and colleague of Loloma's as well, convert these to more modern day posts and "Omega Clip" closures, much easier to wear and much more secure than the original clips. Though quite sizeable, the earrings weigh an extremely comfortable and wearable 8 grams or 1/4 ounce each and they are in excellent original condition particularly for their sixty years of age. Both earrings are signed "Loloma" on the back in Loloma's characteristic stamped signature of this time period and each earring is also marked "Sterling".
This is basically the Southwestern Native American jewelry equivalent of finding yourself a Blue-Period Picasso, an early masterpiece by an inspired and artistically on fire young master coming around the corner in a very big hurry towards the many magnificent expressions of aesthetic greatness to come.
Price available upon request
"In the late 1950's and perhaps the early 1960's,
Loloma signed some pieces with a single stamp."
-Photo and quotation source  and  © Martha H. Struever, "Loloma, Beauty is his Name." 
Wheelwright Museum of The American Indian, Santa Fe, NM, pp. 199
Charles Loloma at work in his studio, c. 1960
Phoenix Chamber of Commerce photo