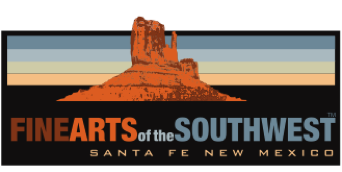 © 2010-2022 by Fine Arts of the Southwest, Inc. All rights reserved.
Unauthorized reproduction or use is strictly prohibited by law.
An extraordinary original pen and
ink drawing of a Hopi Pueblo village
by Charles Loloma, c. 1970-1980
Ex: Charles and Georgia Loloma Collection
The world-renowned Hopi artist Charles Loloma (1921-1991) actually began his long artistic career
as a young teenager in the late 1930's working as a painting assistant for the great Hopi artist and educator, Fred Kabotie (1900-1986). The young Loloma had been recognized by Kabotie at an early age as something of an artistic prodigy and in this capacity, he helped paint a beautiful series of large Hopi Kachina murals for the landmark Golden Gate International Exposition in San Francisco in 1938-39 several of which are pictured here. In addition to his highly-accomplished painting skills, Loloma went on to undertake a serious study of ceramics in the late 1940's and, in partnership with his first wife Otellie Pasiyeva Loloma, became a distinguished professional art pottery maker.
"Charles Loloma was a Hopi man. The sacred landscape of his life and death is the ancient world of Hopi; his life was of its life, his spirit of its spirit. From that world he came, into it he returned. From his first breath to his last, he was true to it."
-Writer, N. Scott Momaday, from his 1991 eulogy of Charles Loloma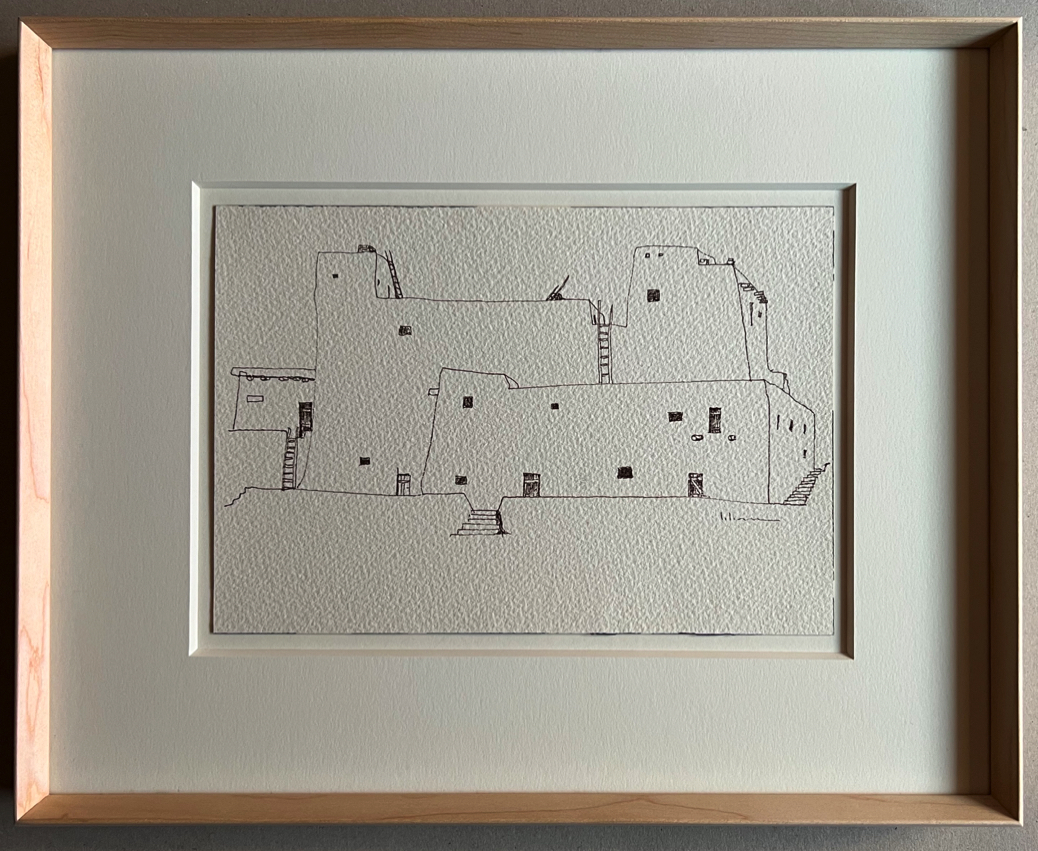 We are not certain which specific village at Hopi this might be, possibly Old Oraibi which is near Loloma's home village of Hotevilla on the Hopi Third Mesa. But, it might not actually be any specific village, it might be a stylized artistically created Hopi village created from Charles imagination and deep knowledge of and understanding of his homeland. The drawing is done in fine dark brown pen and ink on a beautifully-textured French Arches art paper sheet and it measures 7" in height by 10" in width" (sight). The framed dimensions are 13 1/2" in height" by 16 1/2" in width. The drawing is properly and beautifully signed "Loloma" at the lower right and it is in excellent original condition. The drawing has been archivally island-matted to the highest conservation standards and is most beautifully and appropriately framed in a custom-made hand-carved
natural maple wood frame by Goldleaf Framemakers of Santa Fe, Santa Fe's finest fine art framers, using state-of-the-art ultraviolet light-resistant "TruVue" Museum conservation glass.
The drawing also has an absolutely perfect provenance; it came directly from the personal private collection
of Charles Loloma himself and his second wife Georgia Voisard Loloma. That Loloma kept this drawing after he made it and for the rest of his life says quite a lot about how much he valued the piece and how much it meant
to him. After Charles' death in 1991, the drawing passed to Georgia and after her death in 2021, we acquired it from her estate.
This exquisite drawing is a true and rare treasure in every way; a world-class artwork
by a world-class artist worthy of an honored place in any collection, public or private.
Price $4,200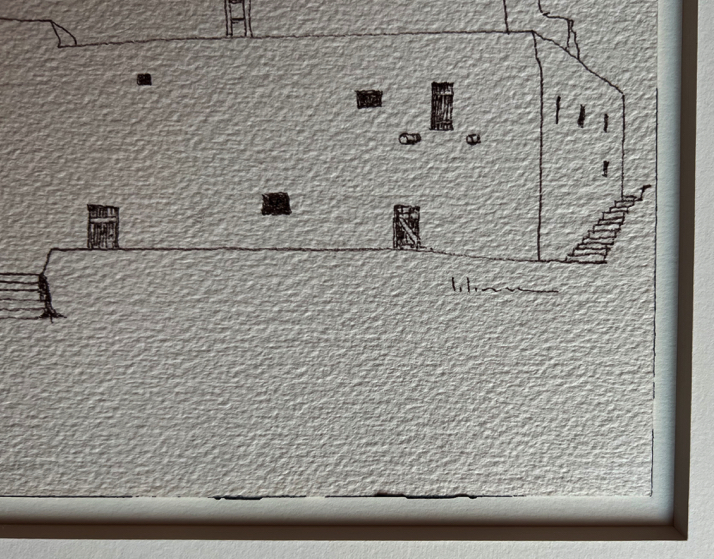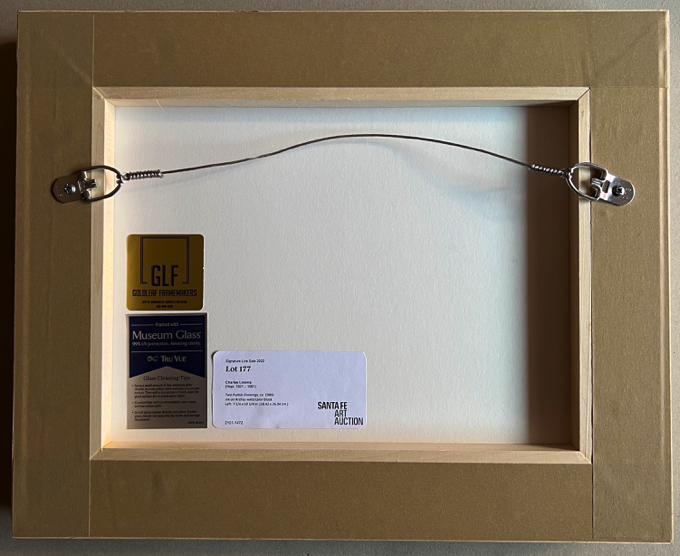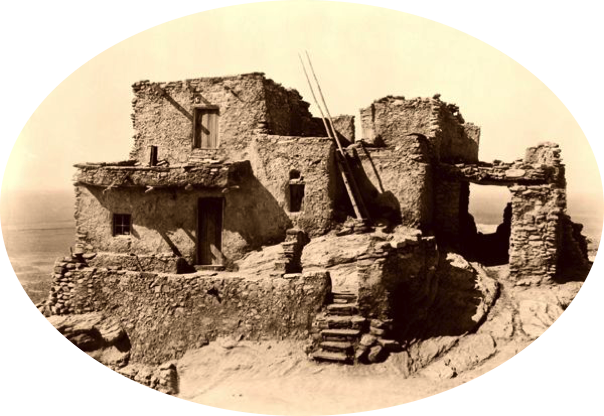 At right, historic photo of Hopi village, c. 1910.
Photo source and © Legends of America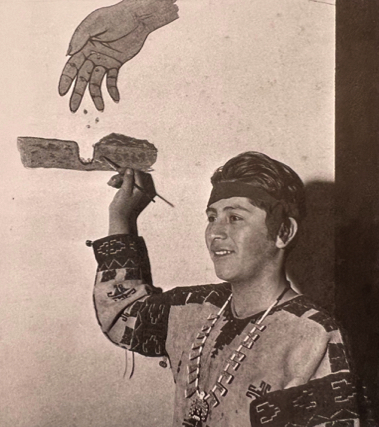 At left, eighteen year-old Charles Loloma in one of the Indian Court galleries of the Federal Building, Golden Gate International Exposition, San Francisco, 1939. At right, Charles Loloma's Hopi kachina paintings on display at the 1939 Golden Gate International Exposition in San Francisco.
Left and right photo source and © Denver Art Museum, Native Arts Department. Left photo reproduced in "Loloma, Beauty is His Name", by Martha Hopkins Struever, Wheelwright Museum, Santa Fe, 2005, pp. 5.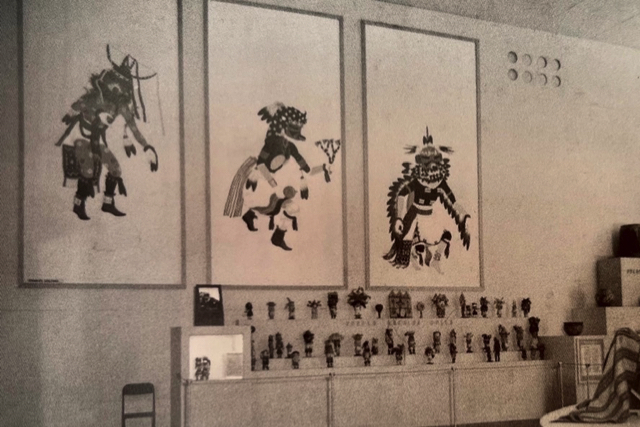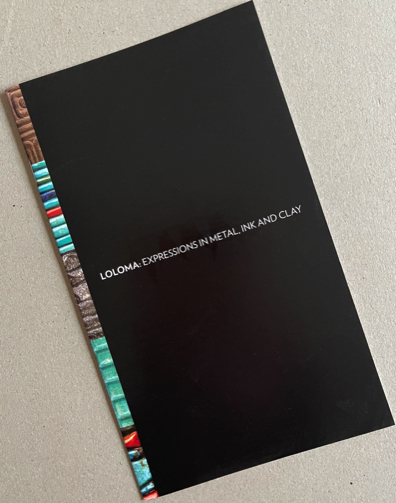 The Heard Museum's catalog of the exhibition, "Loloma: Expressions in Metal, Ink and Clay", 2015.
Only starting in the very late 1940's and early 1950's did Loloma begin his initial experimentations with jewelry-making which would eventually become his defining artistic career and legacy, yet through it all, he
kept on making drawings of abstract compositions, Hopi village scenes, architectural renderings, landscapes, personal portraits and occasionally, of Hopi kachinas. There is no solid evidence Loloma ever sold his drawings in any sort of commercial manner, however, he mostly made them for himself or gave them as gifts to various friends, colleagues and family so in the marketplace they are quite scarce and difficult to come by. The Heard Museum in Phoenix, Arizona staged a wonderful exhibition of some of these drawings along with jewelry and pottery pieces in 2015 entitled "Loloma: Expressions in Metal, Ink and Clay".
And, not only are they extremely rare, Loloma's drawings are simply remarkable in their breathtaking quality and beauty. We have had perhaps only fifteen or so of Charles' drawings in all over the past 35-plus years and in our opinions this is one of the finest and most interesting ones we have had yet, a distinguished Hopi artist's view of a Hopi village. The overall precision, detail and sophisticated technique evident in this work are just astounding, the line is precise and sure-handed yet delicate, the presentation of the village is solid and permanent yet light and ethereal at the same time. One can see that Loloma drew the village largely in the negative which is to say that he left open spaces in the design which are as much an important part of the drawing as are the solid areas he filled in.