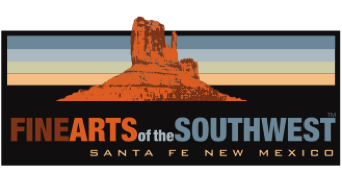 © 2010-2021 by Fine Arts of the Southwest, Inc. All rights reserved.
Unauthorized reproduction or use is strictly prohibited by law.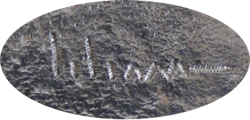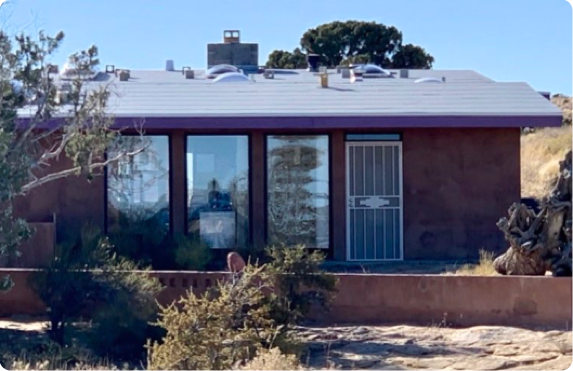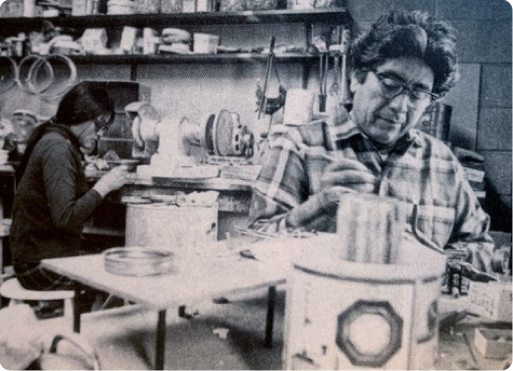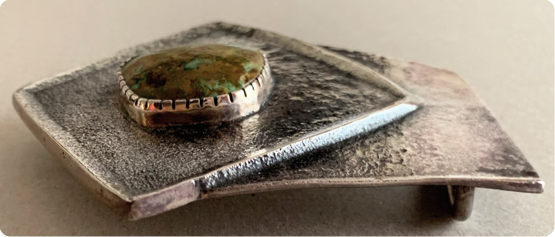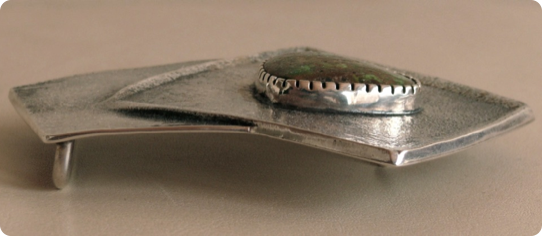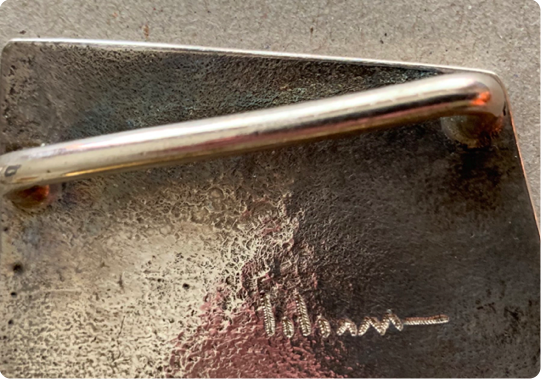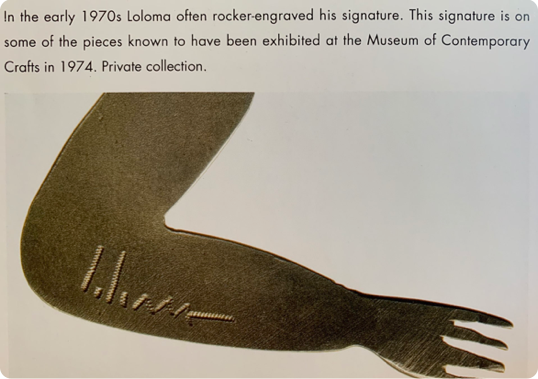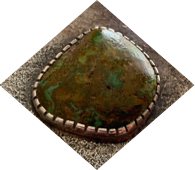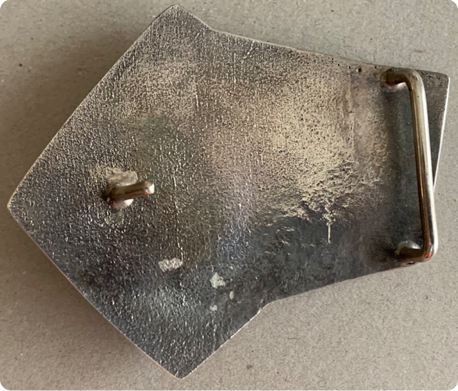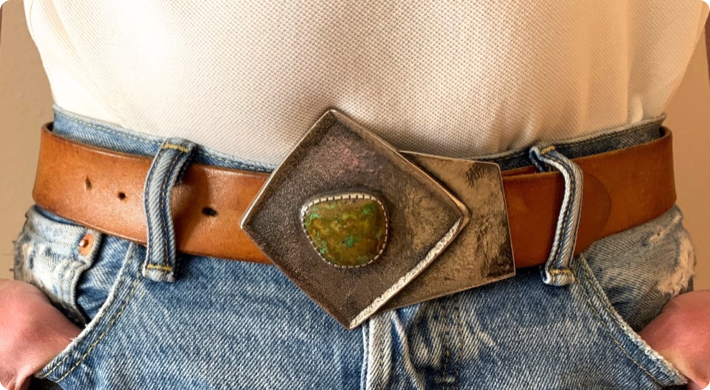 An exceptionally beautiful and large Hopi tufa-cast silver and turquoise belt buckle by Charles Loloma, c.1970
This amazing buckle is an absolute unqualified stunner, one of the most dramatic, unique, beautifully conceived and finely executed Charles Loloma pieces we have ever seen and we have seen a great many of them over the years. This sort of piece is precisely why Charles Loloma is justly regarded as the pre-eminent Native American jewelry artist of his time or any other time. The buckle has a striking, unusual, asymmetrical offset shape encompassing the design of a stylized, four-pointed "Morning Star". Loloma was an undisputed master of the painstaking and technically precise method of tufa-casting metal and the silver casting on this buckle is masterfully accomplished with a wonderful and delightful to the eye contrast in surface textures and "color" between its intentionally polished and unpolished areas.
The large lovely oval-shaped turquoise stone set in the buckle's center in our view is likely from the famed
I.P. King's Manassa Mine in southern Colorado or the Royston mining district in Nevada. It is a very beautiful, medium-greenish stone with lovely light-brown matrix mixed with subtle, darkish-yellow shades set in a finely-serrated silver bezel. This distinctive stone is extremely evocative of the colors and textures of the Southwestern desert landscape as seen from the air. Loloma owned his own small plane and delighted in
taking himself and his apprentices up in the air to observe the unique beauty of the Southwestern desert landscape from that lofty perspective. He often chose stones for his jewelry that expressed these views.
"If there is beauty in a piece of art, a person
can absorb it and become more beautiful."
-Charles Loloma
The buckle is quite a sizable piece, measuring an impressive 4" in maximum width and 3 1/2" in maximum height.
It weighs a substantial 101 grams or 3 5/8 ounces and it is in excellent original condition. It is properly and beautifully signed "Loloma" on the back in the rocker-engraved rendition of his signature which Loloma often used in the early 1970's according to Loloma scholar, author and longtime friend, Martha H. Struever.
The buckle will accommodate a belt of up to 1 3/8" width. 
Befitting its beauty and distinctiveness, the buckle also has a distinguished provenance. It was purchased directly from Charles Loloma between 1968 and 1972 by the King family who then owned the Santa Fe East Gallery, which was one of the only two galleries in Santa Fe at that time which represented Charles Loloma's work. The buckle was later acquired by our colleague, Bill Faust of Faust Gallery in Scottsdale, AZ directly from the King Family collection and was subsequently acquired by us from him in 2011. 
This exceptional buckle makes an extremely bold statement and is a real demonstration of the wisdom and
truth of Charles Loloma's sentiment about beauty in a piece of art quoted above, which it does beautifully.
After all, Loloma's name in Hopi means "beauty".
Price available upon request
Note: The leather belt pictured here is for demonstration purposes only and is not included
in the sale of this buckle. If you need advice on where to have an appropriate leather belt made
we would be happy to provide a recommendation.
PROVENANCE
The Artist, c. 1970
King Family Collection, Santa Fe East Gallery,
Santa Fe, NM, c. 1970-2011
Bill Faust, Faust Gallery, Scottsdale, AZ., 2011
Acquired from the above by Fine Arts of the Southwest, Inc., 
Santa Fe, NM, 2011
At left, a modern day view of Charles Loloma's former studio in Hotevilla, Arizona.
At right, Charles Loloma and his apprentice Verma Nequatewa at work in the studio, 1970.
Photo at right source and © Martha H. Struever "Loloma, Beauty Is His Name", Wheelwright Museum of the American Indian, Santa Fe, 2005, pp.21
Charles Loloma's rocker engraved signature from the early 1970's on this buckle at left, and as discussed at right in Martha H. Struever's "Loloma, Beauty Is His Name", © Wheelwright Museum of the American Indian, Santa Fe, 2005