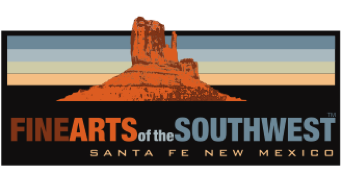 © 2010-2021 by Fine Arts of the Southwest, Inc. All rights reserved.
Unauthorized reproduction or use is strictly prohibited by law.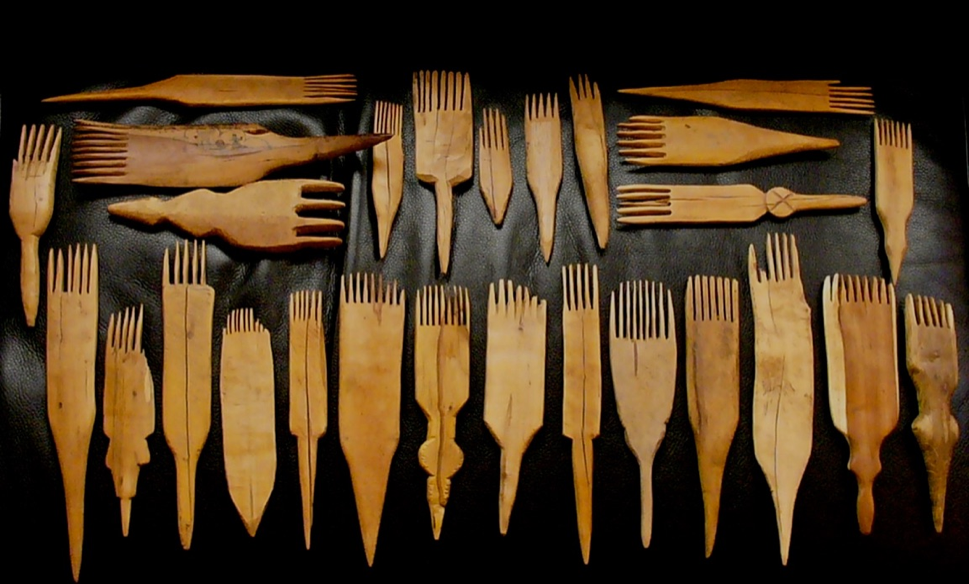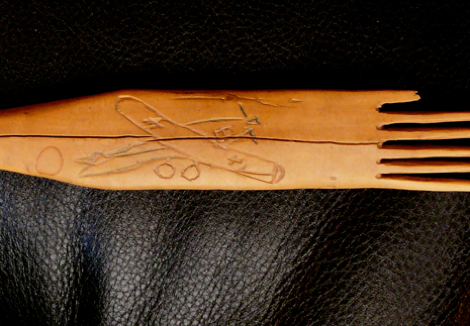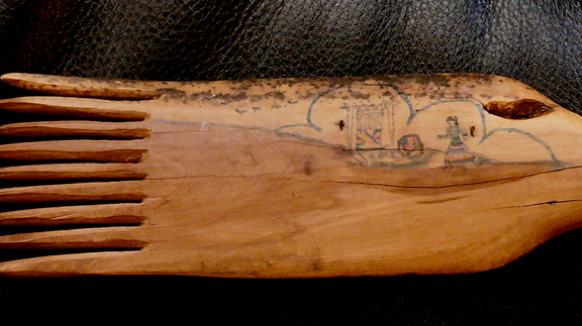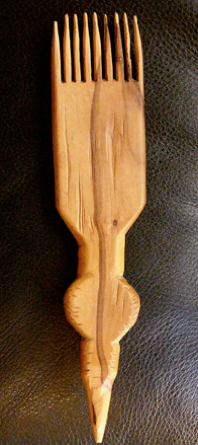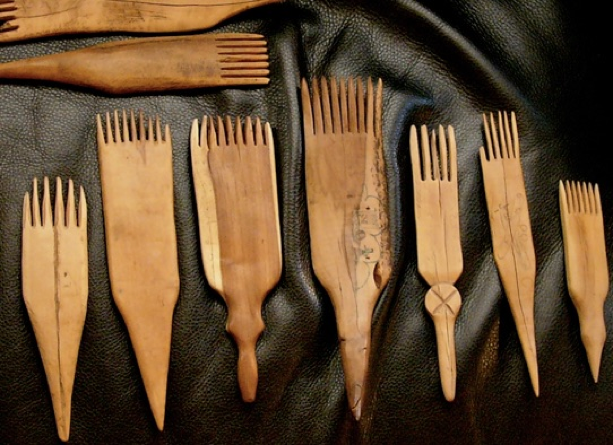 An extraordinary collection of 27 hand-carved historic Navajo wooden weaving combs from the 19th and 20th centuries
A really rare and unique group of historic Navajo weaving combs from around 1880 through about 1940. Combs such as these were (and still are) one of the primary tools of Navajo textile weaving used by Navajo weavers to tamp down the wefts of wool as the weaving progresses and to help separate the warps to facilitate the threading of the wefts between them. There are 27 weaving combs in this collection and they are extremely elegant and soulful sculptural objects painstakingly hand-carved from the hard desert woods commonly found throughout Navajo land, such as native greasewood, cedar or juniper which are then worn and polished by decades of constantly being held in the weaver's hands and always in contact with the natural lanolin in the sheep's wool until their wood surfaces are transformed into something absolutely magical—smooth and warm and cool and buttery to the touch all at the same time…just a delight to hold.
A number of these combs have subtle decorative carvings in the wooden handles which makes them resemble bird's heads, one comb has a biplane carved in it (which was an image popular in the Shiprock area of the Navajo reservation), while another has a beautiful weaving scene actually painted on it. (See Photo below) All in all, these weaving combs evoke the very soul of Navajo weaving and culture and, over the years, they have captured the imagination of collectors of folk art, modern art, textiles and sculpture alike. Very few of the great older weaving combs are available any longer and this group is chock full of them. They are beautiful when displayed flat on a table or one can have custom stands made to display them standing upright which also looks very impressive.
This is one of the very few historic southwestern native art forms remaining where great beauty, history, tradition, form, utility and age all come together in the same object at a reasonable price. The combs range in size from 4 1/2" to 11 1/2" in length and are all in very good original condition with varying degrees of wear from use.
Price $5,400 for the 27 weaving combs, sold as a collection only.