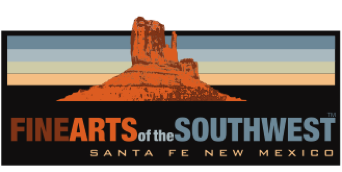 © 2010-2022 by Fine Arts of the Southwest, Inc. All rights reserved.
Unauthorized reproduction or use is strictly prohibited by law.

A beautiful channel-inlaid Zuni silver bolo
of a prancing Appaloosa horse by
Curtis and Connie Leekity, c. 1950's-60's
A wonderful and striking bolo made by the talented Zuni husband and wife team of Curtis and Corrine or Connie Leekity (active 1950's-70's). Curtis Leekity is a grandson of the great Zuni inlay jewelry artist John Gorgon Leak (Leekity) (Approx.1900-1970) who worked many years for C.G. Wallace's prominent Indian trading post at Zuni Pueblo, New Mexico. John Gordon Leekity's work figured importantly in Wallace's personal collection much of which was famously sold at a Sotheby's auction in 1975 and the rest of which is in the collection of the Heard Museum in Phoenix.
The bolo is made in the "channel inlay" style of Zuni jewelry meaning that each piece of stone or shell inlay is enclosed within a silver channel as opposed to the stone-to-stone inlay style where the individual stones are inlaid directly next to each other. There are 29 individual inlaid pieces in all in this beautiful bolo; four large inlays of spotted Comus shell, nine of black jet, six of white shell, four of dark brown shell and six of beautiful blue turquoise. All the stones are very subtly hand-shaped and carved and the inlay work is very precisely and finely done. The overall design and form of the horse is most beautifully and sensitively rendered and presented here, perfectly capturing the strength, grace and forceful spirit of this magnificent animal. The silver bolo slide is very slightly and skillfully contoured or domed to better fit the body.
The Appaloosa Horse
"In North America, the Native American Nez Perce people of what today is the United States Pacific Northwest developed the original American Appaloosa breed. Settlers once referred to these spotted horses as the "Palouse horse", possibly after the Palouse River, which ran through the heart of Nez Perce country. Gradually, the name evolved into Appaloosa."
-Appaloosa photo source and © Canstock Photo. Quotation source and © Wikipedia
The bolo slide measures 2 1/2" in height and is 2 3/4" in width at its widest point, the horse's nose to tail. The silver bolo tips are 2 1/4" in length. The entire bolo; slide, tips and leather tie weighs a very comfortable and easy to wear
37 grams or 1 1/4 ounces. The bolo slide is in excellent original condition, one of the black jet stones in the horse's head appear to have two very slight cracks as does one of the turquoise stones below the horse's feet, but this is of no consequence. There is also some age-approriate abrasion wear to some of the stones and silver inlay channels.
The bolo's nicely braided black leather tie also has some amount of wear which is to be expected, but it is in completely fine and serviceable shape. The silver bolo tips are also in excellent condition. The bolo slide is properly signed on the back with Curtis and Connie Leekity's hallmark of their co-joined initials "CL". There is also what appears to be the name of a former owner, "Pat Terry" lightly engraved in electric pen on the back of the slide along with what looks like a street address. A few words on the dating of this piece, the Bennett "C-31" model clasp on the back of this bolo was only made from the mid-1950's through the mid-1960's. After that, from the mid-1960's through the late 1980's the Bennett type bolo slides say "Bennett Pat. Pend"
This bolo is a beautifully wrought and powerful portrayal of a lovely and spirited animal and an outstanding example of high-quality Zuni inlaid silver work. It's a fine piece anyone, especially anyone who loves horses, would be proud to own, to wear or simply to hang on the wall and admire.
SOLD