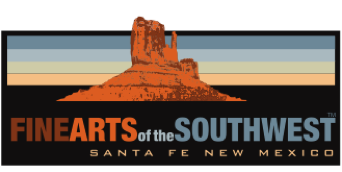 © 2010-2021 by Fine Arts of the Southwest, Inc. All rights reserved.
Unauthorized reproduction or use is strictly prohibited by law.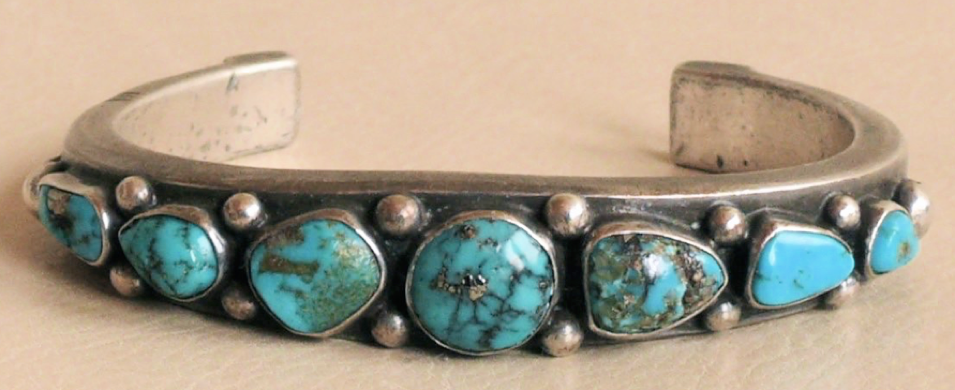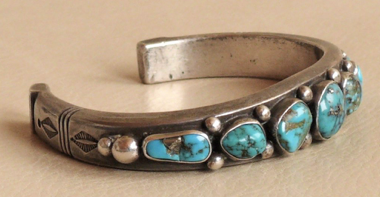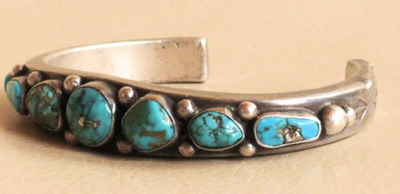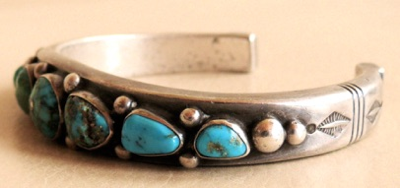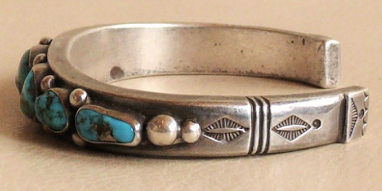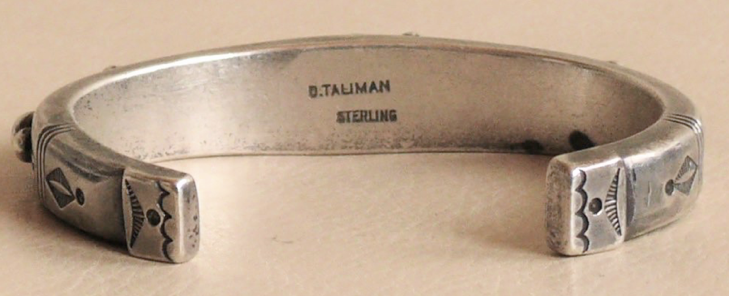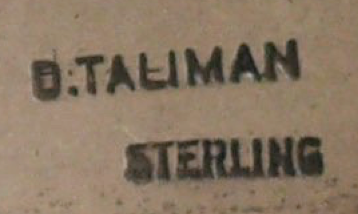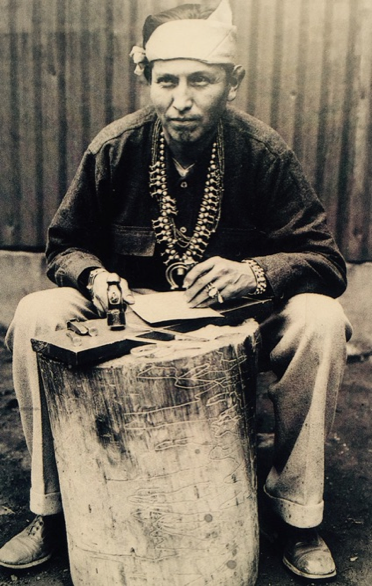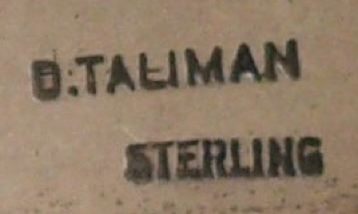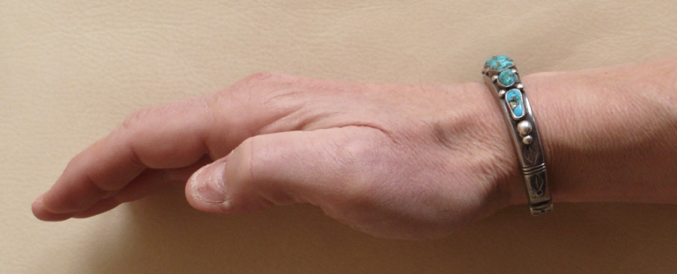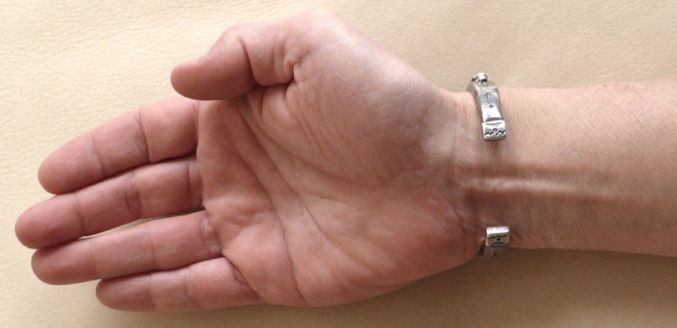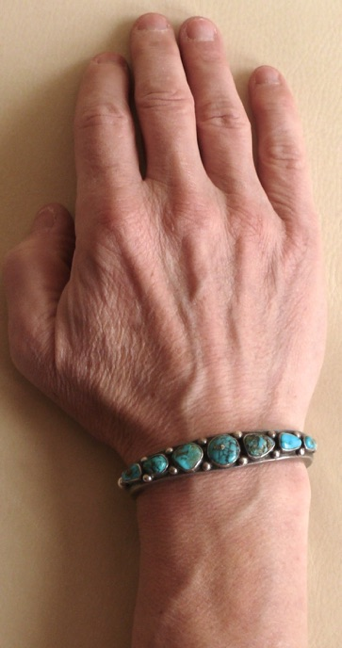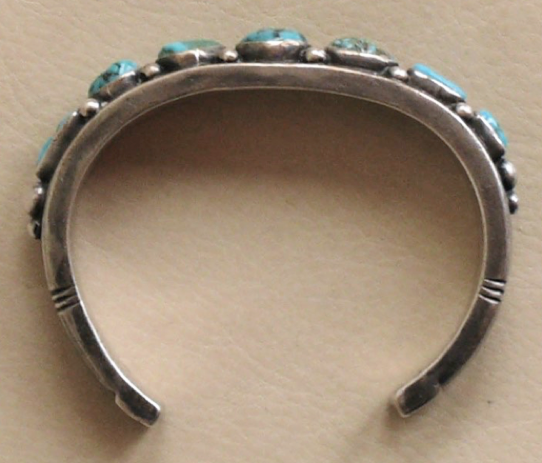 An exceptional Navajo ingot-sterling silver and turquoise bangle row bracelet by David Taliman, Santa Fe, NM, c. 1930's-40's
The excellent Navajo/Cochiti silversmith, David Taliman (1902-1967), was born near Ganado, Arizona in the eastern part of the Navajo Reservation of a Navajo father and a Cochiti Pueblo mother. He subsequently attended Riverside Indian School in southern California after which he began his silversmithing career as an apprentice to the extraordinary Navajo silversmith, Fred Peshlakai, son of Slender-Maker-of-Silver and one of the true giants in the history of Navajo silversmithing, at Peshlakai's shop in nearby Los Angeles in the 1920's. Taliman subsequently moved to New Mexico in the late 1920's where he worked as a benchsmith in various prominent Indian trading post shops such as Maisel's in Albuquerque, Spanish and Indian Trading in Santa Fe and Julius Gans' Southwest Arts and Crafts also in Santa Fe where he worked alongside such Navajo silversmithing luminaries as Mark Chee and Ambrose and Sam Roanhorse before going on his own in the late 1940's. In 1953, after marrying a Santa Clara Pueblo woman, Taliman moved to Santa Clara Pueblo 30 miles or so north of Santa Fe where he continued making silver and also taught silversmithing until his death in 1967.
"Learning silversmithing from Fred Peshlakai would basically be the Native American equivalent of a young European painter apprenticing with Leonardo da Vinci or Michelangelo."
This wonderful heavy ingot-silver row bangle bracelet is a simply gorgeous piece; made in the traditional old style Navajo manner by painstakingly hammering out a cast-ingot silver slug, in this case one made of Sterling silver. Once the silver shank of the bracelet was shaped, it was very elegantly decorated with some restrained geometric stampwork designs and very unique and distinctive chisel work on the terminals. Next, the seven silver bezels and the applied silver "raindrops" were soldered on and the seven high-grade baroque-shaped turquoise stones set and the bracelet finished and buffed. The quality of workmanship on display here is superb in every way.
The bracelet's thick silver shank tapers very slightly and varies somewhat in thickness from about 3/8" to 3/16". The bracelet measures 1/2" in width at its widest center point and it tapers down somewhat to 5/16" in width at the terminal ends. The bracelet's inner circumference end-to-end is 5 1/2" and the gap between the terminals is 1 3/8" for a total interior circumference of 6 7/8". The bracelet weighs a substantial for its slim width, but very comfortable 68 grams or 2 3/8 ounces. The seven striking hand-cut turquoise stones have a wonderful penetrating blue color and some hints of bright silver pyrite matrix indicating a likely origin of the renowned Morenci turquoise mine in southern Arizona. The central row of set stones is interspersed with six pairs of applied silver "raindrops" and further decorated at each end with paired large and small silver "raindrops".
The bracelet is in excellent original condition overall especially for its 75-plus years with some light age-appropriate wear. There is some small degree of matrix deterioration on a couple of the turquoise stones, but the stones are all secure in their bezels. The bracelet is properly hallmarked "D. TALIMAN STERLING" on the interior. Although Taliman had a fairly long forty-or-so-year silversmithing career, from around 1928 through 1967, his pieces are fairly scarce today indicating that his output was relatively low, likely due to all the extra effort care and time he put into fashioning his pieces and also the possibility that he likely made many "anonymous" unsigned pieces for others. Taliman's high quality work attracted a number of prominent collectors over the years among them Byron Harvey III of the famous Fred Harvey Company.
This bracelet is a rare, beautiful and extremely wearable traditional piece from the talented hands of one of the country's finest historic Native American silversmiths; a great artist himself who learned his craft from one of the greatest ever.
Price $2,850
David Taliman, circa 1935.
Photo source and © Mack Photo Service, Santa Fe, NM.