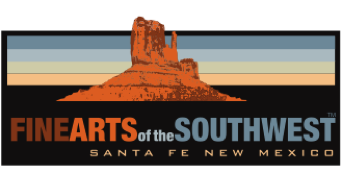 © 2010-2021 by Fine Arts of the Southwest, Inc. All rights reserved.
Unauthorized reproduction or use is strictly prohibited by law.

A rare, historic original black-and-white Smithsonian Institution photograph of an unknown Osage Indian man by DeLancey W. Gill
The subject of this wonderful photograph is an unknown Osage Indian man. However, we can deduce from his dignified demeanor, elaborate clothing and the circumstances of the photograph itself, that he was a person of some prominence.
This photograph is an important piece of the historical record of the time due to the fact that it was taken directly by or under the supervision of DeLancey W. Gill (1859-1940), the highly-respected Director of the Smithsonian Institution's Bureau of American Ethnology Photography Division in Washington D.C. In this capacity, Gill coordinated, supervised, and commissioned many prominent professional photographers, including himself, to take pictures of significant Native American figures, events, locales and artifacts. He printed a great many of these photographs himself from their original negatives. This photograph was purchased directly from a California photography dealer who, in turn, had acquired it directly from DeLancey E. Gill's grandson, Lance Gill of Pasadena, California, who inherited it from his famous Grandfather.
The photograph is unframed and measures 7 3/4" in length by 5" in width. It is in very good original condition with a ragged edge on the right side. The photo is inscribed "Osage" in pencil on the reverse in an unknown hand, possibly Gill's, and it is also inscribed "purchased from DeLancey Gill's Grandson". DeLancey W. Gill's Native American photos and those of the other photographers he supervised at The Smithsonian are some of the most eloquent and haunting records and impressions of the now-vanished American frontier.
Price $395