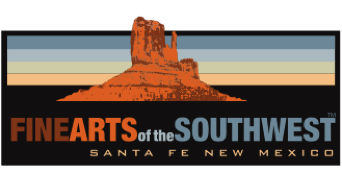 © 2010-2022 by Fine Arts of the Southwest, Inc. All rights reserved.
Unauthorized reproduction or use is strictly prohibited by law.
An outstanding contemporary Navajo silver
and turquoise cuff bracelet by Debbie Silversmith, Kenneth Begay's Granddaugther, c.1990's
We're not exactly sure how to describe this bracelet, the first term that comes to mind is "outrageous" because everything about it is just that; the size, the shape, the craftsmanship, the sheer visual impact of the dazzling sculptural form and its no wonder when you consider the source. "Like Grandfather, Like Granddaughter" is the operative phrase here because the maker of this sensational piece is Debbie Silversmith (b.1957), the extremely talented Granddaughter of the legendary Navajo Silversmith Kenneth Begay (1913-1977). Silversmith was raised by her Grandparents and she began making silver with Begay at the tender age of ten and then had the next subsequent ten years of intense and intimate personal instruction with the great master. And boy did she ever learn her lessons well! She is channelling her Grandfather in almost every way from the clean streamlined design of her pieces to her incredibly precise technical execution; she also uses Kenneth Begay's treasured silversmithing tools which she inherited from him and she lives and works on his land in Steamboat, Arizona which was also passed down to her.
The designs and fabrication of this spectacular bracelet echoes Kenneth Begay in almost every way. It is a creative combination of cast and fabricated work, the angular shank is beautifully tufa-cast and the central silver medallion containing the turquoise stone is fabricated and soldered on. The triangularly-shaped turquoise stone is a wonderful bright clear blue with a few light brown matrix inclusions and appears to be from Arizona's famed Sleeping Beauty Mine, one of the country's oldest turquoise mines dating back to ancient days. The lovely stone is beautifully set in a nandwrought serrated or toothed silver bezel with a darkened shadowbox surround and is further accentuated by three finely fabricated applied large silver "raindrops."
The White Hogan Shop, c. 1954. Kenneth Begay is pictured at lower right. Photo source and © Arizona Republic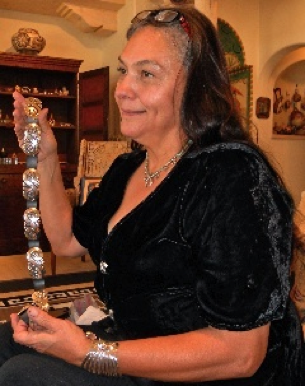 Above, Kenneth Begay's Granddaughter, Debbie Silversmith, c. 2012.
Right photo source and © Martha Struever, Santa Fe, NM.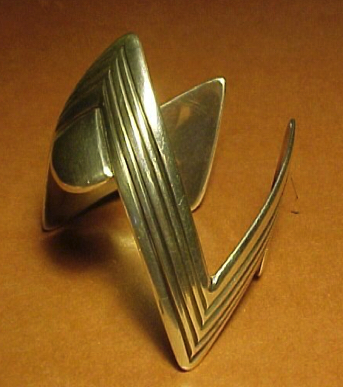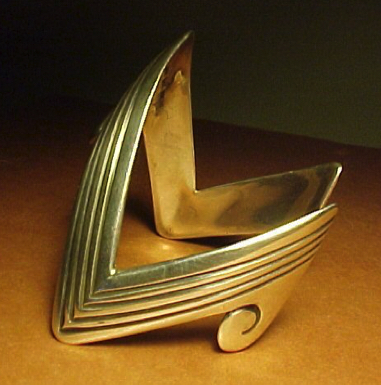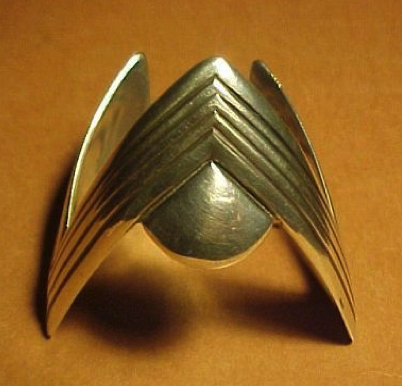 Above, Navajo silver bracelet by Kenneth Begay, c. 1960's
Photo source and © Andrea Fattell
The bracelet's sophisticated sensuous and elegant sculptural design with its daring swooping shape angular contoured shape with clean expanses of polished silver and small perfectly-achieved chiselwork accents, the beautifully restrained stamp work designs on either side of the central medallion and the subtle contour of the silver shank. Kenneth Begay could make the technically near impossible look easy and so too is it with this piece.
The impeccable eye and hand of the old Master being channeled through the eye and hand of the young master.
It's like seeing in the brilliant Renaissance artist Leonardo da Vinci's virtuoso paintings the distinct echoes of his distinguished Master Andrea del Verocchio as seen here below.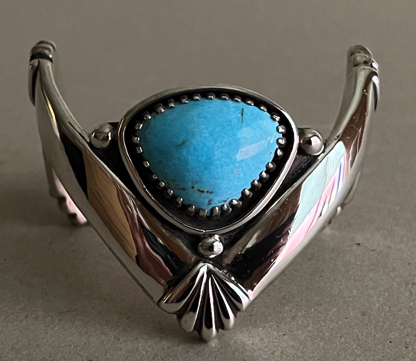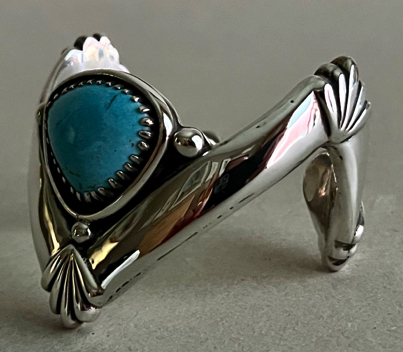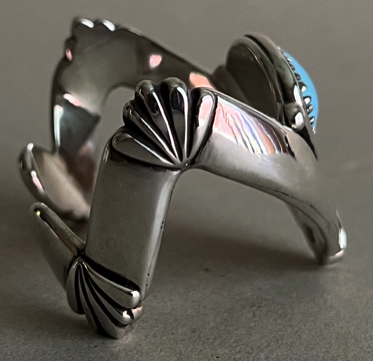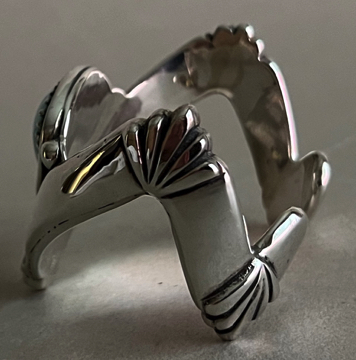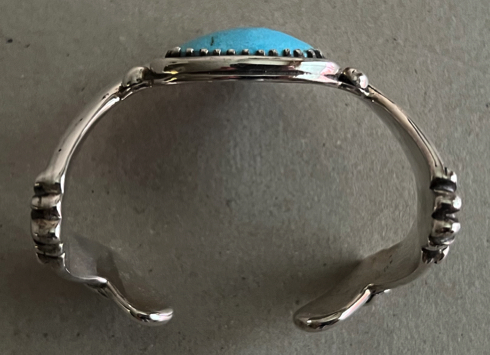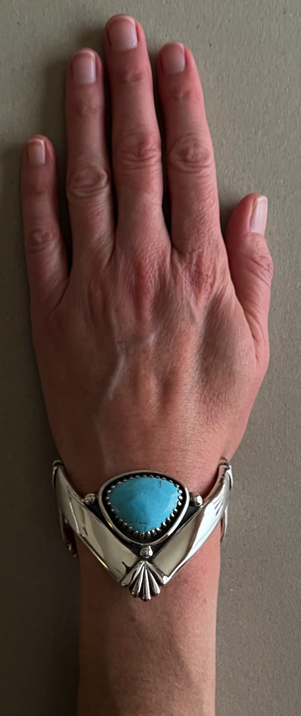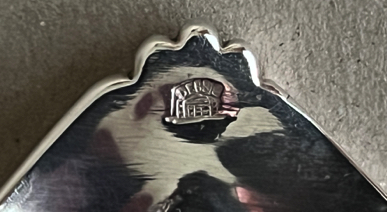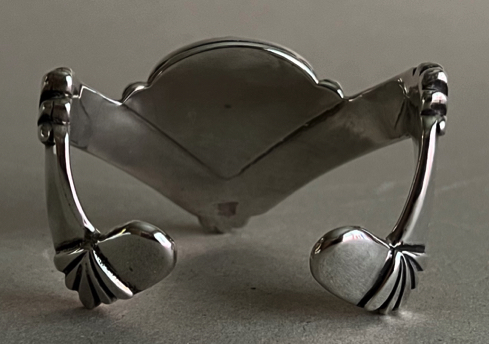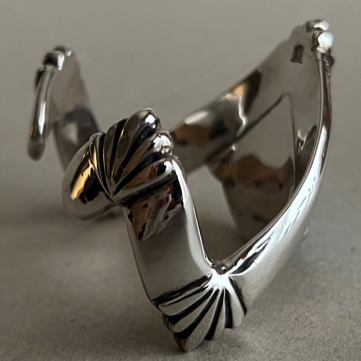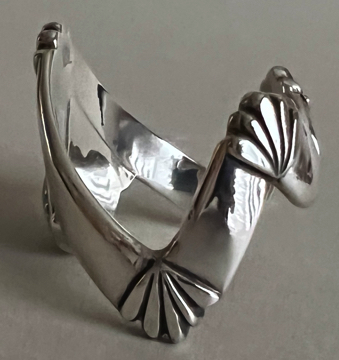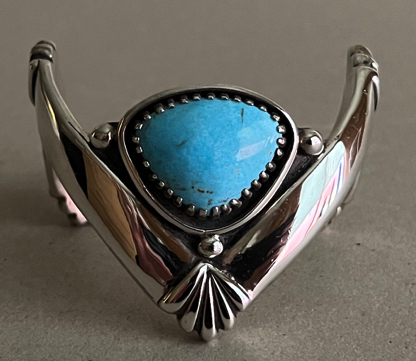 In our view, this is one of the most spectacular and unique Navajo bracelets we have ever seen, of any age, from
any maker. Whether worn on a wrist or displayed on a coffee table, it is an absolutely stunning and ingenious piece from the talented mind and hands of a brilliant artist informed by the incomparable genius of her ancestor and mentor. Grand-daddy Kenneth Begay would have been very proud to say that he played a significant part in inspiring the conception and creation of this exceptional piece.
Price $3,600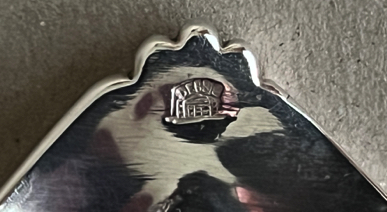 The bracelet sits most beautifully and comfortably on the arm, with the v-shaped center medallion perfectly aligned with the center of the wrist. The bracelet measures 1 3/4" in width at its widest center point and it tapers to 7/8" in width at the terminal ends. The inner circumference end-to-end is just under 6" and the gap between the terminals is 7/8" for a total interior circumference of slightly under 6 7/8". The bracelet weighs an impressive yet very comfortable 121 grams or 4 1/4 ounces, slightly over a quarter-pound of silvery goodness. The bracelet is in excellent original condition and it is properly signed with Debbie Silversmith's personal hallmark of a domed Navajo Hogan with her first name "DEBBIE" stamped across the roofline. This is another homage of sorts to her beloved Grandfather who used a similar Navajo Hogan hallmark during the decades he worked at Scottsdale, Arizona's famous White Hogan Shop.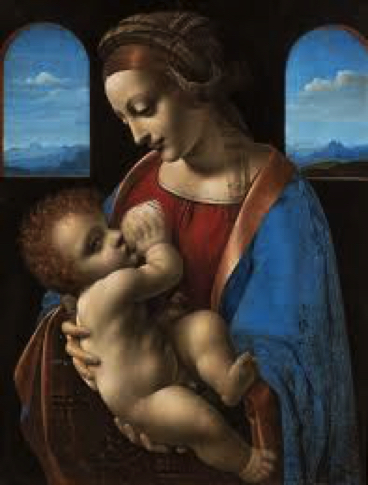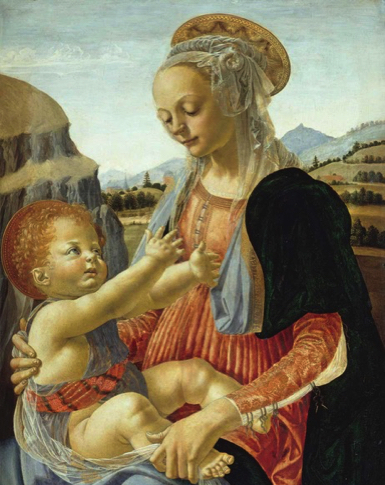 At left, Andrea del Verocchio "Madonna and Child", c. 1470. At right, Verocchio's former student, Leonardo Da Vinci "Litta Madonna" c. 1490
Left photo source and © Staatliche Museen zu Berlin, Gemäldegalerie / Christoph Schmidt. Right photo source and © VCG Wilson/Corbis, via Getty Images.