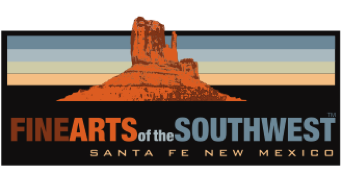 © 2010-2022 by Fine Arts of the Southwest, Inc. All rights reserved.
Unauthorized reproduction or use is strictly prohibited by law.

An outstanding contemporary Navajo silver cuff bracelet by Debbie Silversmith, c.1980's-90's
"Like Grandfather, like Granddaughter" is the operative phrase here because Debbie Silversmith (b.1957) is
the Granddaughter of the legendary Navajo Silversmith Kenneth Begay (1913-1977). Silversmith was raised
by her Grandparents and she began making silver with Begay at the tender age of ten and then had the next subsequent ten years of intense and intimate personal instruction with the great master. And boy did she ever learn her lessons well! She is channelling her Grandfather in almost every possible way from the clean streamlined design of her pieces to her incredibly precise technical execution; she also uses Kenneth Begay's treasured silversmithing tools which she inherited from him and she lives and works on his land in Steamboat, Arizona which was also passed down to her.
The designs and fabrication of this bracelet echoes Kenneth Begay in almost every way. The sophisticated and elegant design with its raised impeccably chisel-worked central medallion with a shadowbox surround bordered by clean expanses of polished silver, the beautifully restrained stamp work designs on either side of the central medallion and the subtle contour of the silver shank. The impeccable eye and hand of the old Master being channeled through the eye and hand of the young master. It's like seeing in the brillant Renaissance artist Leonardo da Vinci's paintings the distinct echoes of his distingusihed Master Andrea del Verocchio.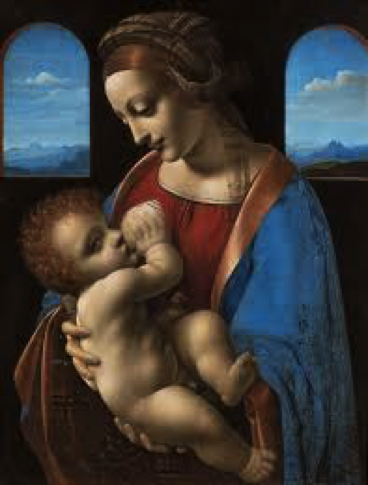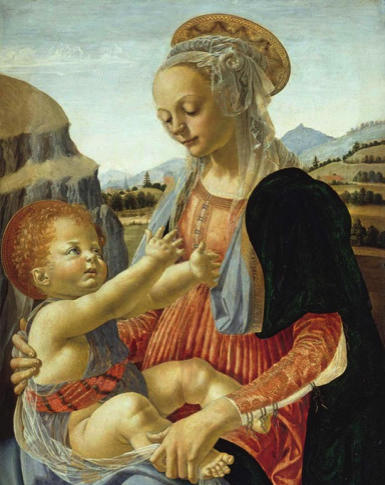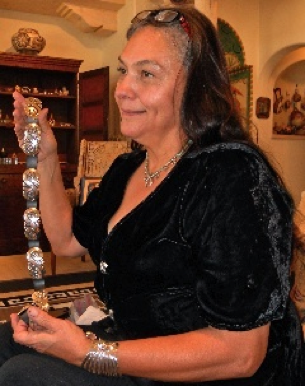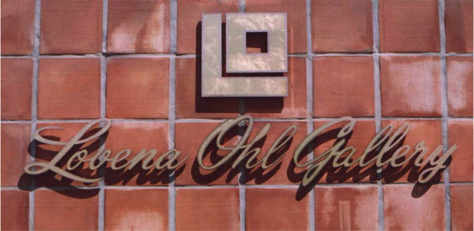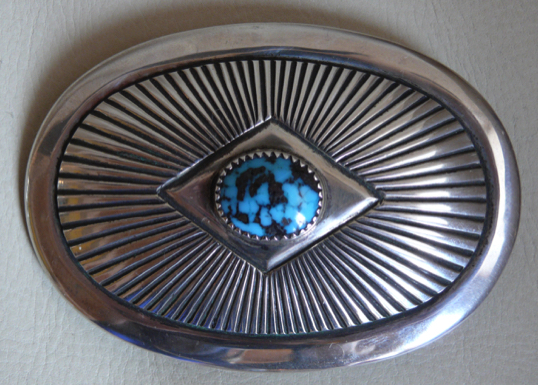 The bracelet measures 1 3/4" in width most of the way around and tapers to 1 1/4" in width at the terminal ends. The inner circumference end-to-end is 5 3/4" and the gap between the terminals is 1 1/8" for a total interior circumference of 6 7/8". The bracelet weighs an impressive yet quite comfortable 119 grams or 4 1/4 ounces. The bracelet is in excellent original condition and it is properly signed with Debbie Silversmith's personal hallmark of a domed Navajo Hogan with her first name "debbie" stamped atop the roofline. This is another homage of sorts to her beloved Grandfather who used a similar Hogan hallmark during the decades
he worked at Scottsdale, Arizona's famous White Hogan Shop.
The bracelet also interestingly has the slightly misspelled name "Lavina Ohl" very lightly scratched inside it. This is almost certainly some kind of reference to the famous Scottsdale, Arizona Native Arts gallery owner Lovena Ohl (1908-1994) but we do not know exactly how or why. Very possibly, this piece was purchased from Lovena Ohl's gallery and marked as so by the purchaser or by a subsequent owner, but we cannot know this for certain. However, we did acquire this bracelet in Southern Arizona not far from Scottsdale so the possibility that it might have passed through Lovena Ohl's gallery at one time or another certainly exists.
This is a stunning bracelet from the hands of a brilliant artist informed by the genius of her ancestor
and mentor. Grandpa Kenneth would have been very proud to say that he played a part in the conception
and creation of this exceptional piece.
Price $1,950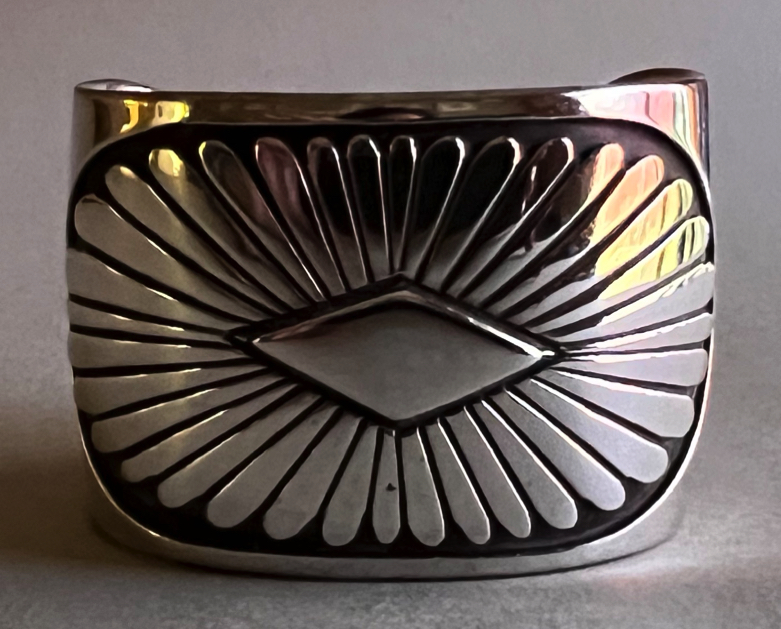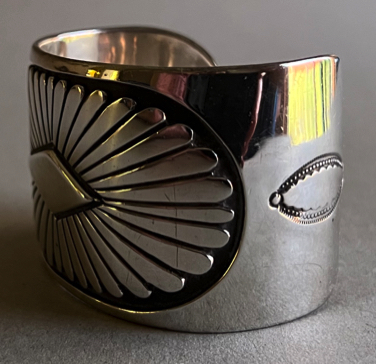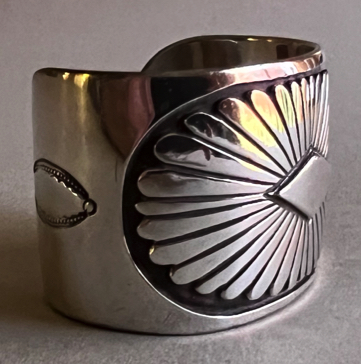 At left, a buckle by Kenneth Begay with a similar central medallion design.
At right, Kenneth Begay's Granddaughter, Debbie Silversmith, c. 2012.
Right photo source and © Martha Struever, Santa Fe, NM.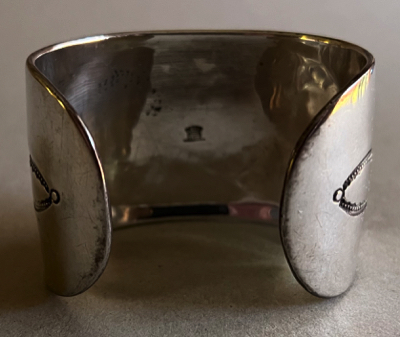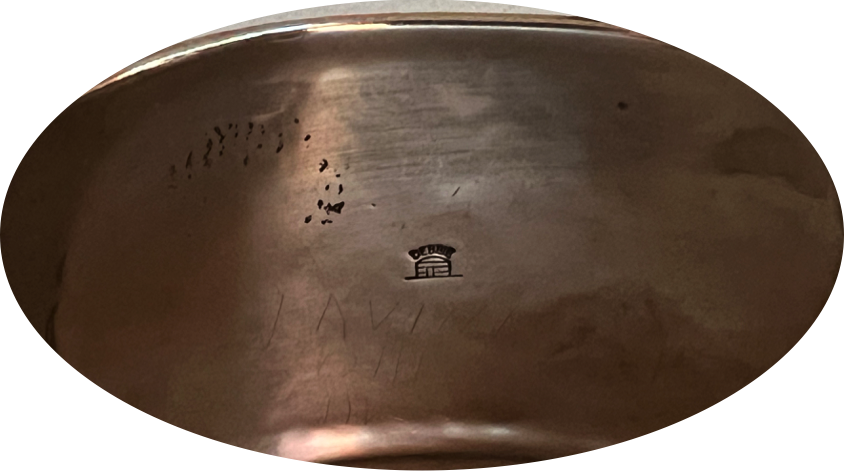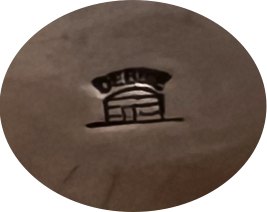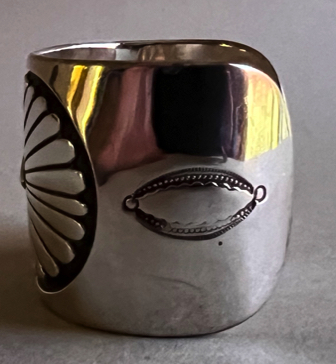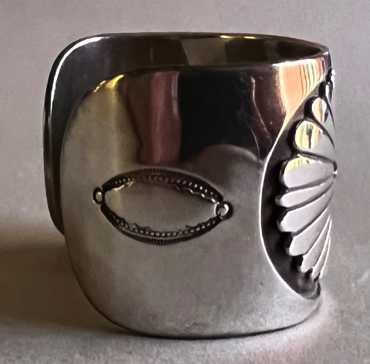 At left, Andrea del Verocchio "Madonna and Child", c. 1470. At right, Verocchio's former student, Leonardo Da Vinci "Litta Madonna" c. 1490
Left photo source and © Staatliche Museen zu Berlin, Gemäldegalerie / Christoph Schmidt. Right photo source and © VCG Wilson/Corbis, via Getty Images.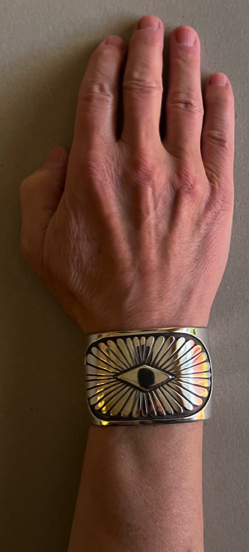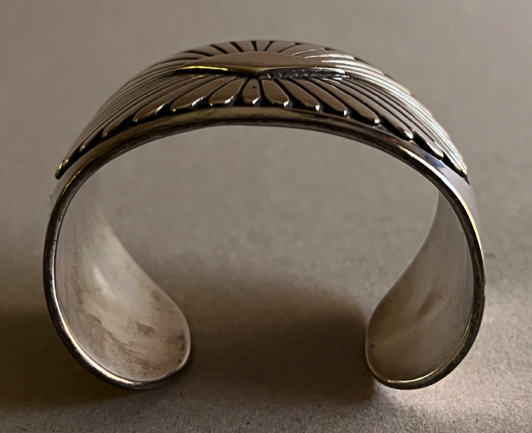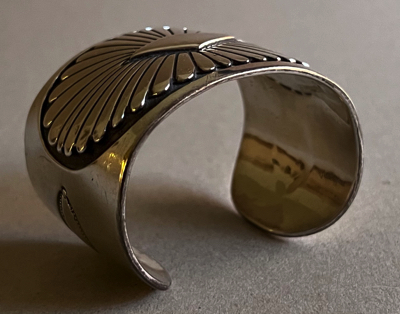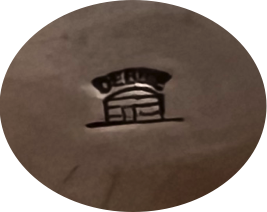 Lovena Ohl Gallery, Scottsdale, Arizona, c. 1980.
Photo source and © Dennis Knicely Studios