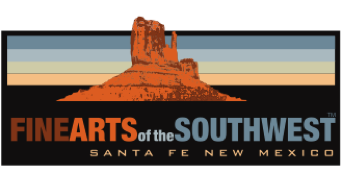 © 2010-2021 by Fine Arts of the Southwest, Inc. All rights reserved.
Unauthorized reproduction or use is strictly prohibited by law.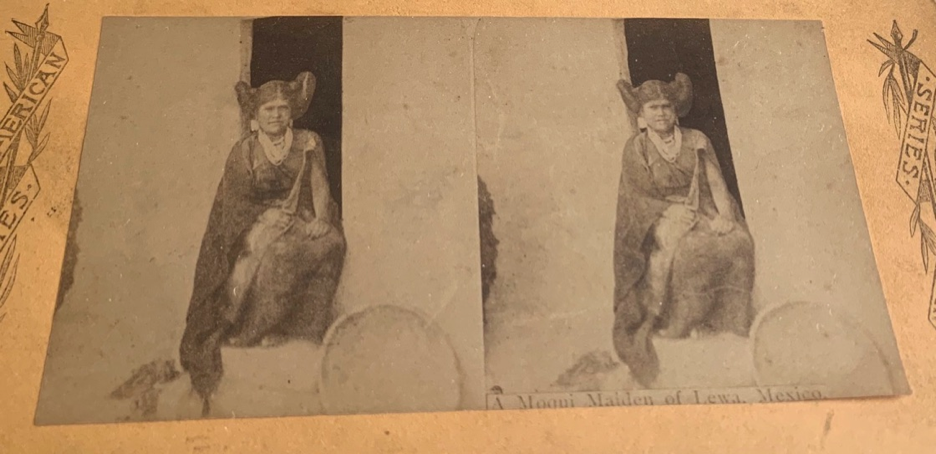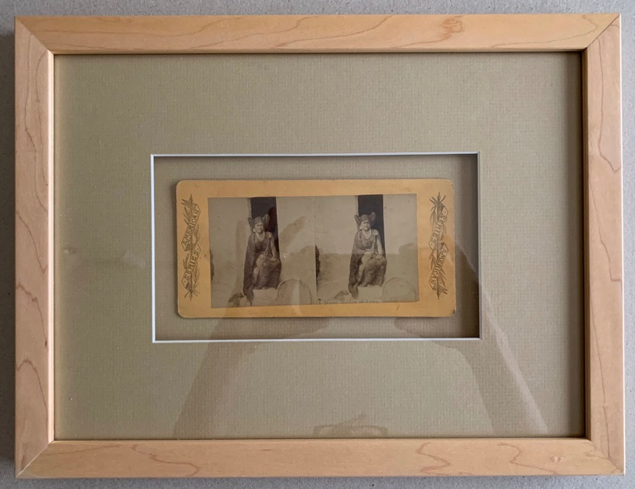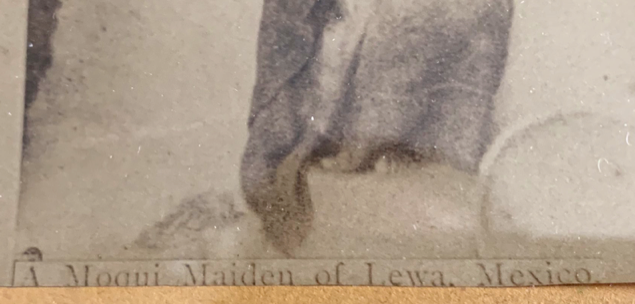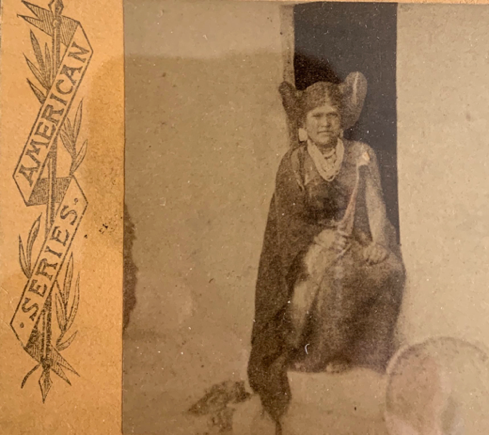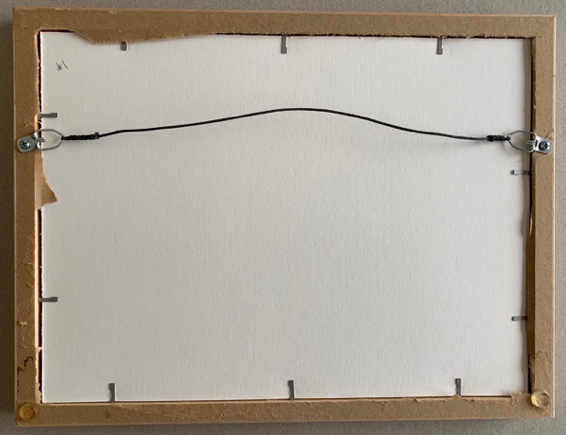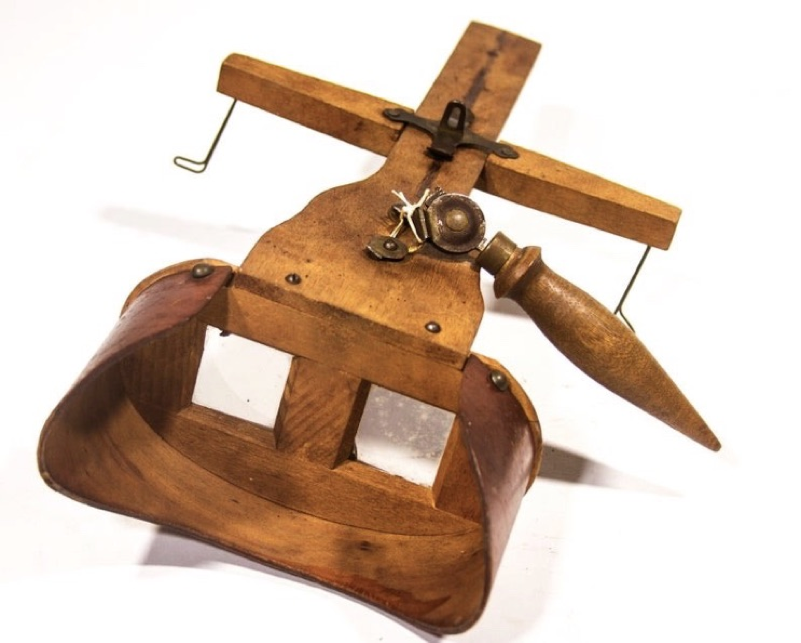 A very early historic stereoview type photograph of renowned Hopi pottery-maker Nampeyo of Hano, c.1875
This wonderful pair of historic images depicts the now world-famous Hopi ceramic artist, Nampeyo of Hano (1859-1942) as a very young unmarried woman, easily identified as such by her distinctive so called "maiden" hair whorls hairstyle which unmarried Hopi women customarily wear until they get married.
Nampeyo was first photographed in 1875 by the prominent American photographer William Henry Jackson and subsequently by any number of other photographers. Since she married her husband Lesou in around 1878 or 1881 these photographs must be earlier so they are very likely later 19th Century photographic reprints of Jackson's original 1875 images. And since Nampeyo was known to have been born in 1859, this date also comports very well with her appearance in the photos where she seems to be in her later teens.
To make the finished Stereoscope photo card ready for viewing, the photo prints were mounted onto a cardboard backing by the company which made the card. Presumably, this would have been the "American Series" company whose elaborately scrolled logo is printed on either side of the photos.
Interestingly, the Stereoscope card bears the completely inaccurate caption "Moqui maiden from Lewa, Mexico" at the lower right under the photos. Nampeyo was culturally a Hopi-Tewa Indian, not a "lewa" whatever that might be and the "Mexico" attribution is even that much more ridiculous and smacks of a certain type of old-fashioned 19th Century American racial and cultural prejudice, but its presence is still a fascinating historic commentary nonetheless.
The stereoscope photo card itself measures 7" in width and is 3 1/2" in height. The framed dimensions of the entire piece are 14 3/4" width and 11 1/4" height. The beautiful and completely archival matting and framing of the piece is well worth a description as it is so beautifully and precisely done. The photo card is matted with an "island" style cut-out over matte which accentuates it extremely well. Then the entire matted piece is framed in a beautifully grained natural maple wood frame, the molding of which is 7/8" in width. Finally, and very importantly the photo card is framed under UV-light protective museum conservation type glass.
This piece is a wonderful, fascinating and significant object of Southwestern Native American, photographic and ethnographic history. To slightly paraphrase a very famous line from Steven Spielberg's iconic 1981 film RAIDERS OF THE LOST ARK:
"Most of us are merely passing through history, this is history."
- "Raiders of the Lost Ark" original quotation source and © Paramount Pictures, 1981
Price $1,150
THE STEREOSCOPE
"The stereoscope was introduced in the early 19th century. Stereoscopes use two nearly-identical images, each taken a few inches to the side of the other. When viewed through two lenses set 2.5 inches apart, approximately the space between the eyes, the result is the illusion of a three-dimensional picture. In fact, stereoscopes are seen as the precursors to 3D entertainment. Much of the three-dimensional technology of today is based on the simple principles that allow the stereoscope to function. Sir David Brewster often gets the credit for inventing stereoscopes, but he first designed the box-shaped viewer.
The first stereoscope was actually introduced in 1833 by Sir Charles Wheatstone in Great Britain. At that time, photographs did not exist, so drawings were used instead. By the 1850s, photography was possible so stereoscopes began featuring this new technology. Because the stereoscope preceded the publication of photographs in newspapers and magazines, stereo viewers were seen as forms of entertainment. People would pass around the stereoscope and see all sorts of beautiful scenes that they otherwise might never have been introduced to."
-Quotation source and © Collector's Weekly
-Photo source and © Etsy.com
Sears Roebuck & Co. stereoscope, c. 1895
Photo source and © Etsy.com