© 2010-2021 by Fine Arts of the Southwest, Inc. All rights reserved.
Unauthorized reproduction or use is strictly prohibited by law.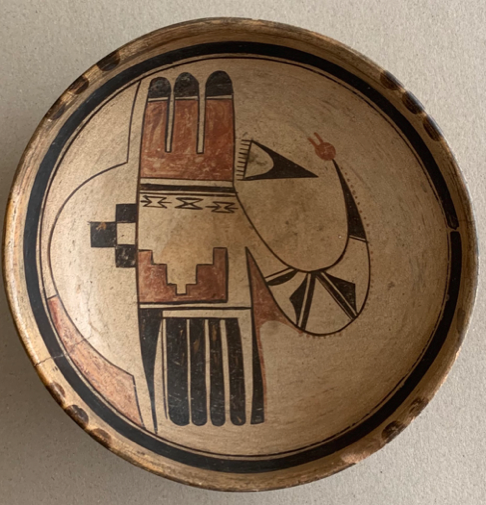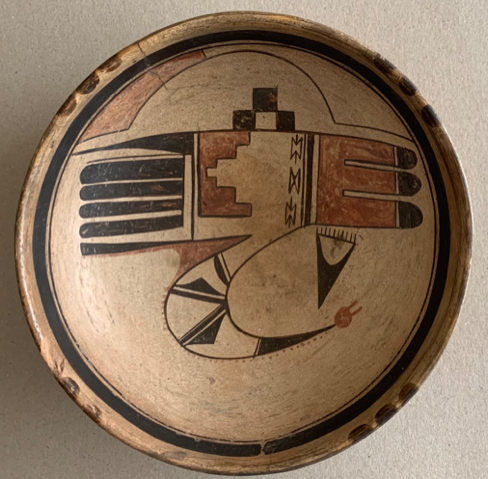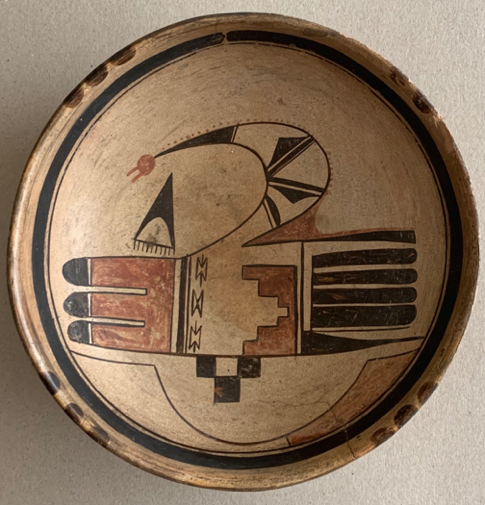 An extraordinary early Nampeyo Hopi
Polacca polychrome pottery bowl with an incredible Abstract Modernist design, c. 1895-1900
Move over Picasso, and watch your back Brancusi, Braque, Kandinksy, Klee, Giacometti, Monet, Miro and Dali,
there's a new modern art sheriff in town. Even though the great Hopi pottery maker, Nampeyo of Hano (1858-1942) never once set foot in an art studio, gallery or museum her entire life and even though she stood barely five feet tall, she is an astounding and original giant of modern art, towering shoulder-to-shoulder alongside all the aforementioned greats and numerous others. And when you consider the primitive circumstances under which she created her magnificent artworks, sitting outside in the dirt under the blazing sun, in the constantly howling wind and dust and unrelenting heat and freezing cold, having to find or make all of her own materials, her achievements become all the more remarkable.
Could Nampeyo herself have influenced the direction of Modern Art? This bowl is c. 1895-1900, some 25 years before
the Kandinsky piece at left below and 40 or so years before the Miro piece at right below. Many early Nampeyo pottery pieces were collected by and exhibited in European museums where they might possibly have been seen by these and many other artists.
Imagine if Picasso had had to paint his Demoisselles D'Avignon not in a Paris art studio but while sitting on his knees in the hard dirt hundreds of miles out in a remote isolated desert using paints he had to hand grind from found local plants and minerals, paint only with brushes he made of chewed yucca stem fiber on sewn together scraps of canvas he scavenged from old army tents. Could he have even done it? And what would it have looked like if he had?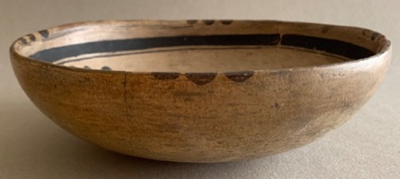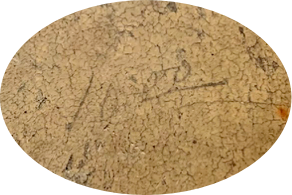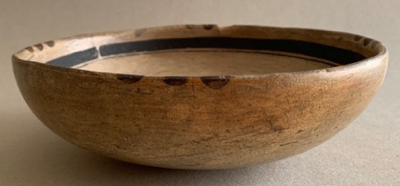 Also, very interestingly, this exceptional bowl was recognized and deemed an exceptional piece of art from the very moment Nampeyo finished making it around 1895. It bears a hand-written in pencil price of $10.00 on the bottom of the bowl put there no doubt by one of the local Indian traders she regularly sold pottery to at that time—Thomas Varker Keam, her older brother Thomas Polacca or J. L. Hubbell in nearby Winslow, AZ. Whoever it was that priced this bowl at that princely sum knew that it was an incredible artistic prize because ten dollars was a simply enormous amount of money at that time, and especially to spend on a Native American pottery bowl in the dusty remote outback reaches of Northern Arizona. As just a brief comparison of relative buying power, for the ten dollar price of this bowl in 1900, you could have purchased seventy-five pounds of the freshest finest steak or you could have treated yourself and 11 friends to a lavish banquet at the finest French restaurant in New York City.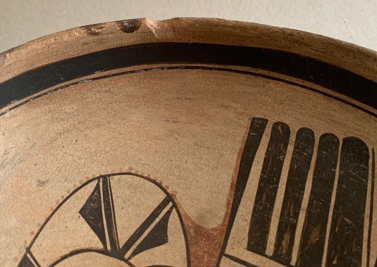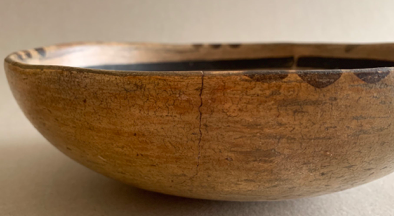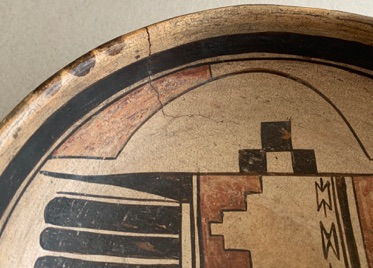 Of course, this bowl costs that much more today in its capacity as the extraordinarily rare and historic artwork it is, all things considered, but today well over a century after it was made later the bowl is even more impressive and compelling now than it was back when Nampeyo made it around 1895-1900. It has acquired the beautiful aura of age, great rarity and marvelous patina having survived its perilous and likely arduous journey to arrive at this point in history, its beauty and uniqueness essentially intact after its previous transportation variously by mule and/or horse wagon, then perhaps by railroad, all in the extreme heat and dust of a broiling Southwestern summer or the howling blizzards of a frigid Southwestern winter.
The painted design of the bowl is that of a highly-stylized deconstructed cubist depiction of a bird, with abstracted feather and pendant tail motifs. The use of positive painted areas in red and black and the interweaving of areas of negative space in and around the design is masterful giving the design a dynamism that makes it seem almost alive. The control of the brush and the paint application itself, particularly in the extreme precision and freedom of the linework, are astounding especially considering the primitive materials and techniques used to achieve it.
There are some wonderful free floating terraced designs inside and around the stylized bird figure and there are four sets of symmetrically-placed horizontally-opposed three dot designs around the top of the bowl's rim, a characteristic Nampeyo design "signature'. Other Nampeyo stylistic telltales are the overall fine potting and stone polishing, the "streaky" red paint, the slightly protruding extra small coil of clay added around the interior just under the rim and the high-temperature firing with Lignite coal and its corresponding firing "blushes". The bowl also clearly shows the very finely crackled or crazed Kaolin-slipped surface indicative of the later, turn-of-the-century Polacca style time period of 1890-1900.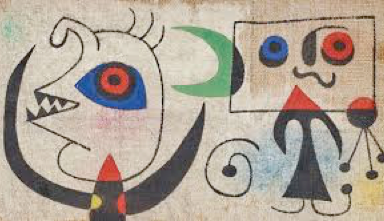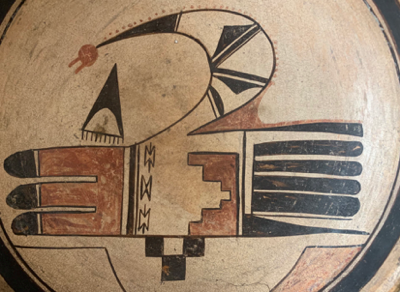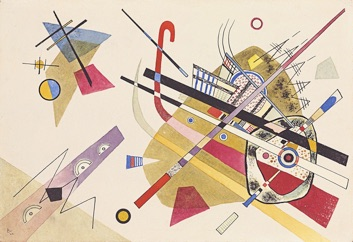 Wassily Kandinsky (1866-1944) "Untitled", 1922
Photo source and © wassilykandinsky.net
Joan Miro (1893-1983) "Personnages Devant la Lune", c. 1940's
Photo source and © Christies.com
"Here, as in works by Miro and Kandinsky, the spontaneous envelopment of space through explosive asymmetric forms creates a wildly unexpected organic vitality. The composition moves rhythmically through the use of visual tension between motifs and curvilinear projections into negative space."
- Hopi pottery authority Edwin L. Wade, Ph.D.
The bowl measures 9 1/2" in diameter and it is just under 3 1/4" in height. It is in very good completely original condition, particularly for its 120-125 years of age. There is absolutely no restoration or overpainting in evidence anywhere on the bowl under ultra-violet light examination. There is a small crack extending about 2 1/2" down from the rim, there is one old 3/4" rim chip and there is a certain amount of soiling to the interior and exterior surfaces but overall the piece is remarkably intact and we would recommend leaving it exactly "as is". If desired, the crack could be easily repaired by a professional pottery restorer for around $300-$400 or less. There is also the remnants of a paper sticker label on the bottom which was very possibly a Fred Harvey Company label.
This bowl is a simply astonishing, original and daringly modern artwork, made that much more so by the
extreme circumstances of its creation. By virtue of its unique, powerful, starkly Modernist composition and its overall artistic beauty It could easily be exhibited in a vitrine in the Museum of Modern art taking its deserving
place next to a Brancusi sculpture under a Picasso painting in the company of its distinguished compatriots,
fellow giants in the world of Modern art. 
Price available on request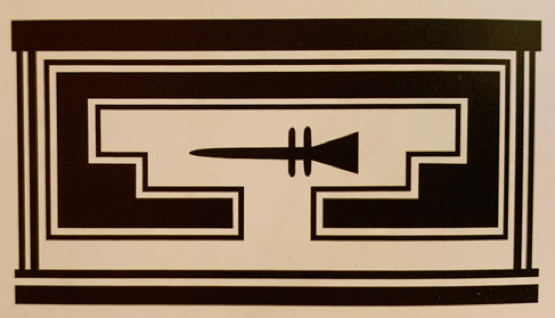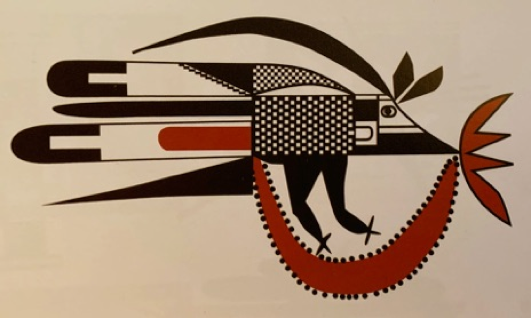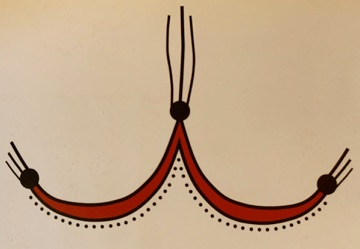 Related Nampeyo pottery designs illustrated in "Canvas of Clay" by Edwin L. Wade, Ph.D and Allan Cooke, © El Otro Lado, 2012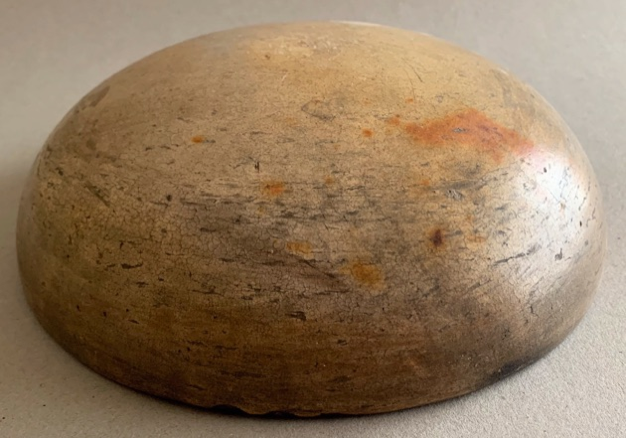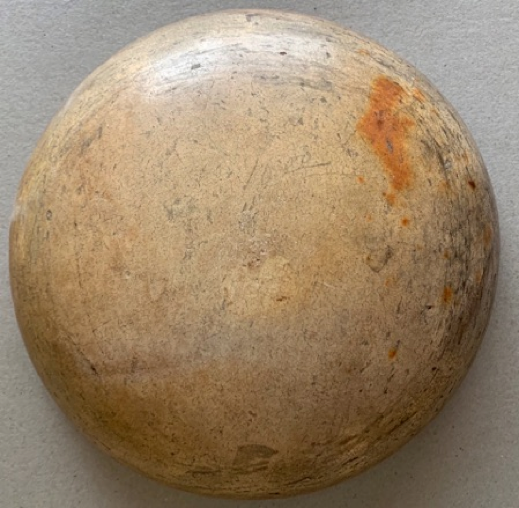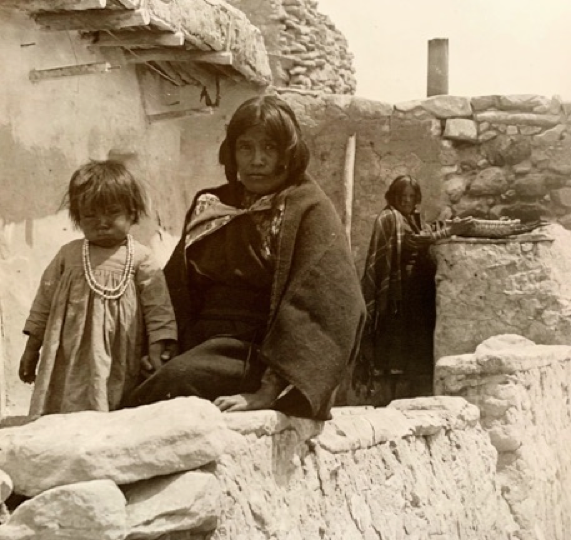 Nampeyo and her daughters, Annie and Fannie, c. 1904
-Photo source and © UCR/California Museum of Photography