© 2010-2021 by Fine Arts of the Southwest, Inc. All rights reserved.
Unauthorized reproduction or use is strictly prohibited by law.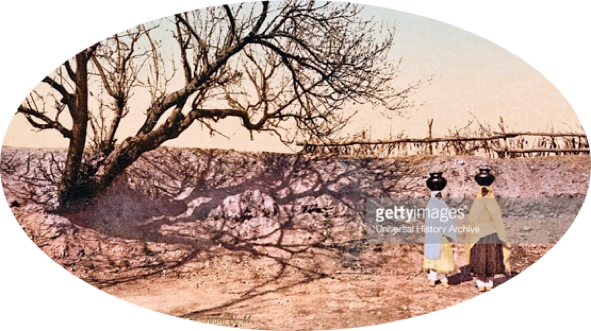 A remarkable early San Juan Pueblo, NM red-on-tan pottery jar, circa 1850-1860, ex: Fred Harvey Company
SAN JUAN PUEBLO RED-ON-TAN pottery is, in our view, one of the most beautiful types of historic Pueblo pottery ever made. San Juan Pueblo, now commonly referred to in its Native Tewa language as "Oh-Kay O-wingeh" ("Place of The Strong People") is one of New Mexico's most historic Pueblos, located directly across from the 1598 site of New Mexico's first colonial capital, San Gabriel de Yunque-Ouinge, established by the Spanish Conquistador, Juan de Onate (1550-1626) at the intersection of the Rio Grande and Chama rivers about 30 miles north of Santa Fe.
San Juan Pueblo women carrying water in San Juan pottery jars, circa 1900.       Photograph source and copyright by Getty Images
This jar is beautifully distilled and breathtakingly disciplined in the old historic San Juan Pueblo plainware pottery tradition; defined more by its form, rich color and surface than by the use of any painted designs. The sculptural quality is wonderfully enhanced by the contrast of numerous, large dark grey and black firing clouds against the deep red clay-slipped and un-slipped tan clay surface, seemingly there at random yet sometimes also seeming to be deliberately placed. They are fantastic to behold. The fine stone-polishing evident across the vessel's entire surface also beautifully enhances its sculptural aspect.
This early jar most likely dates from the mid-19th Century period, 1850-1860. The vessel's shape with its unusually high shoulder or "keel", located well above the horizontal midline, is an indication of its age. As the 19th century progresses forward closer towards the 20th century, from around 1870-1895, the widest point of this type of San Juan jar becomes progressively lower and eventually going below the midline while the vessel's rim begins getting taller and flaring out and the vessel's shape eventually becomes more that of a large bowl than an upright jar.
This jar measures a very nice-sized 14" in diameter and it is 9 3/4" in height. It is in excellent condition overall
with very finely done professional restoration to a single large piece which had been previously broken out of the vessel wall. There is no additional plaster. The jar has an interesting old dark grey pencil inscription, most likely from a trading post, on its lower shoulder which reads "Sold". There is also a nice, old, rectangular, red-bordered paper adhesive label on the bottom of the jar which is a strong indication that the jar was once owned by the prestigious Fred Harvey Company, whose network of famous hotels, (Alvarado, La Posada, El Navajo etc.) and associated trading posts represented the standard of superior quality goods and services across the Southwest
in the early 20th century. The label bears an inscribed numeric code of some kind and also what appears to be an original price of $3.00
This vessel is remarkably satisfying to look at and a historically significant repository of Southwestern Native material culture, originally made for Pueblo use over a century and a half ago and now increasingly appreciated and valued as the great work of art it always was.
Price $7,650