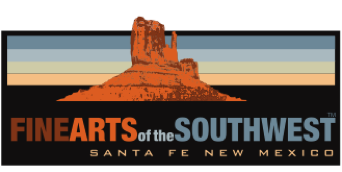 © 2010-2022 by Fine Arts of the Southwest, Inc. All rights reserved.
Unauthorized reproduction or use is strictly prohibited by law.

A superb early 20th Century Navajo coin-silver and turquoise cuff bracelet, c. 1915-1920
This exceptional bracelet is the kind of touchstone piece every collection needs at least one of, assuming, of course, that you can find one. It's an absolute "as good as it gets" grand slam out of the ballpark homerun bracelet, difficult and usually quite costly to get, but a mighty good balm for the soul!
The bracelet's design and fabrication are a triumph of traditional Navajo silversmithing aesthetics and techniques. Let's talk about the designs first, then we'll discuss the details of the fabrication. The primary design emphasis here is on an extraordinary display of sensational decorative repousse and stampwork. The unknown Navajo silversmith who made this piece was a true virtuoso. there are five main design panels, in all here, three main square-shaped sections each featuring a beautiful set turquoise stone and two accenting horizontal diamond-shaped panels interspersed between the main square panels.
The three square main decorative panels are beautiful abstract combinations of stamp and chisel work. They each measure about 3/4" by 3/4". In the center of each of these panels is set a beautiful hand-carved clear blue turquoise stone with a lightish-brown matrix, possibly Fox or Royston, Nevada. Interestingly, the center stone is
a rectangular shape oriented on its side like a parallelogram while the two end stones are both square. All three stones are nicely set in old-style "Foldover" type silver bezels. The two horizontally-oriented diamond-shaped reposed or domed panels are beautifully and deeply repoussed and also decorated on top and all around with stampwork designs. They each measure just under 1" in length. Finally, the top and bottom borders of the bracelet are beautifully decorated all the way around with matching bands of stampwork and chisel work designs.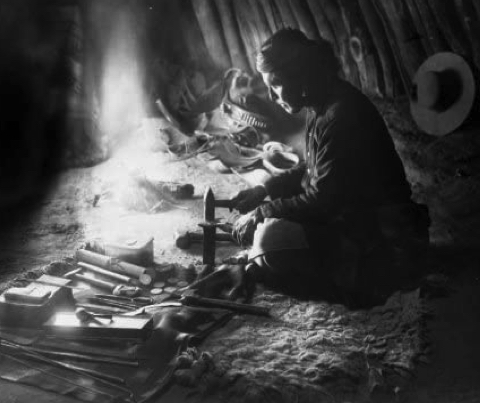 At left, some of the types of historic silver coins from which this bracelet was made. At right, "Navajo Silversmith", 1915 by William J. Carpenter.
"It sure feel good when you wear hand-made jewelry."
-Ambrose Roanhorse, "Leading Silversmith of The Navajo Nation" and Founder of The Navajo Arts and Crafts Guild, 1936
Quotation from Billie Hougart, "The Little Book of Marks on Southwestern Silver", TBR International, 2011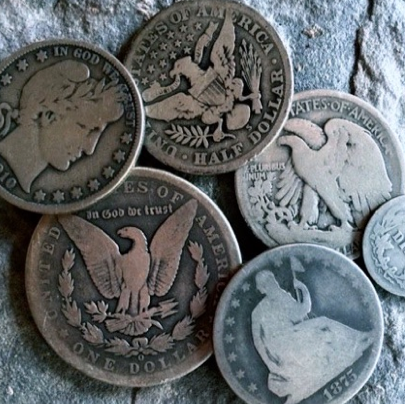 As far as fabrication goes, this piece is done exactly by the playbook of traditional turn of the century Navajo silversmithing. It's made entirely of silver coins in one of two different ways. The first and much more common way is to melt down a quantity of silver coins and cast the red-hot molten metal into a silver ingot "slug" which is then later reheated and hammered and reheated and hammered again and again until the desired size and shape of the bracelet's shank is achieved after which the shank is decorated and finished.
The second and much less common method is to take a quantity of silver coins and heat the coins until red-hot and then hammer them together, folding them over each other again and again until they are incorporated into one single piece of metal which is then shaped out into the desired size and from of the bracelet's shank. Beginning with smaller pieces of metal and heating and incorporating them into a larger whole piece is an age-old process which was historically performed all over the world; in Japan it is known as "Mokume-Gane" and was used to make steel Samurai swords, in the Middle East it is how the famous layered Damascus steel was formed. The telltale indications this age-old process might have been used to make this bracelet is the visible presence under a magnifying glass of several small areas of what appear to be remnants of the original serrated coin edges in
the body of the bracelet. The bracelet's weight of 73 grams, interestingly, corresponds almost exactly to the combined weight of three American silver dollars.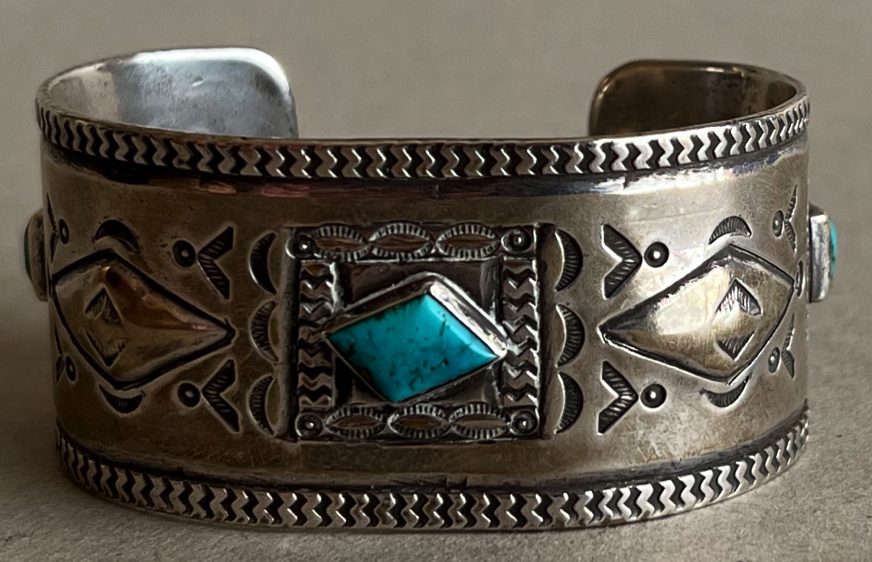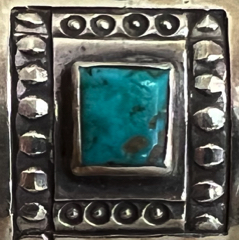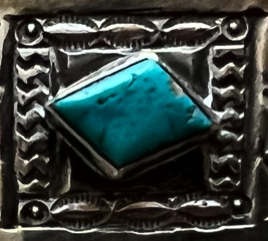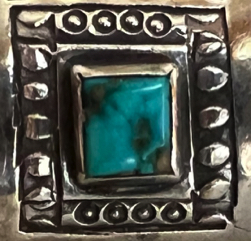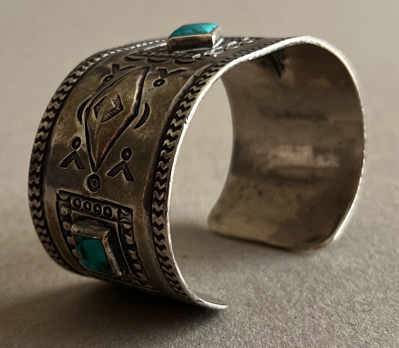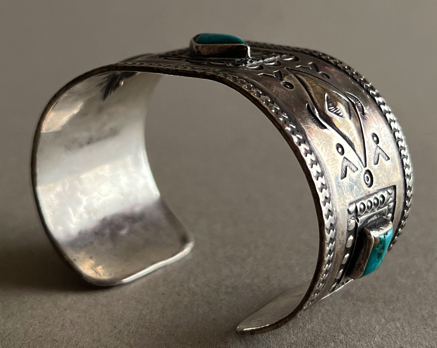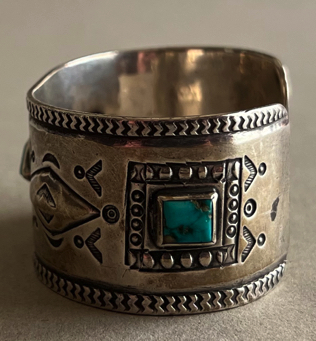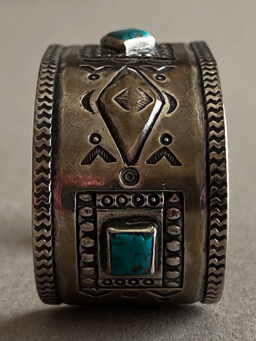 Again, whichever of these two methods was used, the fabrication here was brilliantly achieved. The bracelet measures 1 1/4" in continuous width all the way around. The inner circumference end-to-end is 5 7/8" and the gap between the terminals is 1 1/8" for a total interior circumference of 7". The bracelet weighs a substantial, but very comfortable 73 grams or 2 1/2 ounces and it is in completely excellent original condition with a beautiful, fine, soft patina from age and long use. Of course, there is quite a bit of completely age-appropriate wear; a multitude of teensie-weensie tiny scratches, minor scuffs and dings that make up decades of accumulated love, you wouldn't expect or want anything less.
Okay, enough talk. This historic beautiful baby is here, waiting to be admired and adored all over again by yet another absolutely thrilled owner. There's only one question remaining, is that excited new owner going to be you?
SOLD