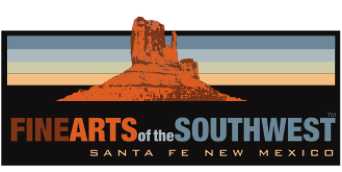 © 2010-2022 by Fine Arts of the Southwest, Inc. All rights reserved.
Unauthorized reproduction or use is strictly prohibited by law.

A splendid early Navajo ingot-silver
and turquoise buckle, c.1900-1910
THIS IS A "GOLDEN OLDIE" which just happens to be made of silver because this superb small buckle has it all in spades; abundant beauty, good age and extraordinary traditional craftsmanship. Would that we all looked this good at 110-120 years of age. Chances are that the buckle was made to secure a "First" or "Second-Phase" style concho belt with oval-shaped conchos as these smaller oval-shaped buckles were frequently made in this time period for for that purpose, but it certainly could easily have been made as a stand-alone piece.
The hand-craftsmanship on display here in this buckle is beautiful and somewhat quirky with an eccentric sense of playfulness and humor. We are referring here to the applied stampwork designs which are not precisely lined up or evenly spaced, having been rendered in a somewhat more freeform manner. Clearly, this silversmith was not a craftsman who felt constrained in his creativity and artistic expression by some commercial expectation of having to get it "straight" or "perfect" or else it wouldn't sell. Instead, he was more likely to have been making the buckle for himself or for a friend or relative or family member. The delicate complex floral-type decorative designs have a distinctively Spanish sensibility about them and this could have occurred for any number of reasons. Numerous Navajo people lived and still live in Navajo communities to the west and south of Albuquerque, New Mexico where they come into regular contact with Pueblo people from the Pueblos of Isleta, Acoma, Laguna and Zuni. Many Pueblo women have long worn shawls with Spanish style design motifs and some also wore Spanish filigree style jewelry, particularly at Isleta Pueblo.
Other Navajo silversmiths in far Western New Mexico and in eastern Arizona near the Ganado area might have come into regular contact with Juan Lorenzo Hubbell's renowned trading post. J.L. Hubbell was of Mexican descent and he collected Mexican and Spanish textiles and other items and a silversmith could have seen such designs there. Another possibility is this buckle was made by a Navajo silversmith who was working as a servant or helper in a Spanish household somewhere on the Rio Grande or in one of the various Hispanic villages of Northern New Mexico or Southern Colorado which were and are intensely Spanish in their cultural affiliation and material culture. How the designs actually came into this silversmiths head is interesting speculation especially since the designs are so distinct and so beautifully depicted.

The buckle is made in the completely traditional manner of its early time period. First, the silversmith melted down a hard-to-come-by American or Mexican silver coin or coins into a cast ingot-silver slug from which he hammered out the body of the buckle. Alternatively, he could have hammered out the body of the buckle directly from a silver coin itself. In this case, we believe he used the first method of casting. After he was satisfied with the body of the buckle, he next applied the stamp, chisel and file work designs after which he set the two nicely-matched turquoise stones on either side of the center in their old style "foldover" type silver bezels. Finally, he beautifully hand-fashioned the silver crossbar and tang to hold the leather belt strap.
The two old hand-cut, oval-shaped turquoise stones in the buckle are a clear light greenish-blue and they might possibly be from the famed Cerrillos mine outside Santa Fe, New Mexico or possibly the Fox mine in Nevada. In any case, the stones are beautiful and they are perfectly and attractively placed in the buckle.
The buckle measures 2 1/2" in width and is 2" in height. It will accept a leather belt strap of up to 3/4" in width. The buckle weighs 25 grams or 7/8 of an ounce and it is in excellent original vintage condition with a fair amount of age-appropriate wear in evidence—various nicks and scratches and some cracks in the two turquoise stones (they are however still completely secure in their bezels), but this is as one would expect and want it to be with a piece of this advanced age which was clearly loved a lot. It all adds up to a beautiful and authentic vintage appearance and patina. This piece has the distinctly genuine feel of an early Navajo piece made by a Navajo silversmith for Native use. There is no sense of commercialism at all here. This buckle was not made to sell to a tourist in a curio shop, it has far too much individual character and charming and lovable idiosyncrasies which is a lot of what makes it such a wonderfully unique and completely original piece.
There is only and will only ever be one of these. Get it while supplies last!
Price $1,950
Please note that the leather belt pictured here is for demonstration purposes only and is not included
in the sale of this buckle. If desired, we can recommend an excellent leather belt maker in Santa Fe.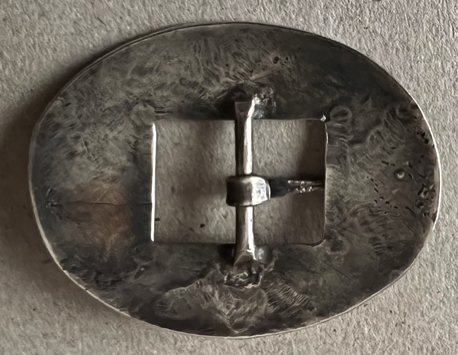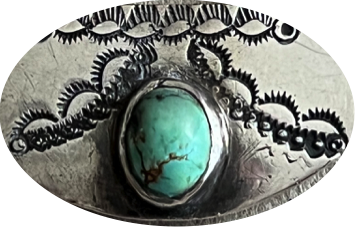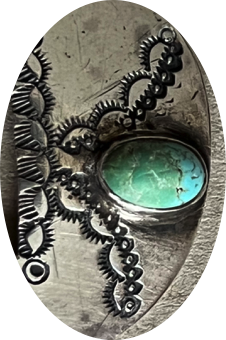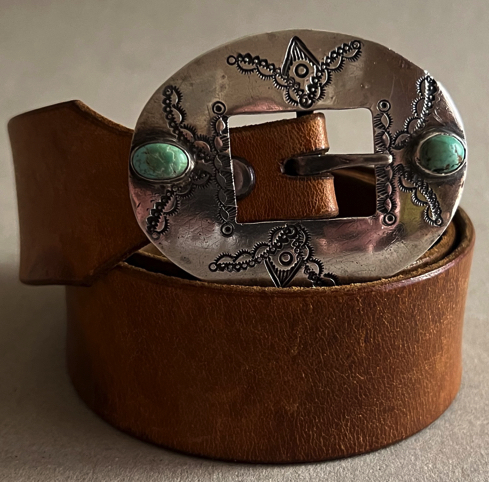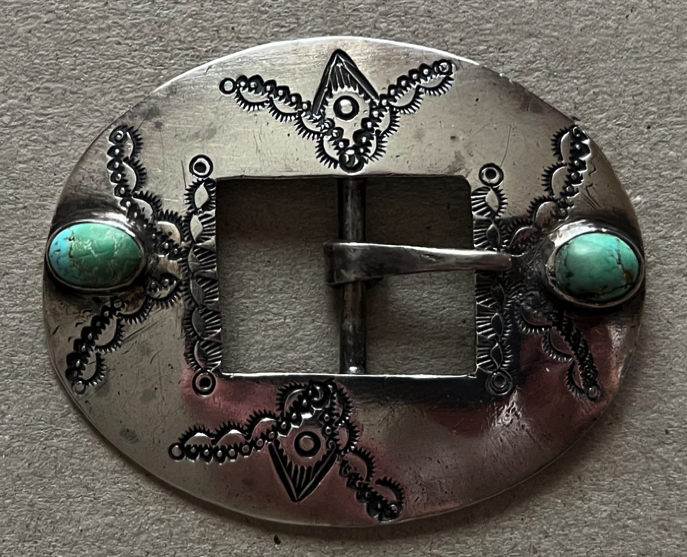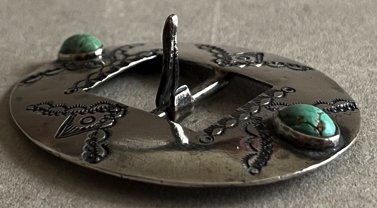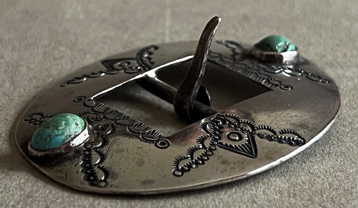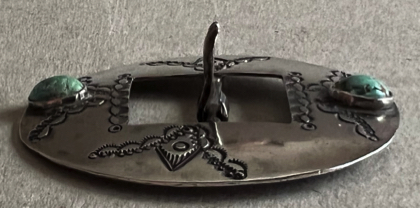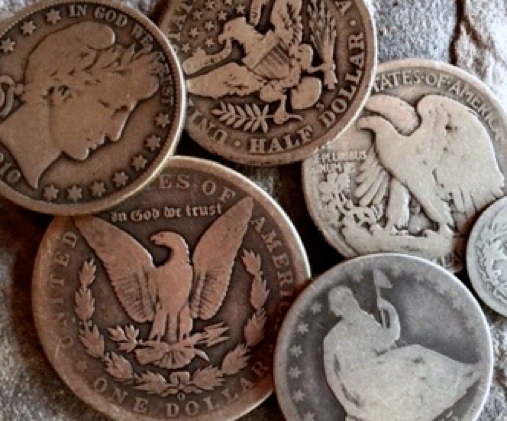 This buckle was made from old American and/or Mexican silver coins.