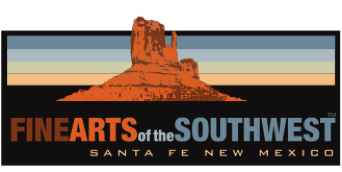 © 2010-2022 by Fine Arts of the Southwest, Inc. All rights reserved.
Unauthorized reproduction or use is strictly prohibited by law.

An early Navajo ingot-silver "Manta" pin, c.1900-1910
ex: Teal McKibben Collection, Santa Fe, NM
One of the finest and most beautiful historic Navajo silver pins we have ever seen, this piece literally screams with old-fashioned authenticity and craftsmanship. Made around 1900-1910 from cast ingot coin silver, the pin is very nicely domed in profile and is decorated all around with simple and elegant chisel, file and stamp work. The pin's closure is interestingly made of what appears to be hand-forged brass. This type of pin is historically referred to as a "Manta" pin since Navajo and Pueblo Indian women historically used horizontal pins such as these to hold together the edges of
their wearing blankets or "Mantas".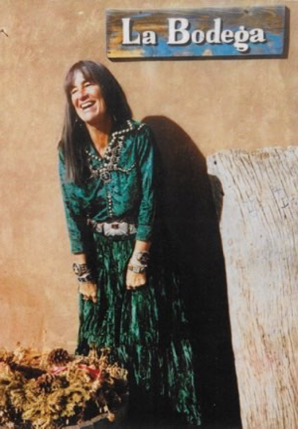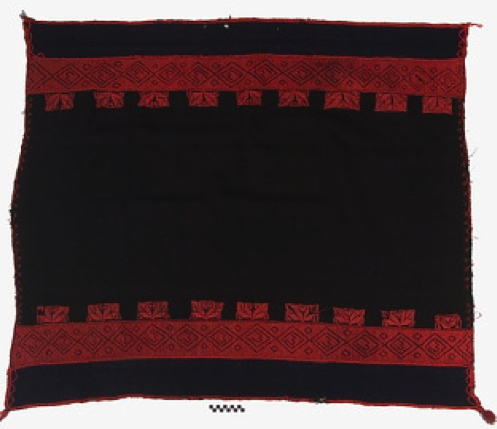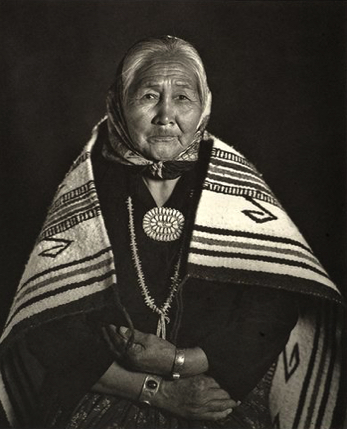 The pin measures 2 1/2" in length and is 1 1/8" in width at its widest center point and it weighs 17 grams or 5/8 ounce.
The pin is in excellent original condition overall with some age-appropriate wear and the brass closure is in good working order. We have chosen not to polish the well-patinated and tarnished silver but it can certainly be done, if desired. We will leave that decision to its next lucky owner.
And, lastly, the provenance is every bit as good as the piece. We purchased this pin around 1995 directly from
the personal private collection of one of the greatest known collectors of and dealers in historic Navajo jewelry,
the late Teal McKibben (1928-2006) of Santa Fe.
A perfect piece with a perfect provenance. Put a pin in that!
Price $825
SOLD
At left, Navajo woman with a wearing blanket. A manta pin such as this one would be used to secure the edges of the blanket together. At center, A Classic-Period Navajo woman's wearing blanket or Manta. At right, renowned Navajo silver collector and dealer, Teal McKibben at her La Bodega Gallery in Santa Fe, c. 2000.
Left photo source and © Pinterest. Center photo source and © National Museum of the American Indian