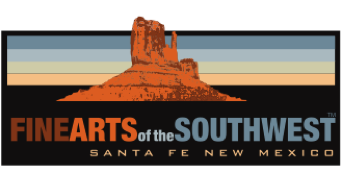 © 2010-2022 by Fine Arts of the Southwest, Inc. All rights reserved.
Unauthorized reproduction or use is strictly prohibited by law.

An exceptional early Navajo or Pueblo coin-silver and turquoise bracelet, c. 1930's
This wonderful and early bracelet is a simply gorgeous piece of work. The unknown silversmith who made it was not only a superb artist but the possessor of a formidable set of technical skills, the quality and precision of the overall fabrication and chisel and stamp work on display here is simply stupendous.
The bracelet is made in the traditional old-style Navajo manner using a quantity of American and/or Mexican silver coins which the smith melted and cast the red-hot molten metal into a silver ingot "slug" which he then subsequently hammered out to form the body of the bracelet. There is also the possibility that the smith used an even older and more direct method to make the bracelet which involves heating several coins and then hammering the red-hot coins together to form a larger piece of silver which the bracelet shank was then formed from. The telltale indications of the possible use of this method are some very small visible remnant sections of what appear to be old coin edges and marks on the individual coins themselves.
The silver shank of the bracelet is formed in a very interesting shape with a large scalloped central oblong medallion tapering down into a pair of secondary silver medallions then tapering yet again to very interesting crescent-shaped terminal ends. The shank is decorated all the way around with beautiful, precise stamp and chisel work designs. These are artistically wonderful and technically superior. In the bracelet's center is set a lovely, greenish-blue with brown matrix hand-cut turquoise stone which measures 3/4" long by 1/2" wide. The stone appears to be a Nevada turquoise, possibly from one of the several Blue Gem turquoise mines.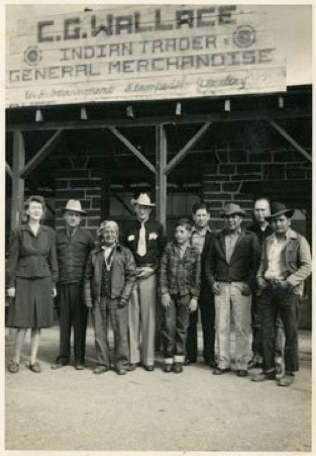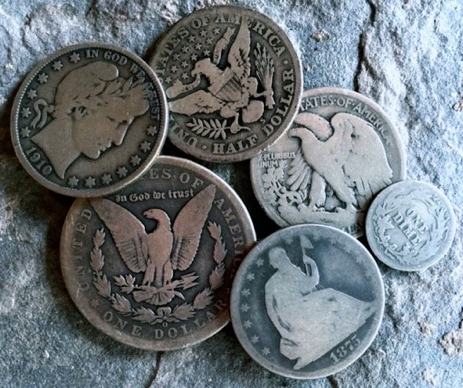 The bracelet is 1 1/16" wide at its widest center point and tapers down to 1/2" in width at the end terminals.
The inner circumference is 5 3/4" and there is a 1 1/16" gap between terminals for a total bracelet circumference of 6 13/16". The bracelet weighs a very comfortable 35 grams or 1 1/4 ounces and is in outstanding original condition with a considerable amount of dedicated wear and a lovely soft patina from age and use.
It is interesting to speculate about how such a lovely, technically accomplished and artistically daring piece came to be and who possibly might have made it. If we had to make an educated guess, we would point to the prominent Indian Trader, C.G. Wallace's trading post at Zuni Pueblo, New Mexico and specifically to one of two superb in-house silversmiths working there, Austin Wilson and Roger Skeet, Sr. both of whom had the artistic imagination and the technical skills to create such an exceptional piece. At the time this piece was made, Wallace's post was one of the primary centers of the Indian jewelry world with a well-oiled cast of superstar Navajo and Pueblo silversmiths making ambitious and extraordinary pieces for his discerning high-end clientele. There are two sets of an old style trader's code which appears to be "A- 1 1 -1" lightly scratched into the inside of the bracelet indicating that at one time or another it passed through a trading post whether C.G. Wallace's or someone else's.
Whoever made it and wherever they made it, this bracelet is definitely "The Kind"; a remarkable piece that has absolutely everything one could ever want or hope for; great beauty, rarity, age, condition and style. Want to see an Indian trader turn green? Show them this baby and tell them that it's NFS, "not for sale".
SOLD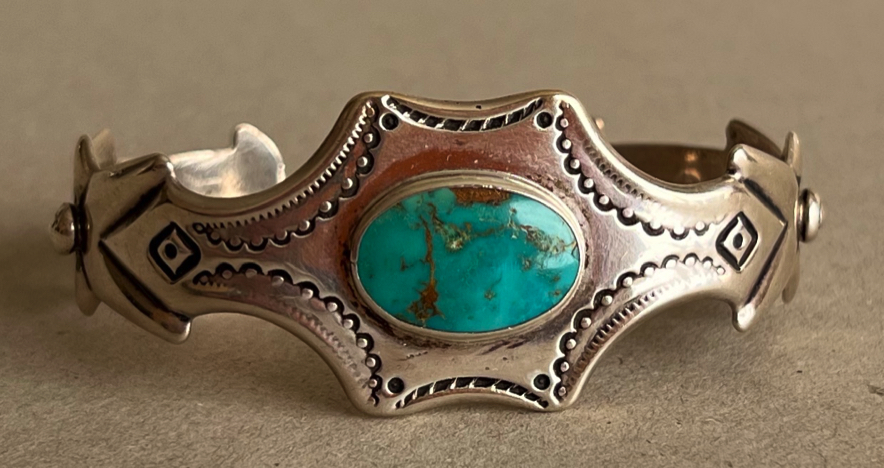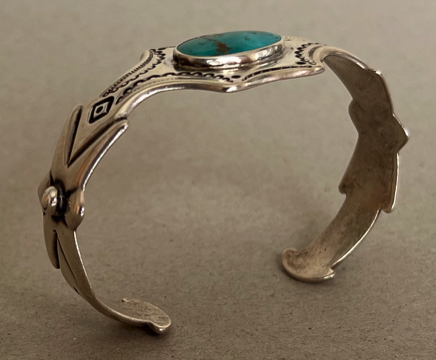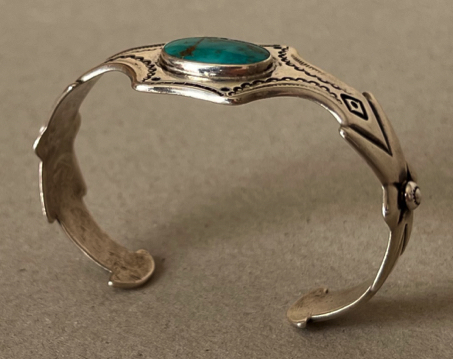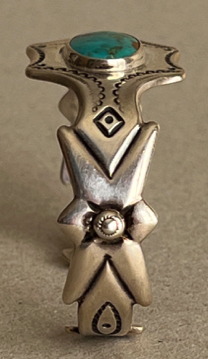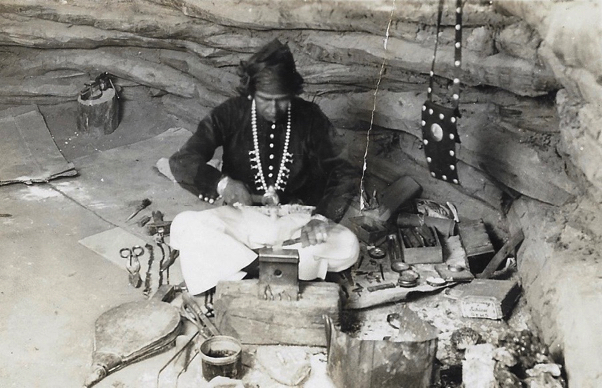 At left, a Navajo silversmith at work in his hogan c. 1930's. At right, examples of the types of historic silver coins this bracelet would have been made from.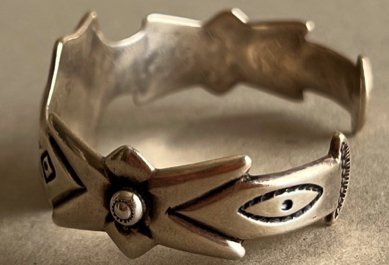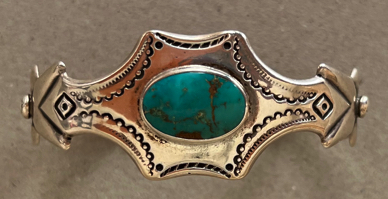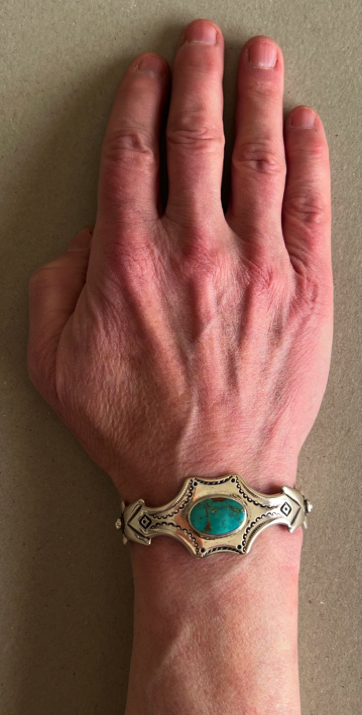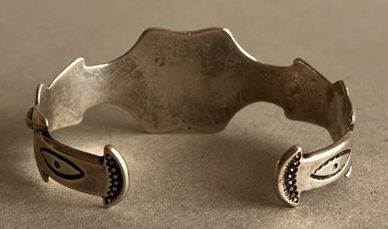 C.G. Wallace's trading post at Zuni Pueblo, NM, c. 1930's.
This bracelet could possibly have been made there.