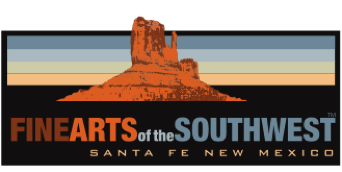 © 2010-2021 by Fine Arts of the Southwest, Inc. All rights reserved.
Unauthorized reproduction or use is strictly prohibited by law.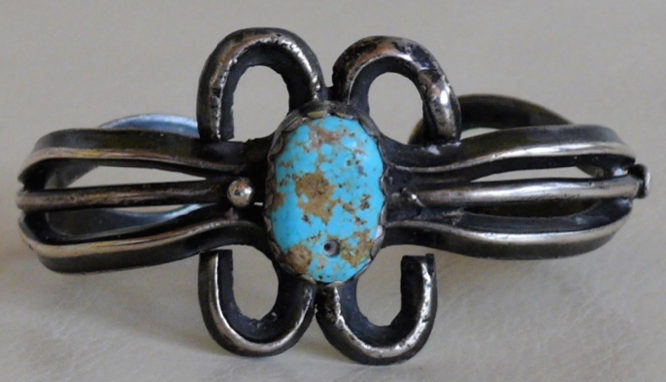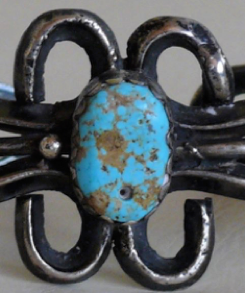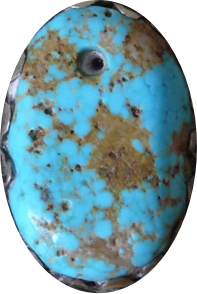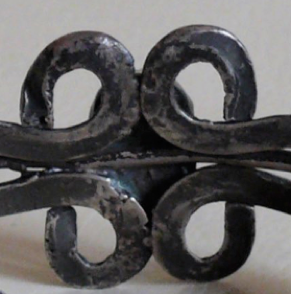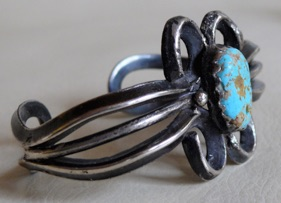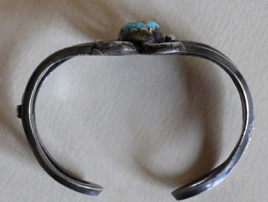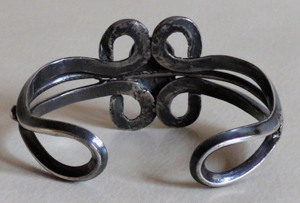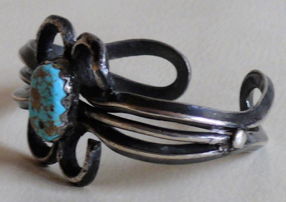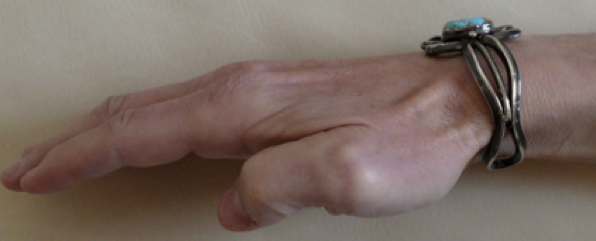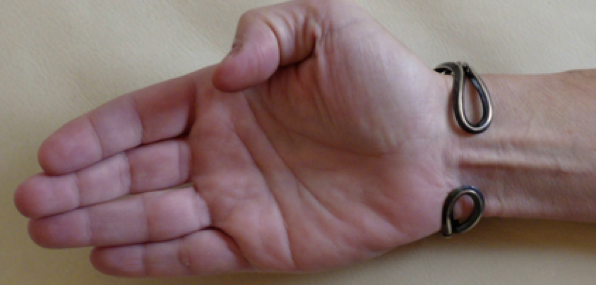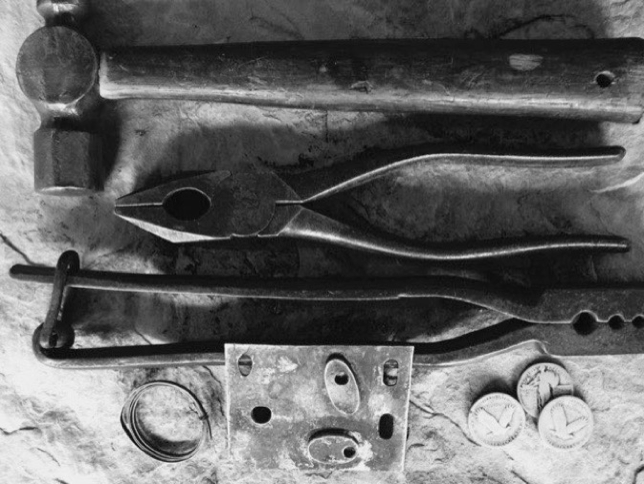 An early Navajo or Pueblo heavy ingot-silver
wire bracelet with a beautiful blue Cerrillos,
New Mexico turquoise stone, c. 1910-1920
Talk about great patina and character, this piece is literally dripping with it; from the hand-hammered heavy ingot-silver wire to the marvelous curvilinear design and the knockout blue turquoise cabochon stone in the serrated bezel this one is a real old-school beauty. It also has one the most interesting and ingenious methods of construction that we have ever seen in historic Southwestern native bracelets. The bracelet's entire shank is constructed from two long, and quite thick (3/16") pieces of hand-drawn triangular silver wire which were then doubled back upon themselves at each terminal of the bracelet and finished by forming the decorative four-part design at the very center top of the bracelet.
Notice the lovely hammering marks visible at the ends of the wire on the top underside of the bracelet's center. Another smaller piece of thinner, round ingot-silver wire forms a decorative element running down the center of the shank. Originally, there were four applied-silver "raindrops" accentuating the center of the shank, two of these have been lost to time, but this only adds to the bracelet's considerable character in our view.
The bracelet's focal point is, of course, the gorgeous, hand-carved large bright, clear blue with light brown matrix, probably Cerrillos, New Mexico turquoise stone, which is set in a very nicely scalloped silver bezel.
The stone has an old pump-drilled hole in one end indicating that it was probably worn as a traditional Navajo or Pueblo earring in a former life before being re-purposed and included in this bracelet. Overall, our feeling is that this bracelet is Navajo made, but its unique somewhat floral design and Cerrillos, New Mexico turquoise stone might indicate a New Mexico Pueblo origin such as Santo Domingo, Isleta or Acoma.
The bracelet is slightly less than 1 1/2" in width at its widest center point. The inner circumference end-to-end is 6 1/4" and the gap between the terminals is 13/16" for a total interior circumference of 7 1/16". The bracelet weighs 59 grams or 2 1/8 ounces. It is missing a couple of its small silver "raindrops", but it is still in excellent vintage condition overall with age-appropriate wear.
This wonderful bracelet is a truly unique vintage piece with plenty of historic character and visual appeal.
Price $1,450
Traditional tools and materials used by historic Navajo silversmiths for "pulling" hand-made ingot-silver wire