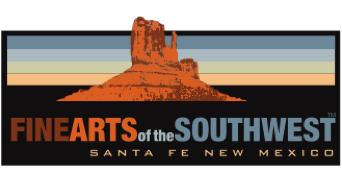 © 2010-2021 by Fine Arts of the Southwest, Inc. All rights reserved.
Unauthorized reproduction or use is strictly prohibited by law.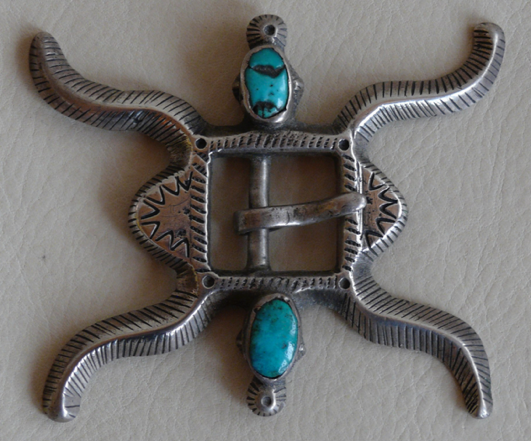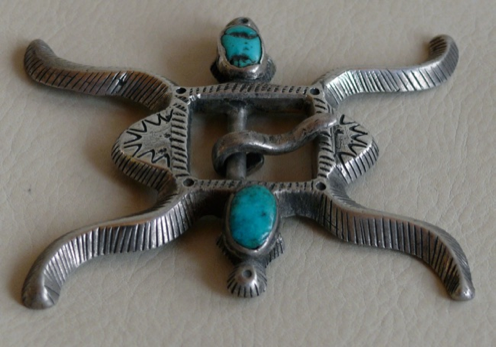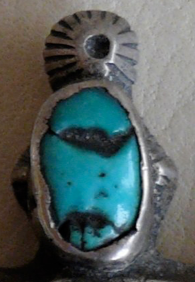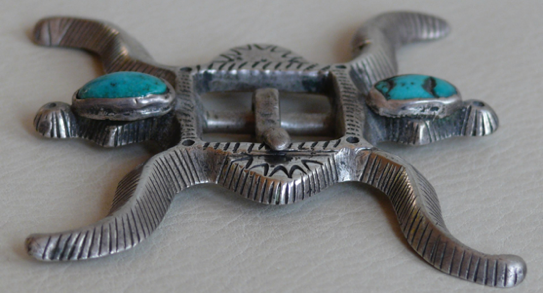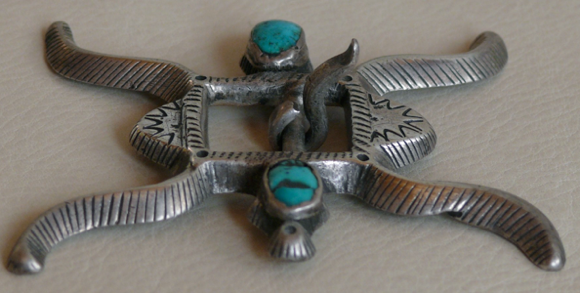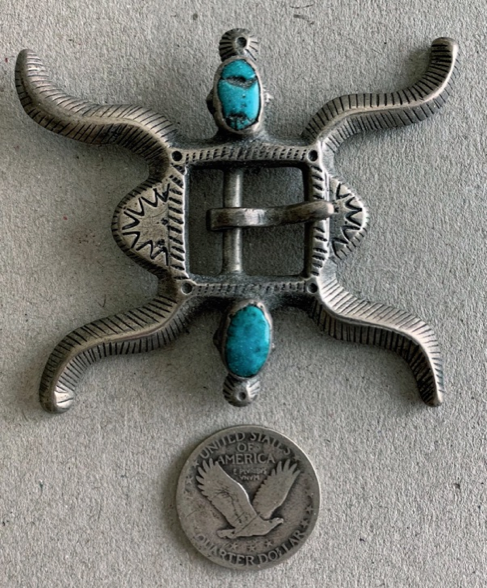 An exceptionally fine and extremely rare early Navajo
tufa-cast silver and turquoise belt buckle, c. 1890-1910
You would expect to find this fantastic buckle in display in a major Southwestern museum mounted on either an outstanding Navajo Classic-Period First-Phase open-center Concho belt (c.1870-1890) or on a great Classic Second Phase belt (c.1885-1910). This piece is without a doubt one of the most beautiful and precisely and exquisitely-made early Navajo buckles that we have ever seen. The tufa-casting is first-rate, the stamped and chiseled and possibly rocker-engraved designs are complex and extremely sophisticated even though they were made using only a couple of simple, early tools, i.e stamps, chisels, files and hammer. This buckle was also clearly very well treasured by a previous owner or by its original maker as there is a very early Native silver repair on the back of one of the four protruding silver prongs which could very possibly date from around when the buckle was originally made. 
The buckle would have been made in the traditional manner of this time period by first melting down a quantity of American and or Mexican silver coins which were then poured into a painstakingly hand carved tufa mold to form the body of the buckle after which the buckle would be carefully filed and shaped into its final form and then decorated with its highly-detailed stamp, chisel and filework. The handwrought silver tang of the buckle to hold the belt strap is as equally finely crafted and is a miniature silver sculpture of sorts in its own right.
"It sure feel good when you wear hand-made jewelry. That's the
way I feel. I learned to make silver from my Grandfather."
-Navajo Silversmith, Ambrose Roanhorse, 1936
Quotation from Billie Hougart, "The Little Book of Marks 
on Southwestern Silver", TBR International, 2011
The buckle's basic design configuration is a traditional Navajo four-part or four-directions design which one customarily sees on buckles and on wrist-guards (Ketohs) The four prongs stand for the four cardinal directions of Navajo mythology as symbolized by the four sacred mountains denoting the ancestral borders of Navajoland. 
The buckle is set at its top and bottom centers with two beautiful blueish-green oval-shaped hand-cut turquoise stones, a relatively early use of set stones in Navajo jewelry which first began in the 1880's. The stones are set in plain old-style "foldover" type silver bezels. The buckle measures 2 1/4" in height and is 2 3/4" in width and it weighs a substantial 45.1 grams or 1.59 ounces or about the weight of 7 1/2 American silver quarters of the time period. The buckle will accept a leather belt strap of up to 1/2" in width. The buckle is in excellent original condition with the beautifully-executed old Native repair which we previously mentioned on the back of one prong. One of the turquoise stones has two very old very well-healed cracks but it is completely stable and tight in its bezel.
This buckle is as good as it gets in the world of old historic Navajo silver and it packs a tremendous amount of beauty, quality and history into a relatively small space. It would be equally magnificent when worn on its own on a fine leather strap or worn on the appropriate historic Navajo Concho belt by either a very lucky man or a woman.
Price $2,750
Email me a PayPal invoice