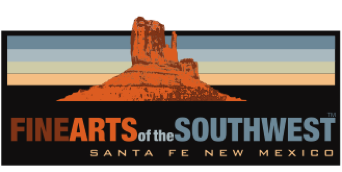 © 2010-2021 by Fine Arts of the Southwest, Inc. All rights reserved.
Unauthorized reproduction or use is strictly prohibited by law.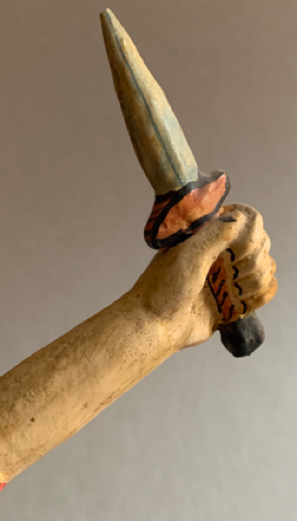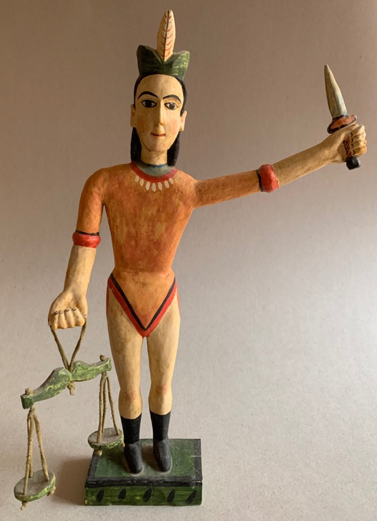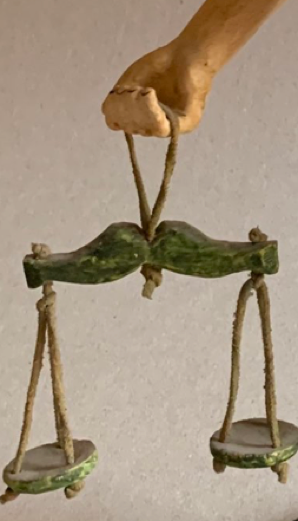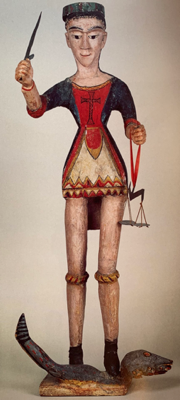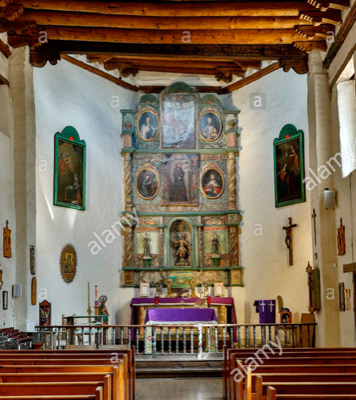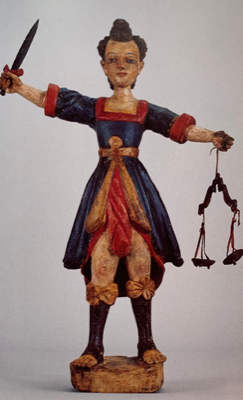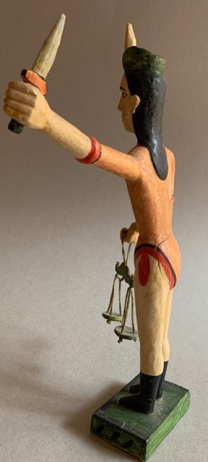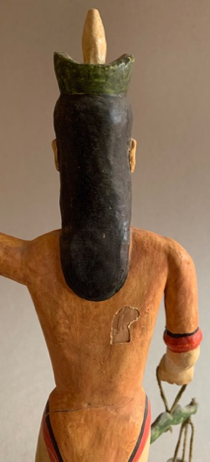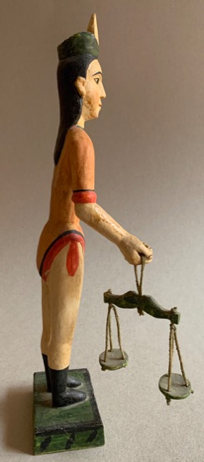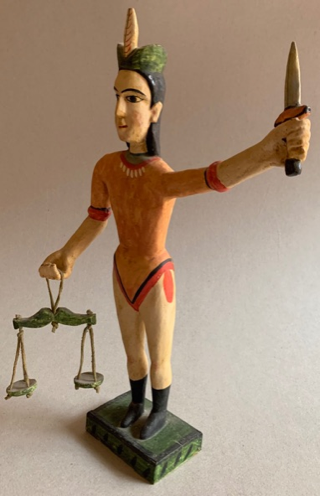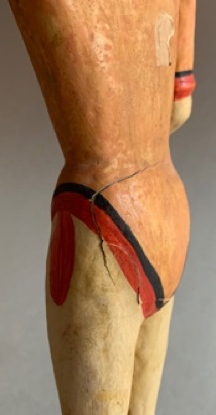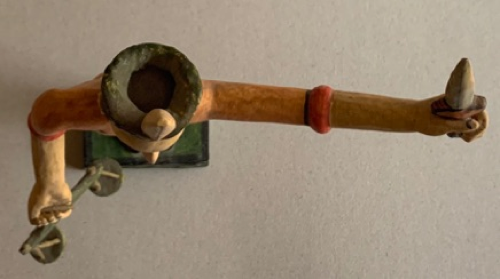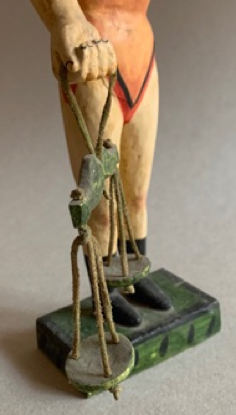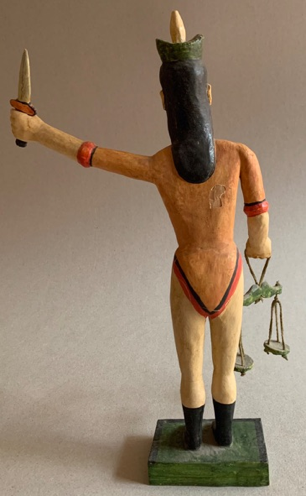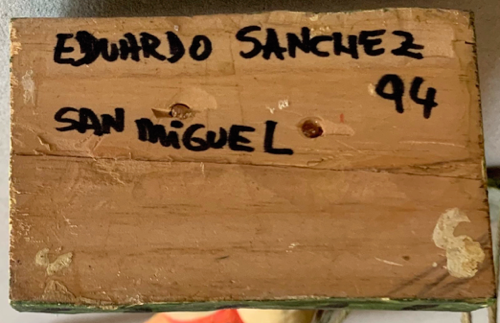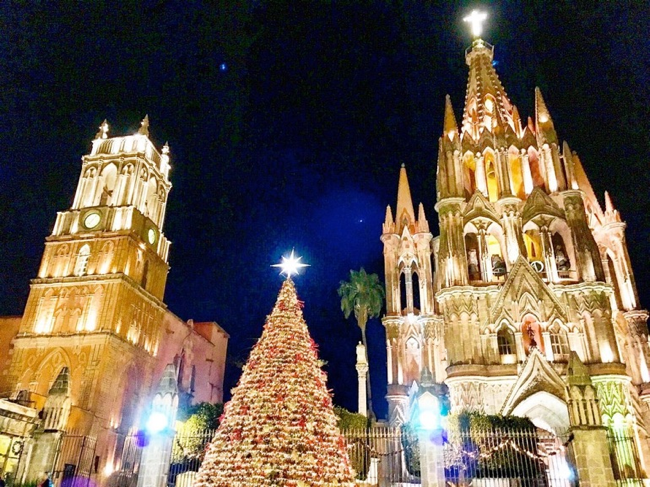 A beautifully carved and painted New Mexico
style wooden bulto of San Miguel Archangel
by Eduardo Sanchez, Santa Fe, NM,1994
This beautiful sweet New Mexican style bulto is by the extremely talented New Mexico/California restoration artist and Santero Eduardo Sanchez. Argentinean-born Eduardo Sanchez has spent the majority of his artistic career working as a high-level antiques restorer of historic New Mexican and Mexican carved wood devotional pieces and furniture in both Santa Fe and Santa Barbara, California where he currently resides; and thus he had the opportunity to learn the process of making and repairing these pieces from the ground up, the use and selection of the appropriate local woods, the carving methods and style, the meticulous hand grinding of the natural paint pigments the application of the traditional piñon sap varnish.
This New Mexico style bulto of the archangel San Miguel, made by Eduardo in 1994, might have for all intents and purposes been made here in 1830 or 1840 given how beautifully and traditionally made it is. It's that old-style and look and feel to be sure. The Archangel San Miguel, also known by his Anglo name Saint Michael, is an extremely important and inspirational figure to several of the world's principal religions and he is also the patron saint of the beautiful and historic Mexican colonial city of San Miguel de Allende. And, located in our own colonial city of Santa Fe, New Mexico is the oldest church in the United States, the San Miguel Chapel of 1610.
At center, an interior view of the famous San Miguel chapel in Santa Fe, NM, originally built in 1610, and known as the oldest church in the United States. In the lower center of the main altar screen stands a large Spanish carved wooden bulto of the Archangel San Miguel. At left, an unusual New Mexico bulto of San Miguel Archangel by Jose Rafael Aragon, c. 1830. This piece is more elaborately detailed than classic New Mexican bultos normally are and was very possibly modeled after the highly-baroque Spanish bulto of the Archangel in Santa Fe's San Miguel Chapel. At right, another classic New Mexican bulto of San Miguel Archangel by Jose Benito Ortega, c. 1890-1900
Center photo source and © Alamy stock photos. Left and right photo sources and © "A Land So Remote, Religious Art of New Mexico, 1780-1907" by Larry Frank, Red Crane Books, Santa Fe, 2001
The bulto measures a very nicely-sized 14" in height and is approximately 9" in width at its widest point. The figure
is very finely carved and beautifully painted in the classic old New Mexican manner of mid-19the Century New Mexican santeros such as Rafael and Jose Aragon. There are a couple of condition issues to discuss; there is a small area of paint loss on the figure's back and a couple of small surface cracks around the hip and the buttocks.
Since we are the original and only owners of this piece thus far and it has never sustained any direct impact damage that we are aware of, we can only assume that these small damages were caused by expansion or drying of the wood and cracking of the paint over time. If desired, a qualified restorer could repair these readily, but we do not believe this is necessary as these slight damages do not interfere in any meaningful way with the visual enjoyment of the piece and the price is properly reflective of the slightly damaged condition. The bulto is signed. titled and dated on the bottom as follows: "Eduardo Sanchez '94 San Miguel."
"Saint Michael is referred to in both the old and new testament. In the Book of Daniel he is referred to as
a Prince (Book of Daniel 10:13, 10:21 and 12:1)  "Michael the great prince who shall rise at the time of the end." The prophet Daniel has a vision of Michael as the protector of the Jews and later as a protector against Satan.
Daniel is instructed about Michael's future role as the angel who defeats Satan at the "Time of the end"
a reference to Armageddon. "At that time Michael, the great prince who protects your people, will arise."
In the Book of Revelation in the New Testament, Michael defeats Satan in the heavenly War."
-Quotation source and © ontheroadinmexico.com
This bulto is a lovely and evocative rendering of a significant religious and cultural icon presented
by a sensitive, perceptive and talented artist. It's would provide you a great deal of traditional New Mexican
devotional art enjoyment for not a lot of dinero.
Price $925
Parroquia de San Miguel Arcangel, San Miguel de Allende, Mexico