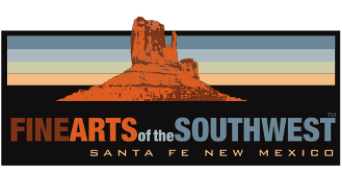 © 2010-2021 by Fine Arts of the Southwest, Inc. All rights reserved.
Unauthorized reproduction or use is strictly prohibited by law.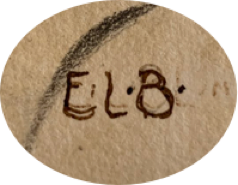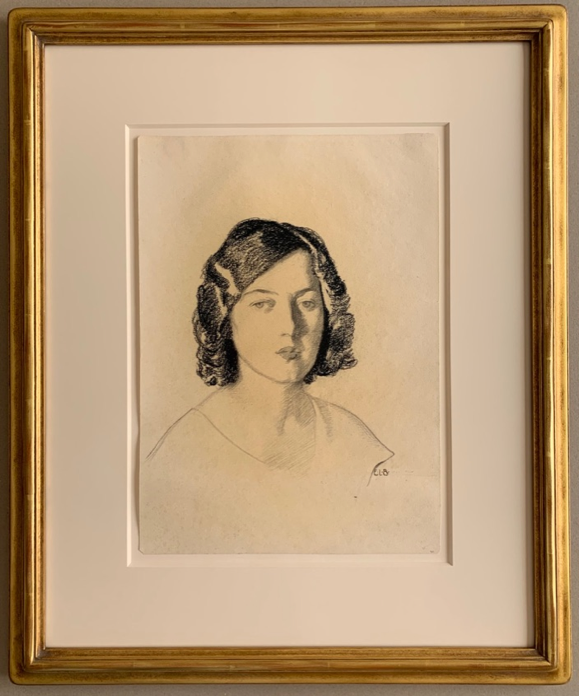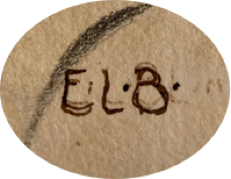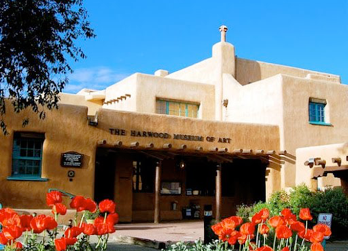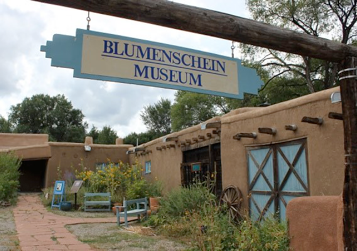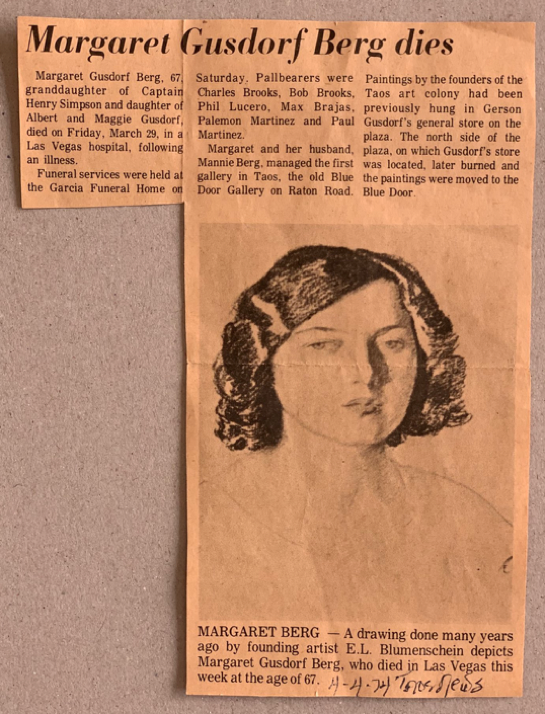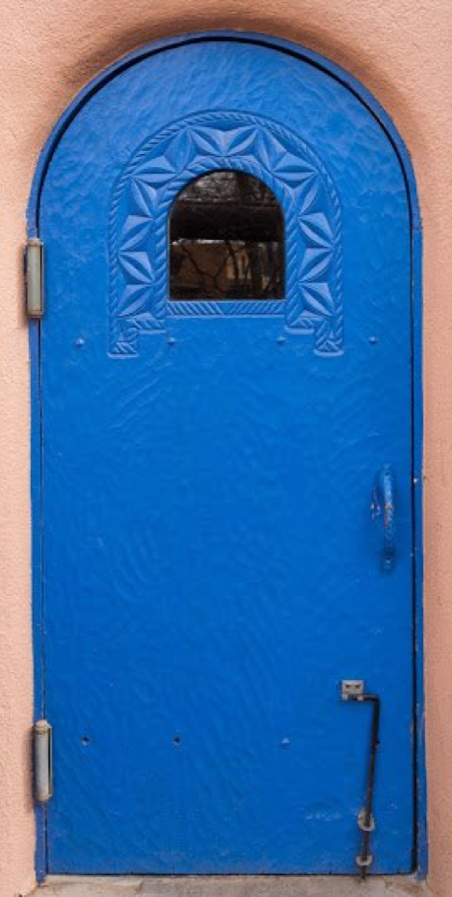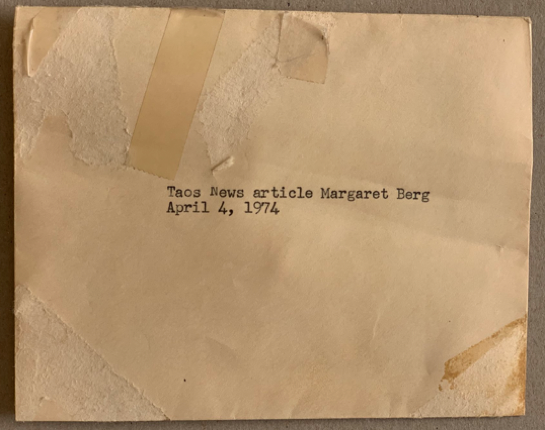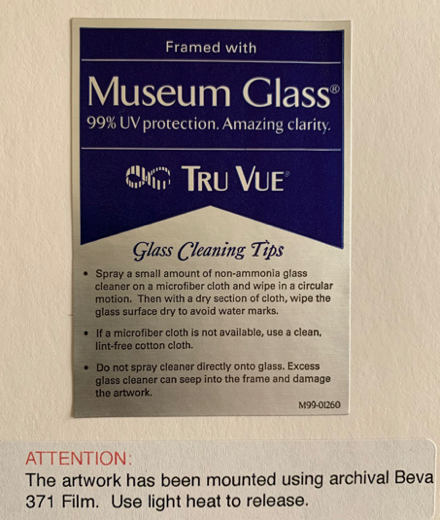 An original historic portrait of Margaret
Gusdorf Berg by Taos Society of Artist's founder,
Ernest L. Blumenschein, c.1937-42
This piece is a marvelous graphite, charcoal, pastel or watercolor wash portrait of Ernest L. Blumenschein's (1874-1960) good personal friend, close neighbor and Taos gallery owner, Margaret Gusdorf Berg of Taos (1907-1974). Margaret Gusdorf Berg and her husband, Mannie, are credited as being the very first art gallery owners in Taos, owning the renowned Blue Door Gallery which exhibited the works of the Taos Society of Artists, including Ernest Blumenschein. 
Margaret Gusdorf Berg died in 1974 at the age of 67. This Blumenschein portrait of her is pictured in her
1974 obituary printed in The Taos News. Judging from her fairly young (30-35 or so years-old) appearance in the portrait, we would estimate that it was most likely done around 1937-1942. 
The Gusdorfs were an extremely prominent Taos family, European Jews who originally immigrated to Taos at the urging of one of their prominent Jewish relatives in Santa Fe, trader and merchant Solomon Spiegelberg.
The Gusdorf family home where Margaret Gusdorf was born and raised on Ledoux Street in Taos is only five or six doors down from the former home and studio of Ernest Blumenschein where this portrait of her was likely painted and is today part of the eminent Taos cultural institution, The Harwood Museum, Library and Foundation.
The Blumenschein home and studio on Ledoux Street in Taos where this portrait was most likely painted.
-Photo source and © taoshistoricmuseums
Artist Ernest L. Blumenschein, c. 1940
-Photo source and © Smithsonian American Art Museum
The Harwood Museum on historic Ledoux Street in Taos
is a large compound composed of several older houses where Margaret Gusdorf Berg was born and raised.
-Photo source and © University of New Mexico
Ernest Blumenschein, known to all who knew him well as "Blumy", was arguably the most accomplished artist of all the generally outstanding Taos Society of Artists (TSA) group. Begun in 1915 as an original group of six artists, the Society eventually expanded to twelve before disbanding in 1927. An artist of exceptional vision, skill and dedication, Blumenschein is best known for his perceptive and powerful portraits of Native Americans in Taos and his sweeping magnificent landscape portrayals of Northern New Mexico. Because of the extraordinary amount of time and detail Blumenschein lavished on his work, often working and re-working them for years, there is not a great deal of it around and his pieces are generally much rarer and more difficult to come by than the work of other more prolific TSA artists such as J.H. Sharp and E.I. Couse.
This drawing is most beautifully and very subtly rendered in pencil and charcoal on light cream-colored toothed fine artist's paper. The textural and tonal contrast between the lighter grey graphite and heavier black charcoal is noteworthy. If you look closely, you can also see a large "halo" of the very lightest yellow/beige pastel or light watercolor wash surrounding the subject which highlights the drawing perfectly. The drawing measures 13 1/2" by 10" (sight) and the framed dimensions are 22" by 18 1/2". The drawing is in excellent original condition, especially for its 80 or so years of age, and it is properly and beautifully signed "E.L. Blumenschein" in India ink and pencil in a rare full signature at the bottom right.
The original Taos Society of Artists c. 1917.
From left to right, E.L Blumenschein, O.E. Berninghaus, E.I. Couse,
Bert Phillips, J.H. Sharp and in front row W.H. Dunton.
-Photo source and © Palace of the Governor's Archives, Santa Fe, NM
The fact that Blumenschein deliberately signed this drawing in this way is significant to its importance and meaning to him. Generally, Blumenschein signed his drawings and smaller oil sketches and preparatory studies with only an initial letter "B" or "ELB" and reserved his full name signature for his larger, more important paintings. It is fascinating to speculate historically whether Margaret Gusdorf Berg asked or commissioned Ernest Blumenschein to paint this portrait or whether Ernest Blumenschein asked Margaret Gusdorf Berg if he could do so. We will likely never know, but either way this is a stunning effort and it was clearly a meaningful work to them both.
Befitting its historic importance and artistic quality we had the drawing beautifully re-framed to the highest archival and aesthetic standard by Martin Horowitz at Goldleaf Framemakers who are Santa Fe's premier fine art framers. The drawing is 8-ply island matted around the full paper sheet and framed in a custom-made, hand-gilded and carved 22K gold Newcomb-Macklin Company inspired period-style frame under Ultraviolet light resistant "TruVue" museum conservation glass.
This piece is a beautiful and unique gem, an evocative and historic portrait by one of Taos' and America's
finest historic artists of one of Taos' most prominent and influential artistic citizens. 
Price $4,200
Margaret Gusdorf Berg's Blue Door Gallery was originally located in The Historic Taos Inn. The gallery no longer exists, but the blue door remains at The Taos Inn.
-Photo source and © The Historic Taos Inn