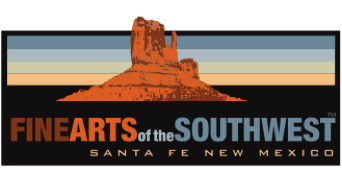 © 2010-2021 by Fine Arts of the Southwest, Inc. All rights reserved.
Unauthorized reproduction or use is strictly prohibited by law.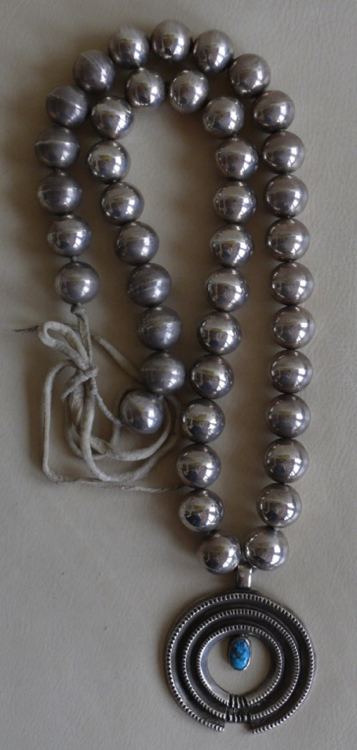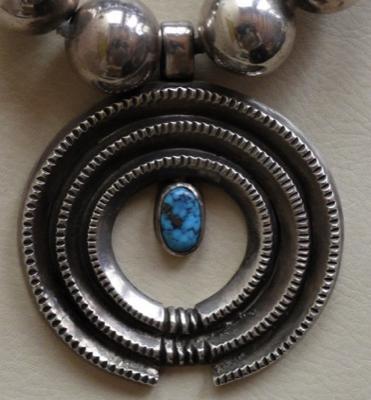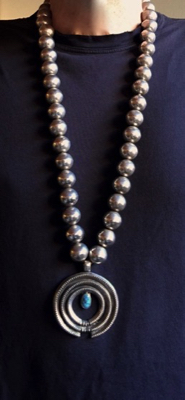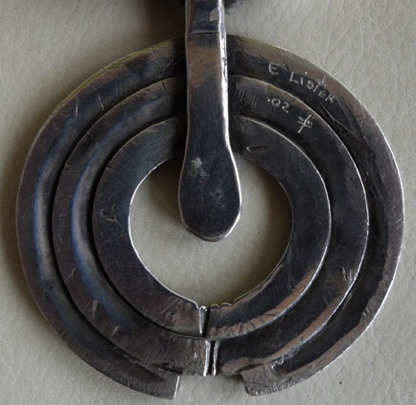 A spectacular, large-scale Navajo silver bead
and Naja pendant necklace by Ernie Lister, 2002
ERNIE LISTER (b.1953) is one of the great Navajo silversmiths of his or any other time. To begin with, his own work, like this stunning large-scale silver bead and Naja pendant necklace is absolutely superb; beautifully designed and always meticulously and traditionally crafted. Second, if the superior quality of his own work were not enough, Lister has further cemented his legacy in the Navajo silversmithing hall of fame by teaching his brother-in-law the silversmithing craft. Lister's brother-in-law is none other than the remarkable Navajo silversmith, Perry Shorty, and one can easily see a very distinct resemblance in both their work and traditional methods and materials.
This outstanding large Naja style necklace is a superb example of Lister's exceptional ability. You have to begin with the abundance of large, luscious silver beads, 42 of them in all; handmade, two-piece, each a full 3/4" in diameter. They are incredibly dramatic and striking in appearance; meticulously crafted and perfectly polished, thoroughly lustrous and absolutely lovely.
Hanging from the center of the beads is a splendid, large, round tufa-cast silver Naja pendant which Lister very interestingly tufa-cast in three separate concentric rings, graduated in size, which he then soldered together to form the final Naja which he then decorated with very precisely-done chisel and stamp work and set with a fine, clear blue, high-grade Morenci, Arizona turquoise stone. The Naja pendant measures 2 3/4" in height including the bail and it is 2 3/8" in width at the widest point. It is a full 1/8" in thickness.
The necklace measures an impressive 18" from the top of the beautifully handmade tanned leather thong it is strung on to the bottom of the Naja pendant measured while lying flat. The circumference of the necklace is approximately 30" all the way around. It weighs 241 grams or 8 1/2 ounces and is surprisingly comfortable for its substantial size. The necklace is in excellent original condition and it is inscribed "E. Lister 02" and also marked with a small dragonfly symbol on the back of the Naja pendant.
This necklace is a total triumph of elegance, craftsmanship, tradition and pure visual impact;
a complete knockout piece if there ever was one!
Price $3,750