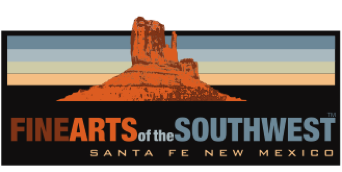 © 2010-2022 by Fine Arts of the Southwest, Inc. All rights reserved.
Unauthorized reproduction or use is strictly prohibited by law.

A rare Santa Ana Pueblo polychrome pottery pitcher by Eudora Montoya, c.1940's-50's
EUDORA MONTOYA (1905-1996) was for years the last remaining pottery maker at the Santa Ana Indian
Pueblo in New Mexico, a Pueblo with a centuries-old glorious history of fine pottery-making. Historic Santa Ana pottery is universally regarded with reverence and awe as being some of the finest and most beautiful pottery in the entire Pueblo world. By the 1920's, pottery-making at Santa Ana had nearly died out. A series of revivals of this tradition were attempted in subsequent years. The first, during the 1940's included Eudora Montoya who by then was one of the last Santa Ana potters remaining.
By the 1960's she was the very last one left. The second revival occurred in the early 1970's with the support and encouragement of the Pueblo tribal authority when Eudora Montoya herself began teaching a small class of Santa Ana women to make pottery, but this "revival" didn't take hold for very long and Montoya remained essentially the last of a once noble breed. Today, as far as we know, there is little or no traditional Santa Ana Pueblo pottery being made. We have heard there is perhaps one potter, named Rachel Medina, still working at Santa Ana, but we have never seen any of her pieces.
"Eudora Montoya is a small, self-effacing woman, but as a bearer of Pueblo Indian culture her contribution has been larger than life. Through her efforts and the knowledge she safeguarded, the centuries-old tradition of Santa Ana-style pottery, once in danger of extinction, remains vitally alive."
-Indian Market Magazine, 1988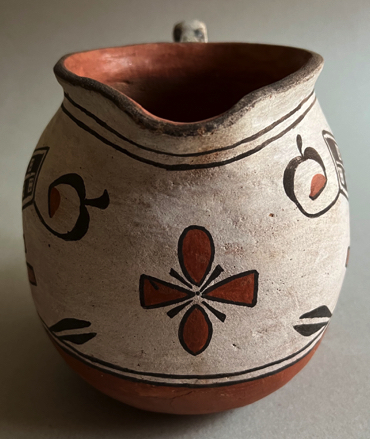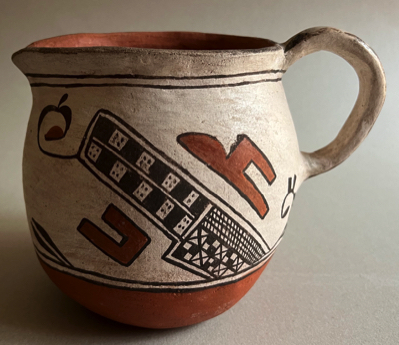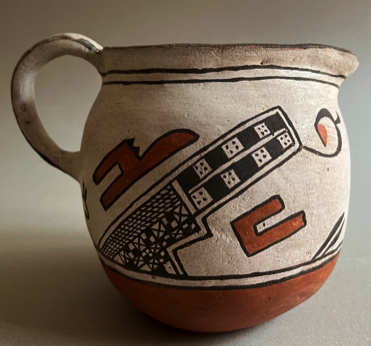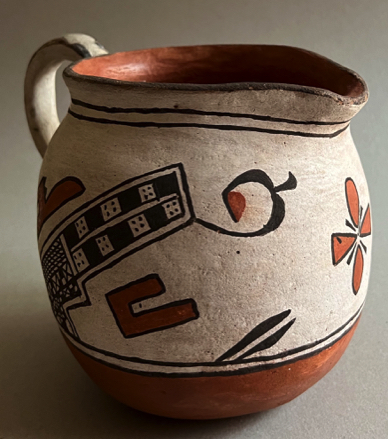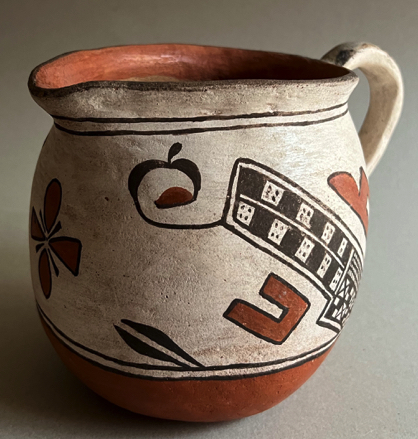 Eudora Montoya's Santa Ana pottery pieces are completely traditional in the materials and methods used; tan-colored clay tempered with fine river sand from the nearby Rio Grande, bright, chalky-textured whitish slip and red and black paint, but her painted designs are more freeform, modern and individual than traditional historic Santa Ana painted pottery designs as shown below.
This unique and beautiful pottery pitcher is an excellent example with beautifully painted stylized designs
of matching panels on both sides of the pitcher composed of diagonally-oriented black cross hatched panels reminiscent of ancestral Pueblo textile designs and free-floating red geometric, curvilinear and foliate elements. The front of the pitcher features a lovely stylized Spanish-style painted cross front and center. The design elements are all floating atop the stark white slip giving the overall composition a beautiful lightness and airiness.
The pitcher measures 6 1/2" in height and about 6 1/2" in diameter most of the way around. The pitcher is
8" in width at its widest point including the spout and handle. The pitcher is in excellent original condition. Examination under Ultraviolet light reveals no evidence of restorations or overpainting.
This lovely pitcher is a rare and eloquent survivor of an ancient and magnificent tradition
now sadly almost completely lost to the relentless sands of time.
Price $1,450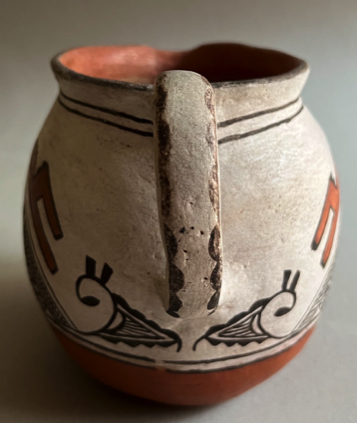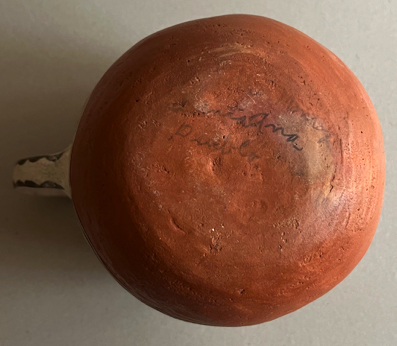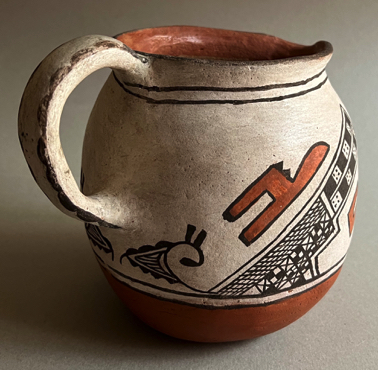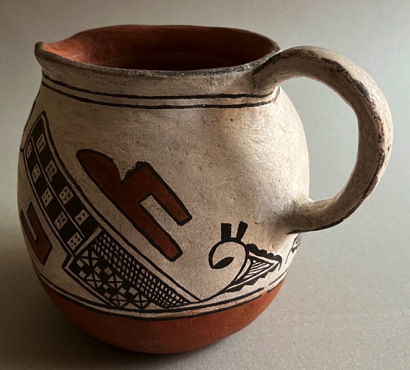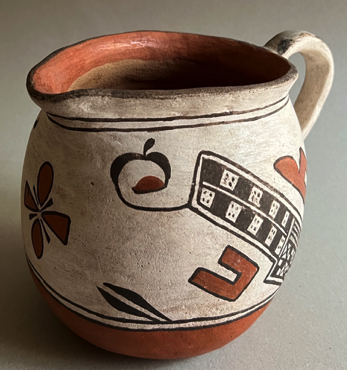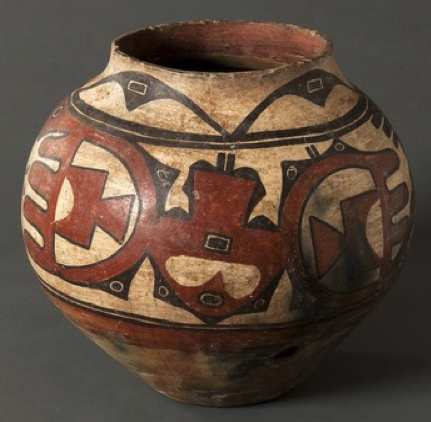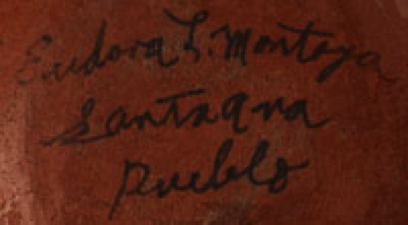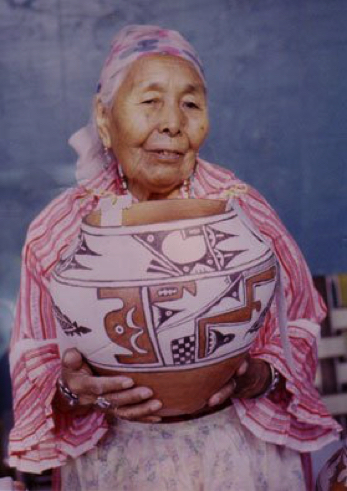 At left, a historic Santa Ana Pueblo Polychrome pottery jar, c. 1850. At right, the old Mission church at Santa Ana Pueblo built around 1598.
Left photo source and © The Barnes Foundation, Philadelphia, PA. Right photo source and © Color Card Postcards from an original image by Barnes and Kaplan.
At left, Eudora Montoya's full signature on another pottery jar. At center, Eudora Montoya. At right, Eudora Montoya's somewhat abraded signature on this jar.
Left and center photo source and © Adobe Gallery, Santa Fe.