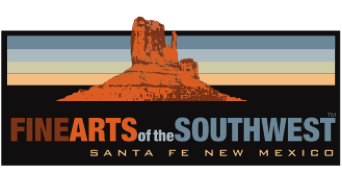 © 2010-2021 by Fine Arts of the Southwest, Inc. All rights reserved.
Unauthorized reproduction or use is strictly prohibited by law.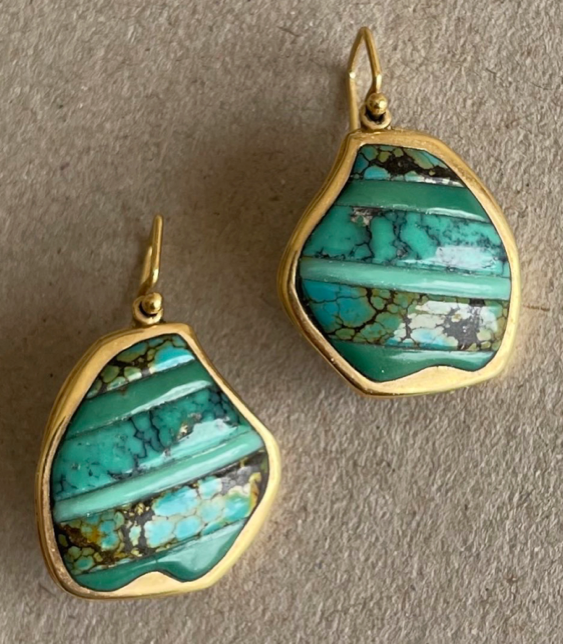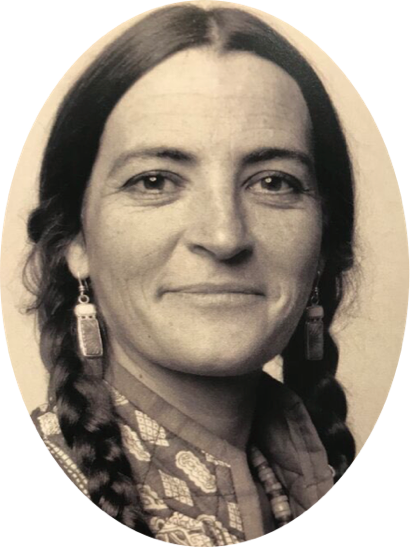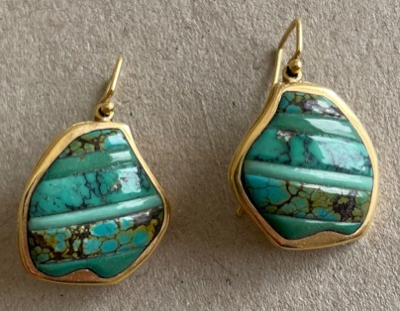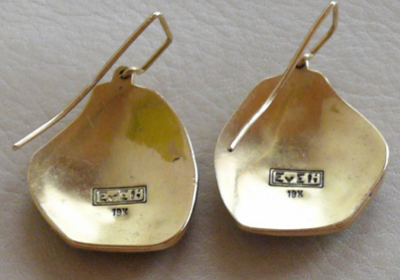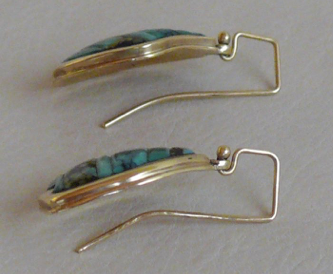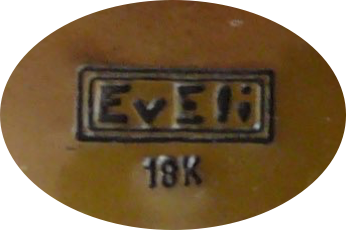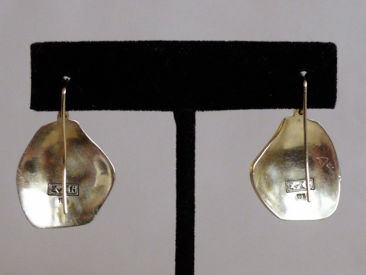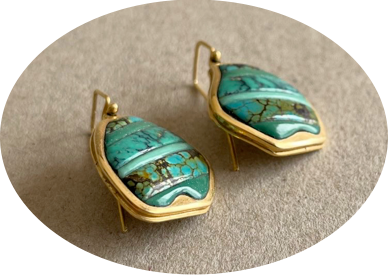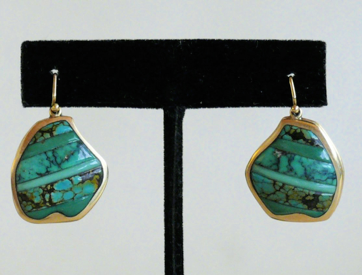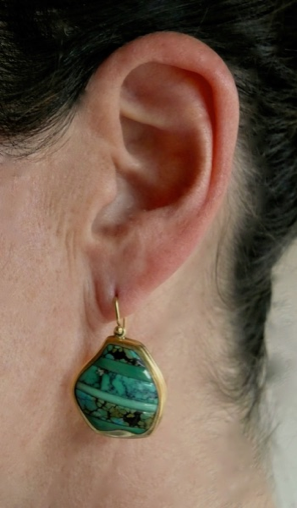 An outstanding pair of 18K gold and turquoise
inlaid earrings by Eveli Sabatie, c.1990's
One of the greatest Southwestern jewelers of the 20th Century, Evelyn (Eveli) Sabatie (B.1940) learned
to make jewelry from her mentor, the renowned Hopi jewelry master, Charles Loloma (1921-1991). After
a chance meeting in a local laundromat at Hopi, Eveli became Charles' apprentice and her talent blossomed.
Her artistic background and training and her French-Moroccan cultural heritage combined with Loloma's ground-breaking ideas rooted in the ancient art and landscape of the Hopi mesas came together in a critical mass of sorts inside Eveli to produce an explosive and extraordinary body of unique and striking jewelry art. Hers is truly a completely original and uniquely personal style.
Eveli Sabatie c. 1970's
Photo source and © Bahti Indian Arts
These remarkable earrings are a perfect example of the distinctively cross-culturally synthesized nature of Eveli's work—in them one can see the stylized round or domed shape of a beautiful Hopi pottery water jar outlined in fine gold and then beautifully inlaid with alternating layers of turquoise which echo some of the rock formations of the Hopi mesas yet also evoke Eveli's North African background with the age-old Moroccan tradition of elaborate finely-colored tile mosaics. The way Eveli deliberately alternated the layers of turquoise in the earrings inlay, stacking one layer of spiderweb brown-matrixed turquoise stone above the next layer of clear un-matrixed stone expresses this aesthetic perfectly.
The subtlety of design and meticulous attention to even the tiniest detail extends to the unique way in
which Eveli fashioned the gold hanging hooks of the earrings. They are more squared-off than the usual round hanging hook treatment and beautifully complement the organic form of the earring.
The earrings themselves measure 7/8" in height and are 3/4" in width at their widest points with a drop
length of 1 1/4" from the top of the gold hooks to the bottom of the earring with a thickness of 3/16".
They weigh a very comfortable 7 grams or 1/4 ounce each. Each earring is properly signed "Eveli" on the back and is also marked "18K". They are in near-mint original condition. Our dating of these earrings to the 1990's was confirmed in a conversation with Eveli. These earrings are marvelous and exquisitely-crafted pieces of gorgeous and extremely wearable jewelry art from one of its finest and most original practitioners.
Price $6,750