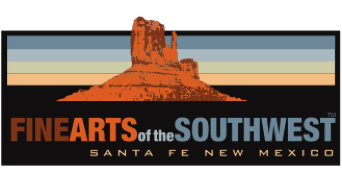 © 2010-2021 by Fine Arts of the Southwest, Inc. All rights reserved.
Unauthorized reproduction or use is strictly prohibited by law.

A Felipe Benito Archuleta New Mexico Folk Art "bottle cap" Diamondback rattlesnake,1982
One of America's greatest acknowledged 20th Century Folk Art masters is northern New Mexico's Felipe Benito Archuleta (1910-1991). Beginning in the late 1960's from his humble studio and home in rural Tesuque, New Mexico, about ten miles north of Santa Fe, Archuleta, with the periodic assistance of his son, Leroy, and a small cadre of apprentices, produced a series of unique and unprecedented interpretations of local animals and creatures and some exotic ones from around the world which variously shocked and delighted the folk art world with their startling character, power and boundless creativity. This is why Archuleta's work is today so prominently featured in major museums and private collections around the world, including a very visible display in the lobby of New York City's renowned Museum of Modern art and in The Smithsonian Institution in Washington D.C. Last year, the prestigious Museum of International Folk Art here in Santa Fe held a large and wonderful retrospective exhibition of Archuleta's and his apprentice's animal, bird and reptile figures entitled "Wooden Menagerie."
Among Archuleta's most innovative and unique creations was the invention of the so-called "Bottle cap" snake, whose bodies were composed of a tightly-strung-together-on-wire series of metal beer bottle caps usually obtained from the copious amounts of Miller High Life beer which Felipe and his motley crew were fond of drinking on a regular basis. In the case of this particular snake, approximately 318 bottle caps were used--53 six-packs worth--that's an awful lot of beer. This method of construction also conveniently allows the snake to be coiled or uncoiled into various configurations so that it can be very easily and creatively displayed. We like it coiled and that's how we have photographed it here because it looks so natural and also takes up the least space that way. Carved wooden heads or tails, occasionally salvaged from Mrs. Archuleta's broomsticks, complemented the bottle cap snake bodies.
We have had two other Felipe bottle cap snakes over the past 30 plus years and seen perhaps four others, and of this total of seven, this particular snake is the most interesting piece in our view. First off, he is very distinctively a "Diamondback" rattlesnake, the largest and fiercest of the Southwest's various rattlesnakes and his facial expression, with prominent white plastic fangs and formidable, large, carved wooden rattles perfectly captures his ferocity and power. He is beautifully-painted in a light-brown background on the top with a pale cream belly and a distinctively rendered repeating diamond pattern in black and red. He is arranged in an appropriate coiled posture with his head and rattles in raised alert position, seemingly ready to strike at a moment's notice. His black salvaged shoe leather forked tongue, white plastic fangs, like from a picnic fork and brass tack eyes show Archuleta's constant creativity of
the use of a wide variety "found" materials in creating artworks.
The snake measures approximately six feet in length from tongue to tail if he was completely stretched out and his bottle cap body is approximately 1 1/4" in width. The carved wooden head measures 5" in length and
2" in width and the carved wooden rattles measure 4" in length and 1 3/8" in width. The figure is in generally excellent condition with some abrasion wear to the right side of the head, which might possibly be original to the piece of wood Felipe selected. There is also some wear to the black leather forked tongue, one of the forks is missing its very tip and the other is slightly cracked but in our view this merely adds additional "character" to the piece. The snake is properly signed and dated in blue ballpoint pen on the underside of his head as follows: "8-11-82 F.B.A."
When one sees a Felipe Archuleta piece which bears the F.B.A. initials alone it is significant in that it indicates that Felipe made the piece himself without the participation of his apprentices although in the case of the bottle cap snakes specifically, there is some indication that possibly his young grandson, Ronnie Rodriguez (B.1968), who is now an accomplished folk artist himself, was allowed to help Felipe string the bottle caps together. This rattlesnake figure is an outstanding example of a uniquely New Mexican and American Folk Art form, a historic piece to be proudly displayed and deeply appreciated.
Price $2,250