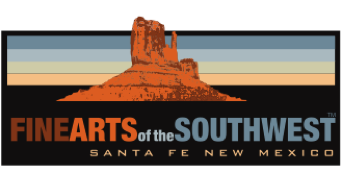 © 2010-2021 by Fine Arts of the Southwest, Inc. All rights reserved.
Unauthorized reproduction or use is strictly prohibited by law.

A fantastic New Mexican folk art
carved wooden jackrabbit by Felipe
Benito Archuleta, 1979
FELIPE BENITO ARCHULETA (1910-1991) was the undisputed "Grand Poobah" of New Mexico folk art. His carved wooden animal figures created a sensation when he first began making them and spawned an entire dynasty of followers. Alternately fierce and funny, serious and playful, menacing and joyful, Felipe's figures reach deep into the soul of his various animals and present them in unforgettable ways. He was a true folk art genius. As of this writing, the prestigious Museum of International Folk Art here in Santa Fe currently has on display a large exhibition through February 2015 entitled "Wooden Menagerie" dedicated to the art of Feleipe Archuleta, his son Leroy and his various apprentices and followers. This outstanding life-sized jackrabbit, in our opinion, is as good as any of the finest pieces in that exhibition.
First off, his expression and pose are just marvelous. He looks quite fierce in some aspects, yet there is an evident sweetness and shyness. To our eye, he looks a great deal like his maker, (particularly around the nose and mouth and eyes) and we have included a photo of Felipe Archuleta below to illustrate this point. In fact, we have informally entitled the piece "Self-portrait of the artist as a New Mexico Jackrabbit." The detailing is incredible, his piercing eyes are hand-painted glass marbles, he has large black rubber claws and long black horsehair whiskers.
The jackrabbit stands 26 1/2" in height to the top of his ears and he is 29" in length from nose to tail. He is approximately 10" wide at his widest point. He is properly signed and dated as follows in thick red paint on his underside:
"7-8-1979 Jack-Rabbit by F.B.A."
The "By F.B.A" part of the signature indicates that this piece was made entirely by Felipe Archuleta himself without assistance from any of his apprentices. The jackrabbit is in completely excellent original condition. This is a true masterpiece of American Folk Art from a world-renowned folk artist.
Price available upon request
Photograph © 1976 by Davis Mather