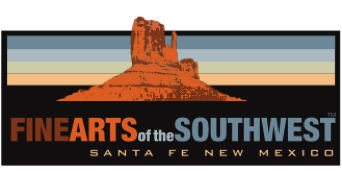 © 2010-2021 by Fine Arts of the Southwest, Inc. All rights reserved.
Unauthorized reproduction or use is strictly prohibited by law.

A large New Mexico folk art carved and painted wooden Tom turkey by Felipe Benito Archuleta,1977
Thanksgiving arrived early this year in the form of this big feathered fella. He is one of the most unusual, interesting and definitely the most structurally complex Felipe Archuleta (1910-1991) folk art carvings that we have ever seen. He also has the wonderful distinction of being the ONLY Felipe turkey figure that we have ever seen. Wild turkeys are indigenous to northern New Mexico and Archuleta would have had numerous potential turkey models running around in the woods near his home and studio in rural Tesuque village, just north of Santa Fe.
This figure is a fully life-sized male Tom turkey. He stands 31" tall and we estimate that he weighs about 45-50 pounds. He is approximately 34" in length from tip to tail and is 27" in width. His construction is the most complex assembly we can ever remember seeing in a Felipe Archuleta piece, a large wooden body with really great carving and painting on the head and the comb and wattles and the big yellow feet but its the huge wings and elaborate fanned-out tail that are perhaps the most impressive of all. Archuleta creatively employed overlapping thick sheets of plywood, cutting out multiple wing and tail feathers in amazing detail. There are some 80-85 wing and tail feathers that we can count in all. The turkey is properly signed "Turkey-by-F.B.A." and dated "December 16, 1977" on his green-painted wood base. To date, this is a two-owner turkey, he was purchased by the original owners directly from Felipe Archuleta in late 1977 and purchased by us from them earlier this summer. The original owners were the distinguished Texas and New Mexico folk and tribal collectors, Balene and Sanford McCormick.
This time, for a change, why not get a Thanksgiving turkey that you can enjoy having every single day of the year?
Price available upon request