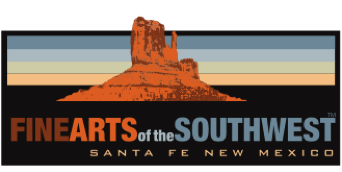 © 2010-2021 by Fine Arts of the Southwest, Inc. All rights reserved.
Unauthorized reproduction or use is strictly prohibited by law.

A historic, "Revival-Period" New Mexican
tin and glass hanging light fixture by
Francisco Delgado, Santa Fe, c.1930's
This beautiful hand-wrought historic tin and glass hanging lantern was created in one of Santa Fe's foremost revival-period historic tin workshops, that of the accomplished tinsmith, Francisco (Quico) Delgado, whose old tin shop was a well-known local fixture at 503 Delgado Street at the corner of Delgado and Canyon Road.
The fixture measures 18 1/4" in hanging height measured from the round ceiling plate to the bottom edge of the fixture. The fixture itself is 10" in height and 6" in width and the hanging chain is just a bit over 8" in length. The fixture is in excellent original condition overall with all four of its glass panels and tinwork intact.
The elaborate punched and stamped designs on the tinwork are remarkably well done.
The fixture needs to be re-wired which can be readily done by any qualified light shop at a cost of around $100-150 and it would then be ready to install in either an indoor or outdoor location. Such period New Mexican tin fixtures are rare and increasingly difficult to come by, particularly when they are so lovely and in such excellent original condition.
Price $1,475
Francisco "Quico" Delgado in his Canyon Road workshop, circa 1930s
Photo copyright by T. Harmon Parkhurst, Santa Fe, NM