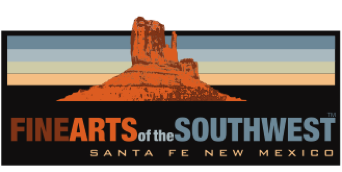 © 2010-2023 by Fine Arts of the Southwest, Inc. All rights reserved.
Unauthorized reproduction or use is strictly prohibited by law.
An unusual and very striking Laguna Pueblo, NM Sterling silver and gold two-finger ring with multiple inlaid stones by Franklin Carrillo, c. 2010-2015
This is a unique and wonderful ring, combining traditional Southwestern silversmithing and ultra-modern sleek
design concepts. We do not know a great deal about Franklin A. (Frank) Carrillo (b.1956), the very talented artist who created this piece other than the fact that he is of Laguna Pueblo, Choctaw and Seneca ancestry. Carrillo has exhibited numerous times at the prestigious annual Santa Fe summer Indian Market where he has been the recipient of many awards for his work and he has also exhibited repeatedly at The Heard Museum's Guild's annual Indian Fair and Market in Phoenix, Arizona. Carrillo was further honored with an exhibition at Santa Fe's Wheelwright Museum
of the American Indian in 2018.
This ring is really more like a large precious jewelry sculpture and it has a particularly striking and elegant,
almost architectural presence. It really highlights and graces one's entire hand turning it essentially into a complete art piece. On a professional graduated ring sizer, the ring measures a size 9 on the larger left
opening and a size 7-7 1/4 on the smaller right opening. The somewhat asymmetrically-shaped rectangular ring measures 2" in overall width, it is 1 1/2" in height at its highest point and 1/2" in depth at its thickest edge
tapering down to 3/16" in thickness at the opposite edge. The ring weighs a very comfortable and easily wearable
30 grams or 1 1/8 ounce. The ring is in excellent original condition with some very minor wear and it is properly signed "F.C. LAGUNA" and is also marked "Sterling" on the inside of both the shank's openings.
This ring is a sleek, elegant, beautifully-finished serious Southwestern statement ring;
a piece to wear with confidence and pride in one's fashion-forward attitude and appearance.
Price $950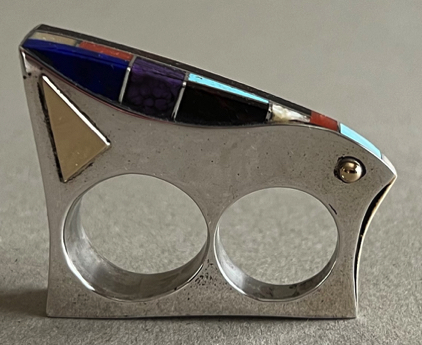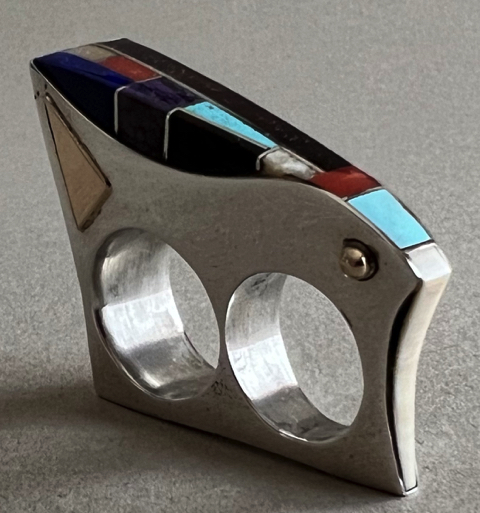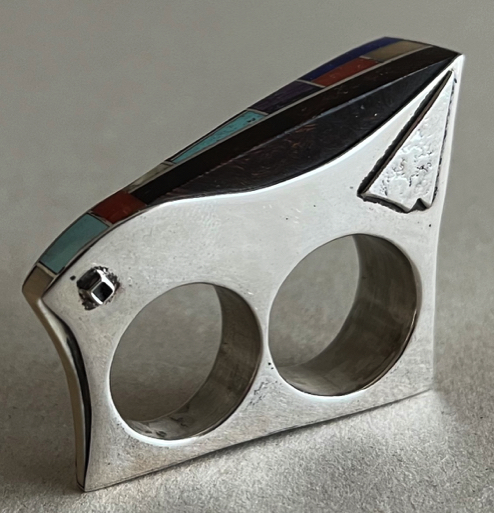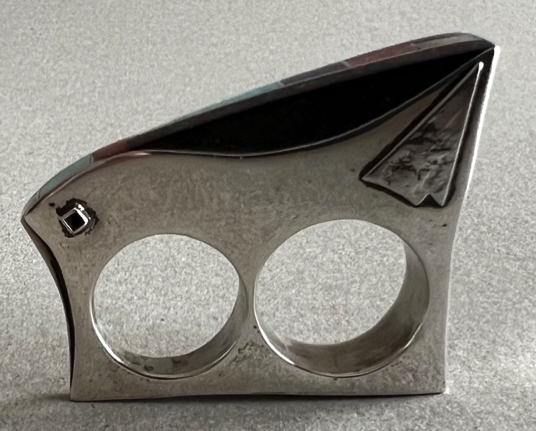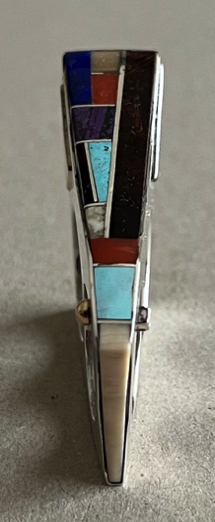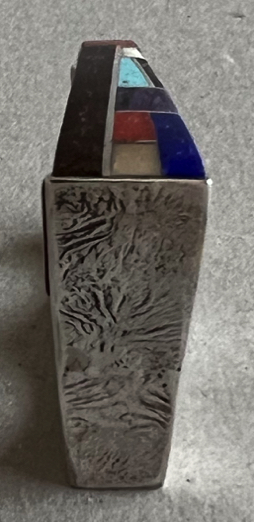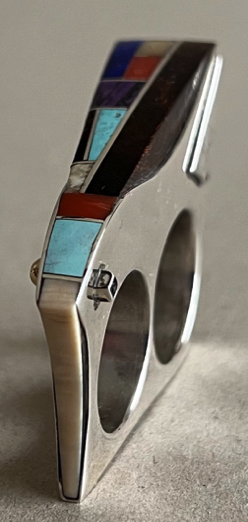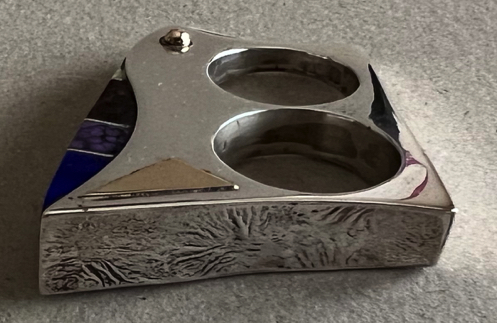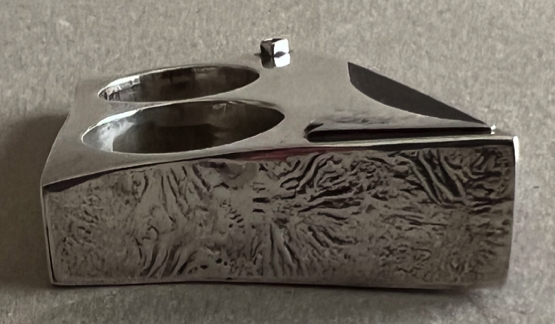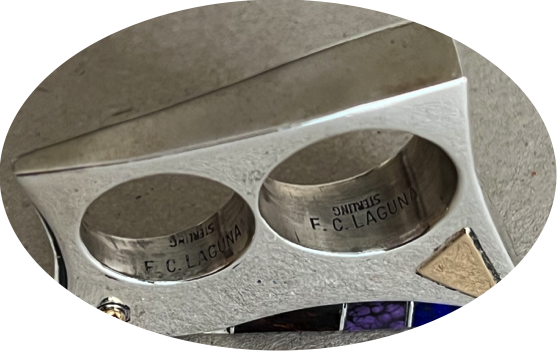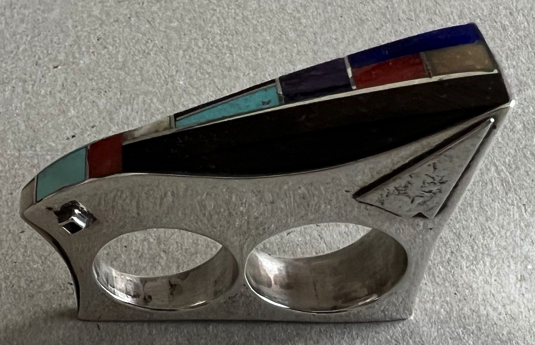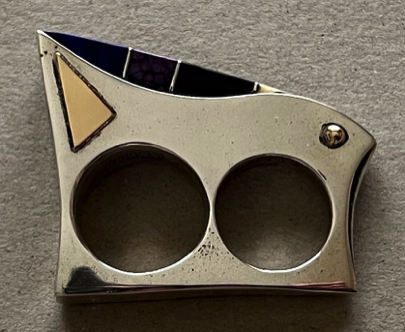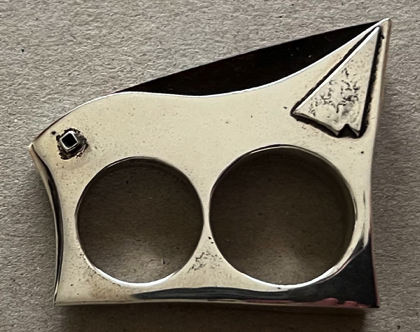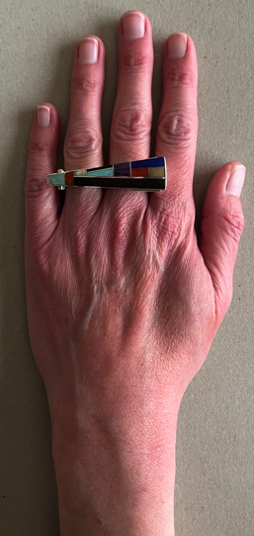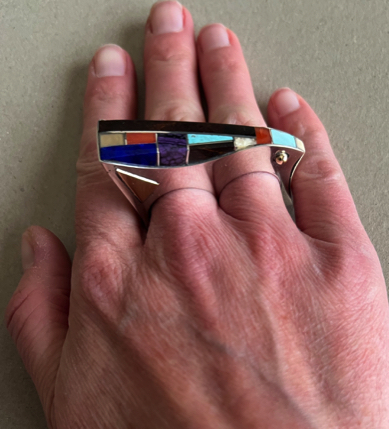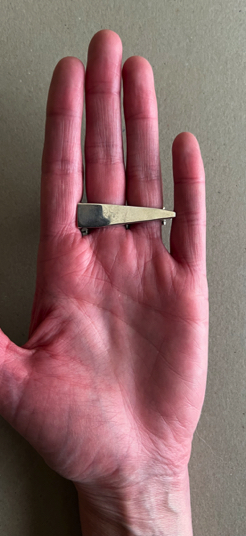 The two-finger design of this ring is bold and angular consisting of a hollow form somewhat asymmetrically-shaped rectangular silver shank incorporating a complex top panel of finely inlaid stones, variously textured and polished metal surfaces and gold and silver appliqués. The stone inlay is done in a Modernistic mosaic composed of various sections of blue turquoise, red coral, deep blue lapis lazuli, purple sugilite, black ebony, deep brown desert ironwood and off-white fossilized mastodon ivory, interspersed with multiple silver spacer bars. in an additional and lovely further accent touch, there is a long inlaid panel of cream-colored white bone or ivory running vertically down one entire end of the ring. A further fine accent addition are the two small applied gold panels on one side of the ring and the two small applied silver panels on the opposite side. A final decorative element is the beautifully textured silver end panel running top to bottom at the wider end of the ring.