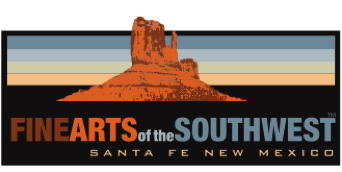 © 2010-2021 by Fine Arts of the Southwest, Inc. All rights reserved.
Unauthorized reproduction or use is strictly prohibited by law.

A superb Navajo silver and #8 turquoise
buckle by Fred Thompson, c.1950's-60's
FRED THOMPSON (1921-2002) is one of the 20th century's premier Navajo silversmiths, renowned for his exceptional, traditional silver work and his use of often quite large turquoise stones of the very highest-quality. Thompson began his silversmithing career in 1936 at the tender age of 15, working for the important Gallup, New Mexico Indian trader, Tobe Turpen for whom he worked his entire career, taking a few years off to serve in World War Two. Thompson worked in a completely traditional Navajo manner, making all of his own stamps and tools, and he eventually achieved worldwide recognition for creating bold, classic designs based around the use of the finest natural stones such as those in this outstanding buckle.
This buckle is remarkable for a number of reasons, one of the most interesting of which is its near-identical resemblance to another Fred Thompson silver and #8 turquoise buckle which we recently acquired. We have seen this happen only a few times, where a talented artist likes a particular piece they made so much they decide to make another version of it. It's also completely possible that Tobe Turpen, the trader Thompson worked for liked the first buckle so much he asked Thompson to make a second version of it. To see the listing of this other Fred Thompson buckle on our website please click here.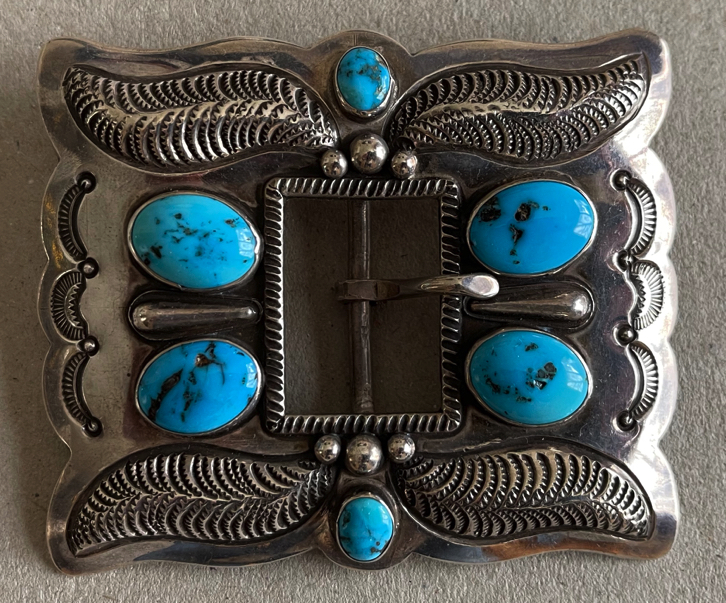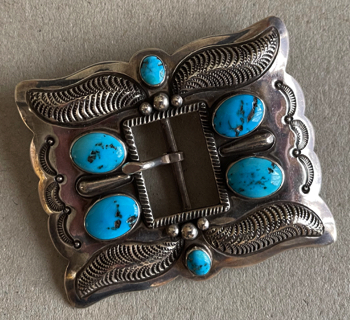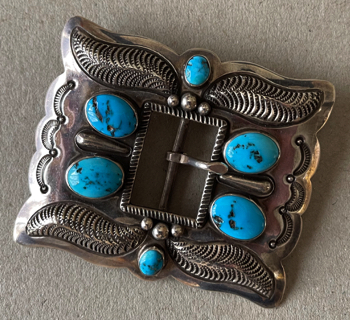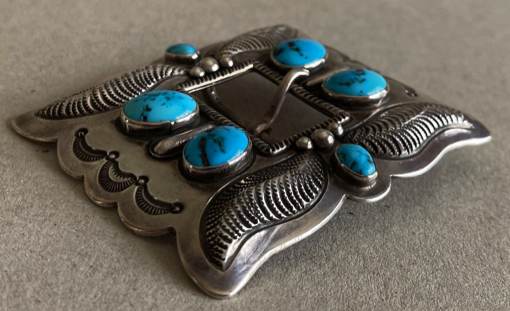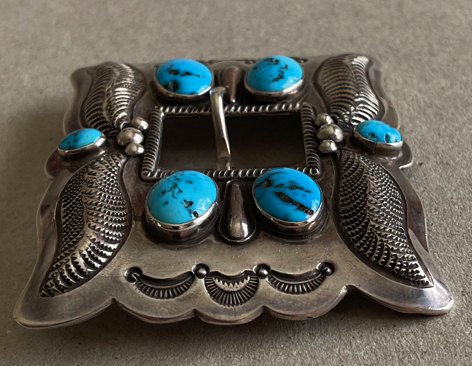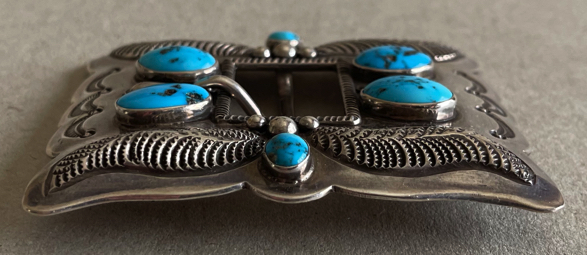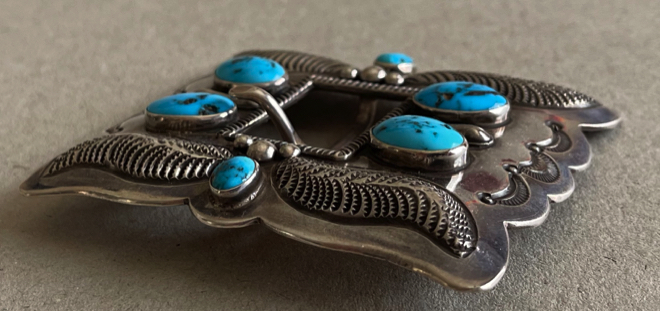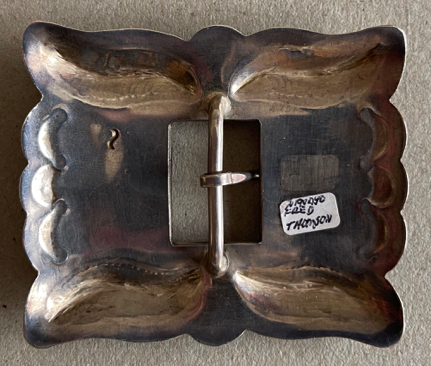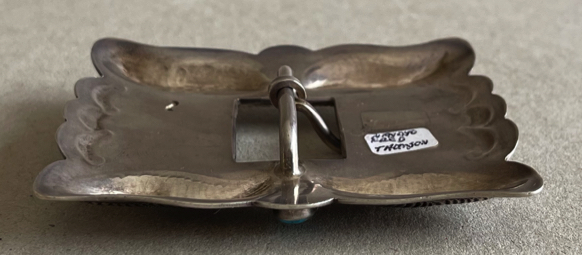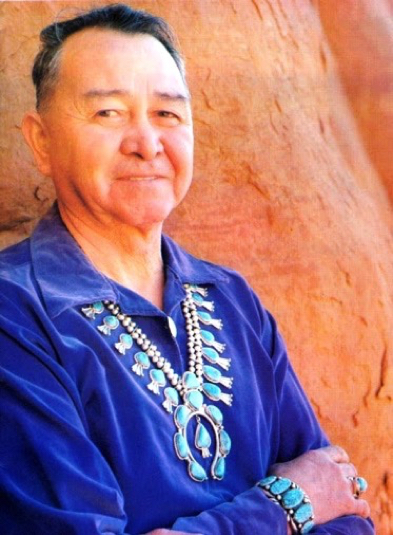 Navajo Silversmith Fred Thompson (1921-2002)
Photo source and © Four Winds Gallery, Pittsburgh, PA
This is all especially well-executed; the craftsmanship on display here is simply remarkable in every aspect.
It's like a virtual encyclopedia of traditional Navajo silversmithing techniques done all together in perfect harmony and the end result is completely balanced and beautiful. The buckle measures a very nice-sized 3 1/4"
in width by 2 3/4" in height and it's somewhat contoured repousseed profile is about 1/2" in depth. The buckle weighs 70 grams or 2 1/2 ounces and it will accommodate a belt of up to 1" in width. The buckle is in excellent original condition overall. The buckle is properly signed on the back with Fred Thompson's characteristic
"tilde" hallmark.
This is a particularly splendid and handsome historic buckle from the fertile mind and extremely talented hands of a distinguished silversmith whose jewelry pieces are held in increasingly high regard and are correspondingly growing more and more difficult and costly to come by.
Note: the leather belt and turquoise nuggets pictured here are for demonstrations purposes only and are not included in the sale of this buckle.
SOLD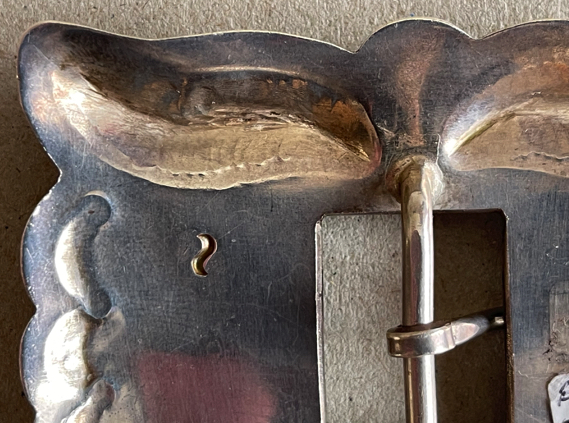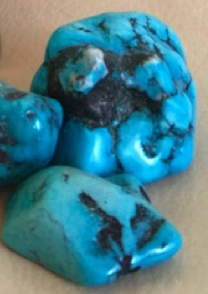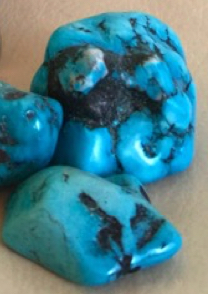 Now please take a few moments to note the many extraordinary details of this spectacular piece. First, this buckle features six fabulous-looking, extremely high-quality, beautifully-matched, sky-blue natural turquoise cabochon stones which, in our opinions, are from Nevada's famed #8 turquoise Mine. Note the buckle pictured here with some high-grade #8 Mine spiderweb nuggets which we recently acquired and they look remarkably similar. The stones are perfectly matched and perfectly set in old-style "fold-over" type silver bezels mounted onto the heavy silver body of the buckle. The silver buckle is fully decorated in profuse and complex detail with four beautifully-made deep and very elaborately stamped repousseed panels, two sets of three applied silver "raindrops" at top and bottom and some very fine chiseling all the way around the opening.