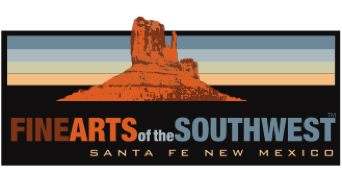 © 2010-2021 by Fine Arts of the Southwest, Inc. All rights reserved.
Unauthorized reproduction or use is strictly prohibited by law.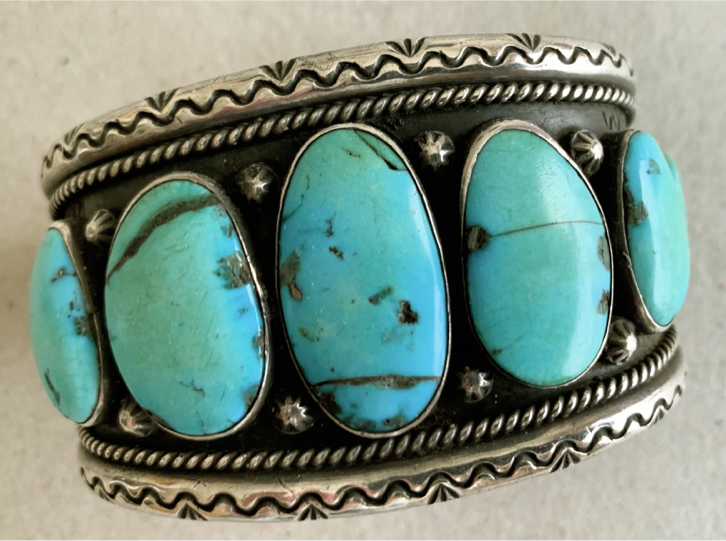 An incredibly beautiful Navajo silver and seven turquoise row-style bracelet by Fred Thompson, c.1950's-60's
This bracelet is like a silver and turquoise nuclear bomb! Its visual impact is just amazingly intense and totally impressive. And little wonder, considering that its maker was the incomparable Fred Thompson (1921-2002) one of the 20th Century's premier Navajo silversmiths, well known for his exceptional, impeccably-crafted traditional silver work and his use of often quite large turquoise stones of the very finest-quality. 
Thompson began his silversmithing career in 1936 at the tender age of 15, working for the prominent Gallup, New Mexico indian trader, Tobe Turpen. He worked in a completely traditional Navajo manner, making all of his own stamps and tools, and he eventually achieved worldwide recognition for creating bold, classic designs based around the use of the finest natural stones such as the seven fabulous cabochons in this outstanding bracelet. Thompson spent his entire career with the exception of a few years time in the Army during World War two working for Tobe Turpen and would never sell his work to other dealers or traders.
Please take a moment to note the extraordinary and elaborate details of the construction of this piece; its beautifully-made and unusually-stamped and chiseled heavy silver shank and its very finely-detailed, recessed center channel into which are mounted seven absolutely gorgeous, matching graduated oval-shaped cabochon blue-green turquoise stones with some overtones of dark grey and pyrite inclusions. We are not completely certain of the mine these beautiful stones came from, but we believe that due to the color and inclusions it is most likely either the famous Morenci Mine in southern Arizona or the equally well-renowned Blue Diamond Mine in Nevada.
The row of large stones and their old style "foldover" type silver bezels are further accentuated by being bordered by very finely-twisted silver wire surrounds on the top and bottom and sides and in a lovely final touch, six pairs of very finely fluted applied silver "raindrops" are interspersed between the stones. At the end of the row of stones on both sides of the b bracelet is a delicately stamped rattlesnake design.
The bracelet measures 1 3/4" in maximum width at its widest center point and tapers down to 1" in width at the terminal ends. The inner circumference end-to-end is 5 3/4" and the gap between the terminals is 1" for a total interior circumference of 6 3/4". The bracelet's silver shank is a substantial 1/8" in thickness. The bracelet weighs an impressive 110 grams or 3 7/8 ounces and it is in excellent original condition overall with stable, well-healed cracks to three of the seven turquoise stones. The stones themselves have a marvelous smoothness from years of dedicated wear. (This bracelet has been loved a lot!).
The bracelet is signed on the interior with Fred Thompson's characteristic "tilde" hallmark. This is a particularly splendid bracelet from the talented hands of a distinguished maker whose jewelry pieces are held in increasingly high regard and are correspondingly growing more and more difficult and more costly to come by. You would be very hard pressed to find a better made, better looking historic Navajo bracelet than this stellar beauty!
Price $3,950
Fred Thompson, c. 1980
Photo source and © Four Winds Gallery, Pittsburgh, PA
The Old Tobe Turpen Trading Post in Gallup, NM, © 1947.
Fred Thompson was making jewelry somewhere in this building.
Photo source and © Perry Null Trading, Gallup, NM