© 2010-2021 by Fine Arts of the Southwest, Inc. All rights reserved.
Unauthorized reproduction or use is strictly prohibited by law.
Two exceptionally fine vintage original oil paintings of rock formations in Zion National
Park Utah, c.1920's-1930's by G. Zeller
A beautiful and dramatic pair of WPA-era oil-on-wood panel paintings of landmarks in Utah's spectacular
Zion National Park by an extremely accomplished painter "G. Zeller" about whom almost nothing is known.
While we may not know much about this artist, we certainly know the most important thing, that he or she had exceptional ability; these compositions are most powerfully conceived and arranged, the brushwork expertly and richly done, the deeply saturated color palette and dramatic use of light and shadow all add up to extremely powerful and compelling paintings.
In our northern New Mexico neck of the woods, these pieces are reminiscent of the extraordinary landscape paintings of the great Taos Society of Artist's master, Ernest L. Blumenschein and a comparison to Blumy is high praise indeed for any artist. In their grandeur and dramatic perspectives and presentation of the landscape they are also reminiscent of some of the fine Western landscape work of Hudson River School painters, Thomas Moran and Albert Bierstadt.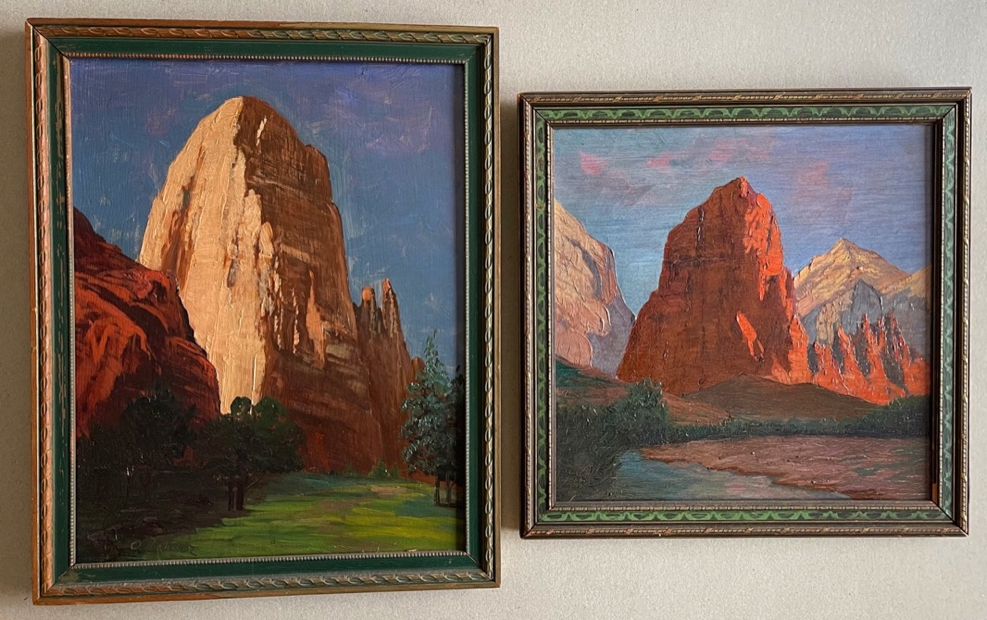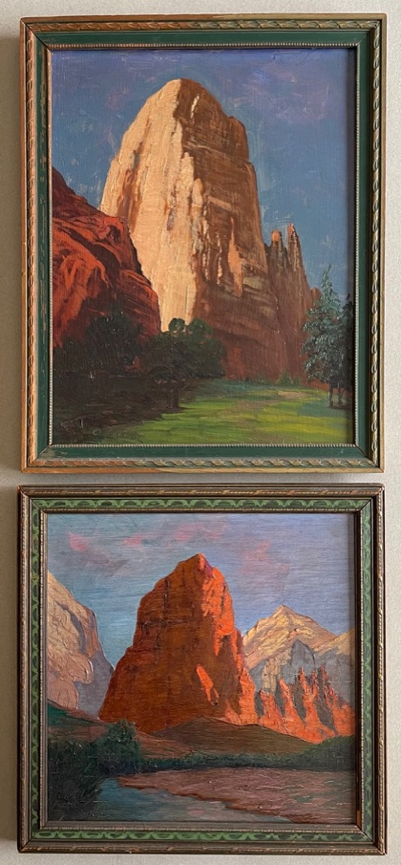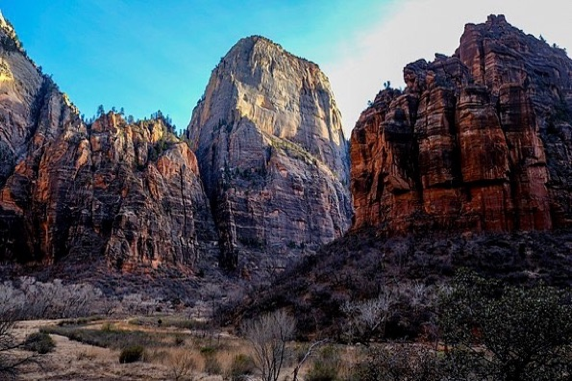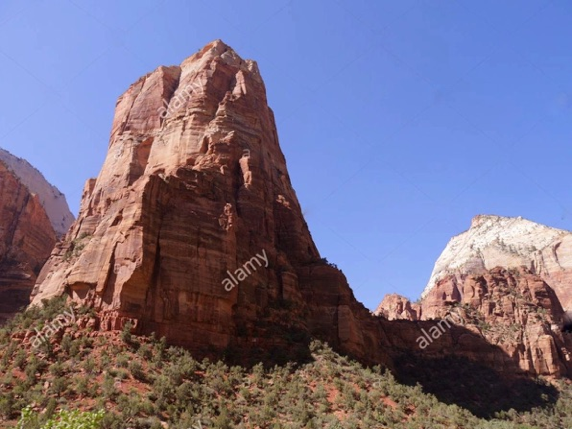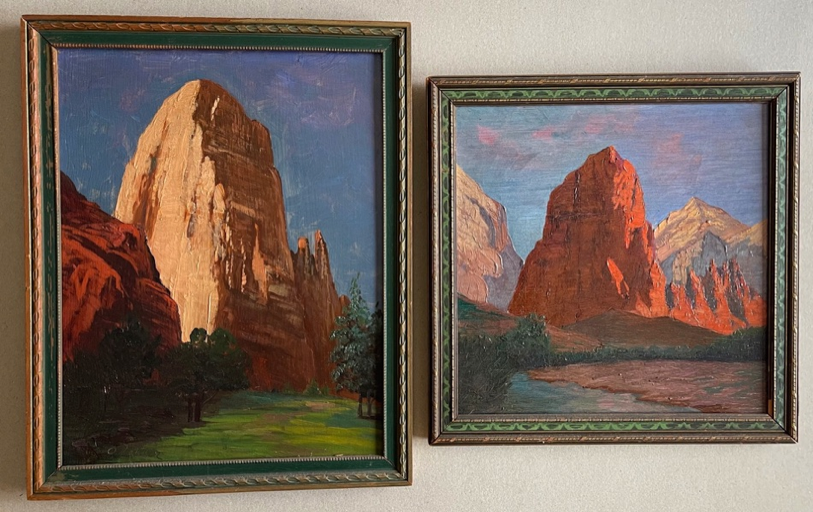 Top photo source and © , Wikipedia.com. Bottom photo source and © Alamy Stock Photos.
"Utah's Zion National Park is stunningly beautiful in person, but in
these marvelous paintings it's every single bit as beautiful in paint."
As a marvelous added plus, The paintings are very beautifully and distinctively framed in their original period handmade carved, painted and gilded wood frames which were clearly custom made for them. Someone obviously cared a very great deal about these paintings. The paintings are done in oil paint on wood panels and their measurements are as follows: The larger painting of "The Great White Throne" is 13 1/4" in height and 10 1/4" in width (sight) and its framed dimensions are 15 1/2" in height and 12 1/2" in width. The smaller red rock formation painting measures 10 1/2" in height and 10 1/2" in width (sight) and its framed dimensions are 12 1/2" in height and 12 1/2" in width. Both paintings are in excellent original condition and appear to have been cleaned and varnished in the recent past. Both paintings are signed "G. Zeller" at lower left.
The paintings appear to have been painted as a pair and meant to be kept and displayed as a pair; their widths are exactly the same and their frames are quite similar, but they are available separately and there is a special price for both of them together. Please enjoy this special small historic painting show of a pair of these small artistic gems depicting some of the most dramatic landscapes in the American Southwest and the country.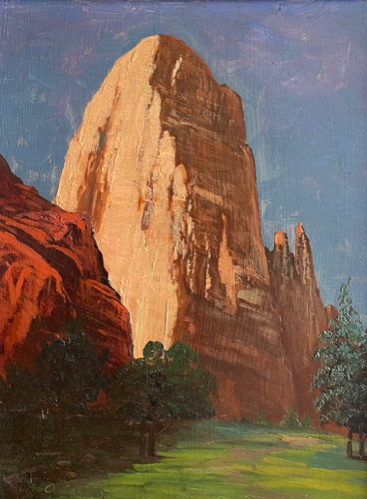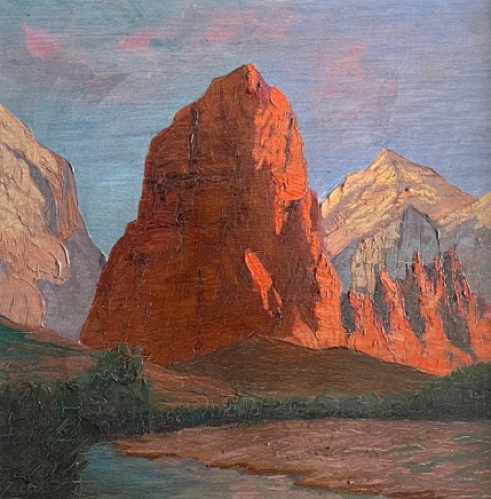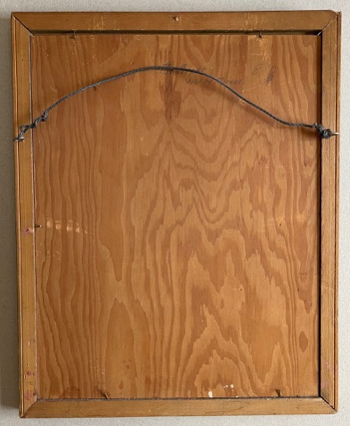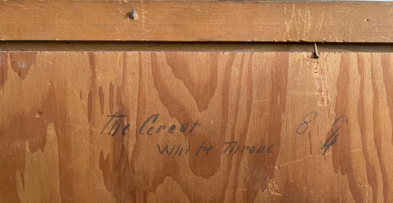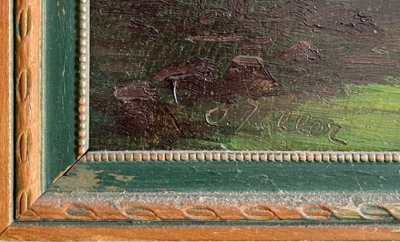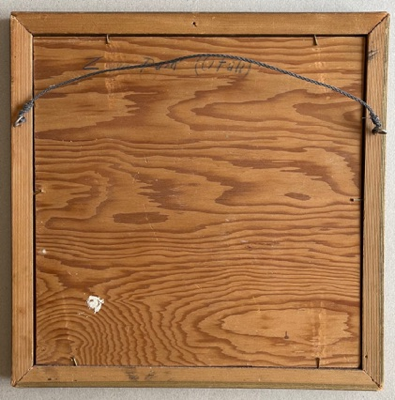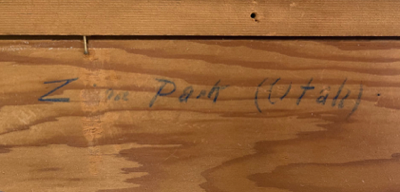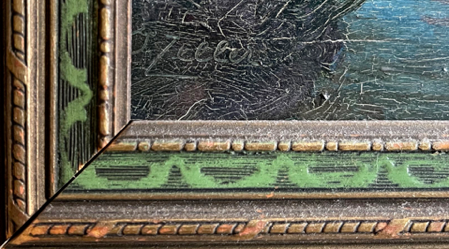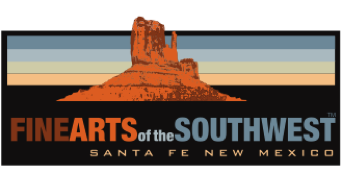 Special price for both paintings
Price $3,200
"The Great White Throne"
Price $1,750
"Zion National Park (Utah)" (Red Rock Formation)
Price $1,750