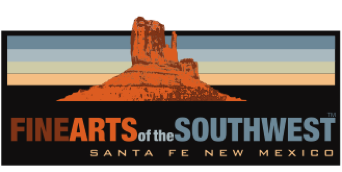 © 2010-2022 by Fine Arts of the Southwest, Inc. All rights reserved.
Unauthorized reproduction or use is strictly prohibited by law.

Two rare vintage Hopi Polychrome pottery
tiles by Garnet Pavatea, c. 1950's-60's
One of our very favorite Hopi potters of the 20th Century is the great Garnet Pavatea (1915-1981). Her pottery, like her personality was intense; strong, decisive and powerful. Her pieces are always very beautifully formed and boldly and distinctively decorated.
Garnet was a woman and an artist of strong opinions, she carried on a running feud of sorts with members of the Nampeyo family over their continued complaints that she was using what they viewed as "their" proprietary family pottery designs such as the eagle tail design and the "Migration" pattern. Garnet famously and loudly responded to anyone who would listen her view that all Hopis owned and thus were entitled to use all Hopi designs and that these were not and should not be the property of any one particular family.
These wonderful ceramic tiles are a bit of an interesting, unusual and pleasant Garnet Pavatea surprise for their spareness, delicacy and finesse. They are a triumph of the great Bauhaus Modernist architect Mies van ver Rohe's guiding philosophy of "Less is more." Not only that, they are completely unique pottery pieces in our 35-plus years of experience buying and selling historic and contemporary Hopi pottery. In that time, we have seen perhaps 150-200 Garnet Pavatea pottery vessels of almost all types; large jars, medium jars, small jars, painted jars and plain incised jars, red and yellow polychrome painted bowls and plainware "Piki" dough bowls, smaller miniature bowls, large serving platters, salad sets, wedding vases and salt and pepper shakers but we have NEVER before now seen a single other Garnet Pavatea pottery tile.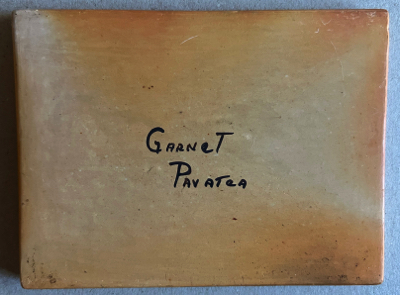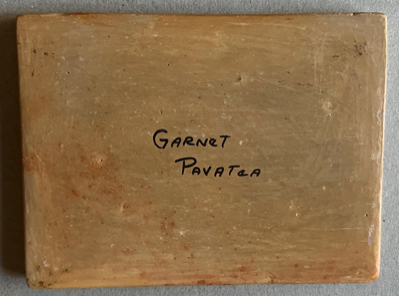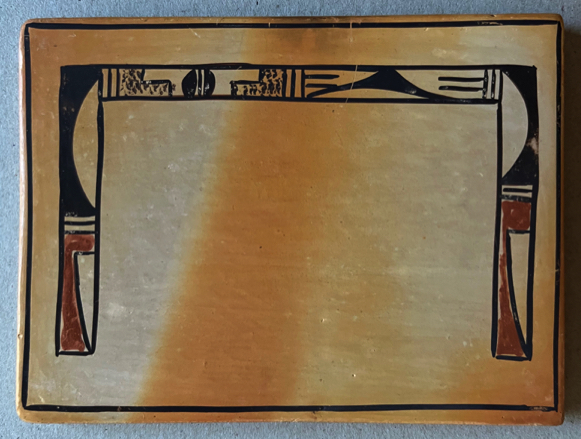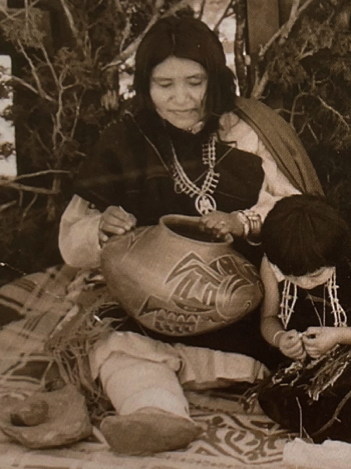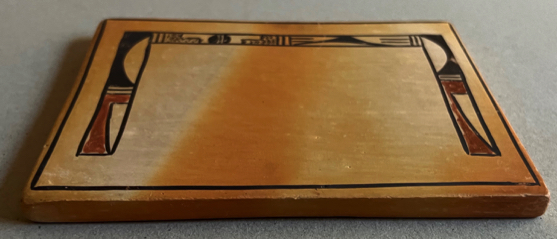 The designs on the tiles are graphically striking, one wonders if they are simply abstract artistic expressions on Garnet Pavatea's part or are they symbolic representations of something else? Viewed a certain way, the designs somewhat resemble the capital letters "C" and "E" of the English alphabet, might they have been part of a larger alphabet pottery set possibly made for a Hopi school as a teaching aid?
We asked some longtime Hopi art colleagues who are also involved with Hopi education for their opinion
and here is what they had to say:
"We think these are not letters, we think they are designs, probably
with the open side at the bottom. A little reminiscent of rain."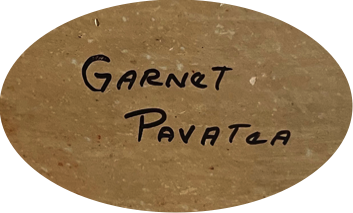 Garnet Pavatea painting a pottery jar, c. 1950's
Photo source and © Frashers Fotos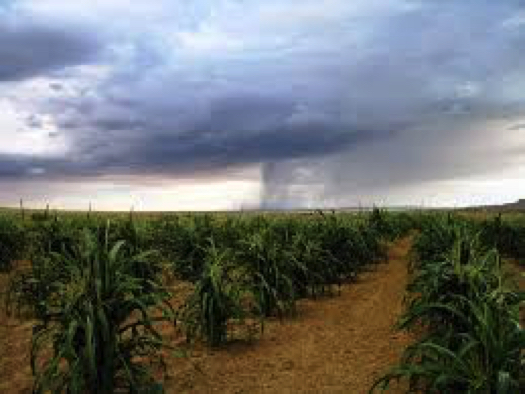 At left, summer rain falling on a Hopi cornfield. At right, a Hopi wood dance hoe with clouds and rain symbols.
Left photo source and © Borderlore
The two tiles each measure a good-sized 5 1/4-5 3/8" in width by around 4" in height and they are 3/8" deep.
Both tiles are in excellent original condition with no cracks, no significant chips and no restoration or overpainting. There is a tiny scratch or very minor abrasion spot here and there. Both tiles are properly and
nicely signed "Garnet Pavatea" on the back.
These tiles are unique and beautiful historic pottery pieces by a distinguished and highly-accomplished
Hopi artist. You can buy them individually or purchase both for a slightly better price.
Price $850 each, $1,500 for the pair