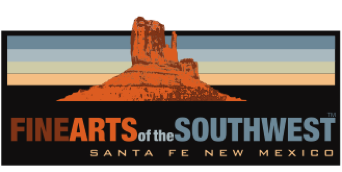 © 2010-2021 by Fine Arts of the Southwest, Inc. All rights reserved.
Unauthorized reproduction or use is strictly prohibited by law.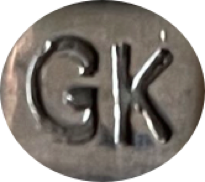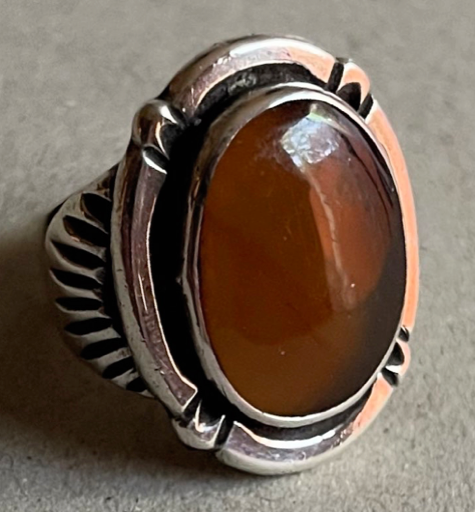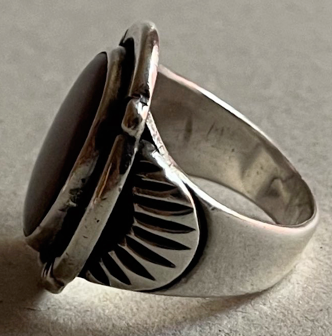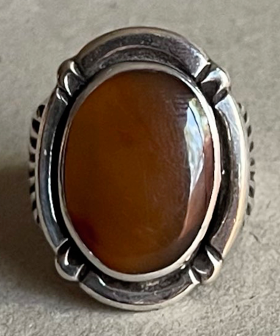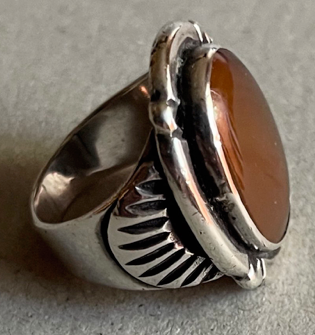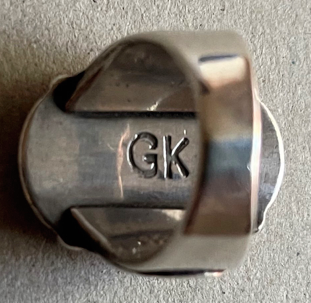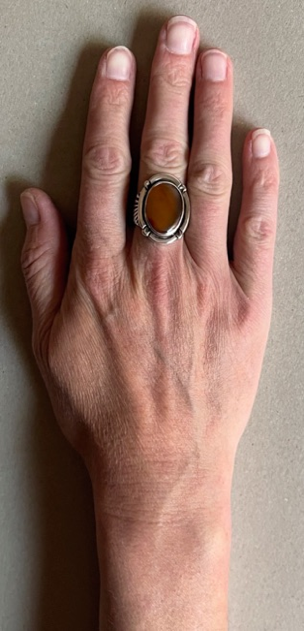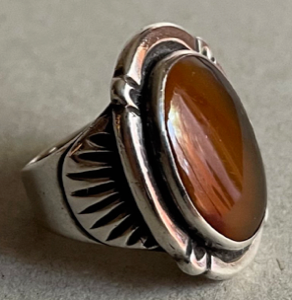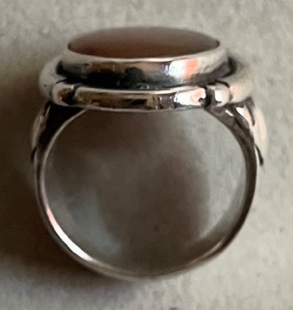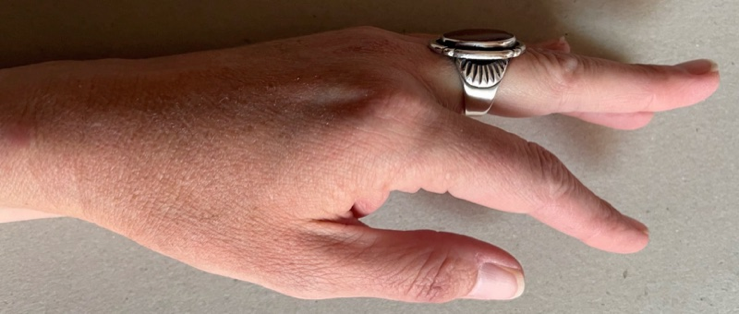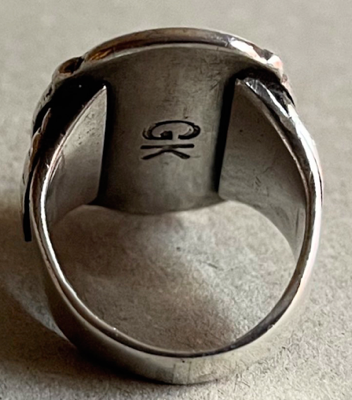 A Modernist-style Navajo silver ring with
a fine semi-precious jasper or carnelian stone
by George Kee, c. 1950's-60's
This striking ring was made by the great 20th Century Navajo silversmith, George Kee (1930-1980) who learned his craft first at the famed Navajo Arts and Crafts Guild under Ambrose Roanhorse (1900-1981) and later from his famous cousin, the brilliant ground-breaking Navajo silversmith, Kenneth Begay (1913-1977). In the 1950's and 60's Begay, George Kee and Kee's two brothers, Allen and Ivan headlined an all-star team of Navajo silversmiths at Scottsdale's famed White Hogan Shop, turning out an extraordinary array of sleek Modernist-style Navajo silver jewelry, flatware and other precious objects in their elegant streamlined modernist style.
This ring was probably made as a gift or for private sale and not made for sale at The White Hogan Shop since it bears only Kee's customary "GK" capital letters initials signature and not The White Hogan's domed Navajo hogan shopmark. The ring features an oval-shaped face decorated with restrained chisel work and featuring a beautiful oval-shaped translucent brownish-orangeish-reddish semi-precious Jasper or Carnelian stone.
The stone is set in an old style plain-silver "foldover" type bezel. The bezel platform is mounted on a sturdy fabricated silver shank and accented on either side by semi-circular, fan-shaped appliquéd silver plaques decorated with nice chisel work. All together this is a most refined and beautifully streamlined presentation. The ring measures a size 8 3/4 on a professional graduated ring sizer, but it will fit fingers up to a size 9 and it weighs a very comfortable 16 grams or slightly over 1/2 ounce. The Jasper or Carnelian stone measures 3/4" by 9/16".
Both ring and stone are in excellent original condition. The ring is properly signed "GK" in George Kee's customary capital letters initials signature on the interior.
This ring is a lovely and very wearable piece for either a man or woman beautifully conceived
and perfectly crafted by one of the 20th Century's finest Navajo silversmiths.
Price $725