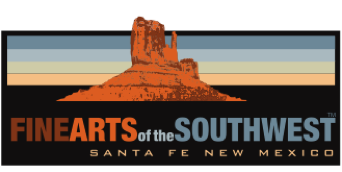 © 2010-2021 by Fine Arts of the Southwest, Inc. All rights reserved.
Unauthorized reproduction or use is strictly prohibited by law.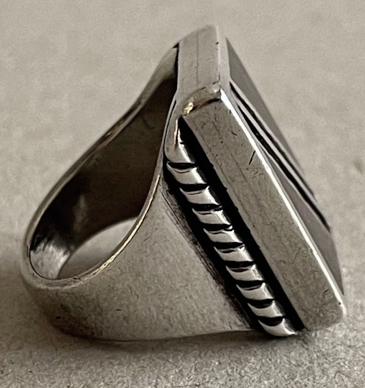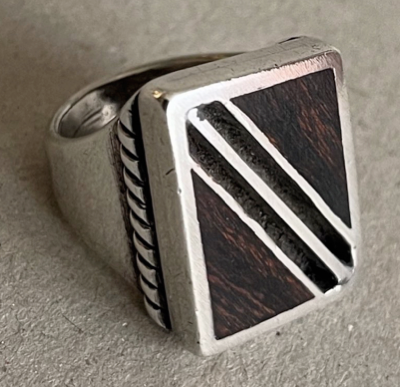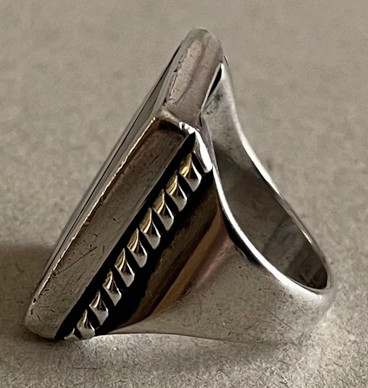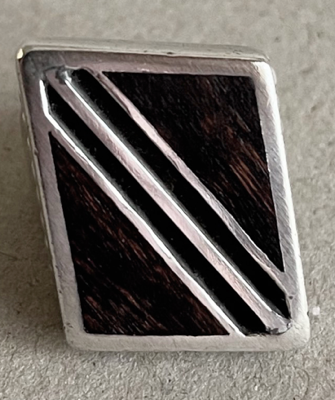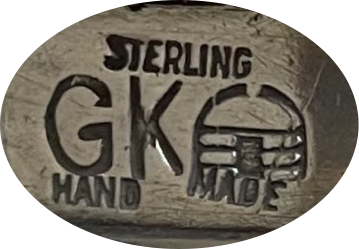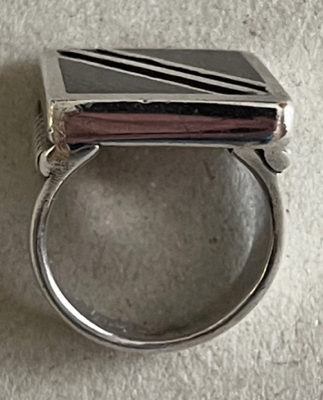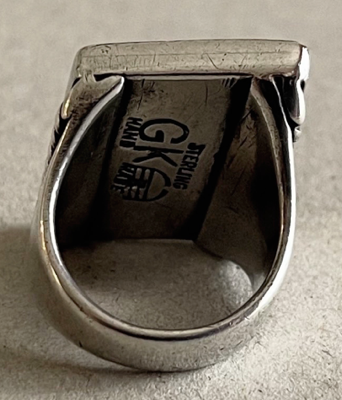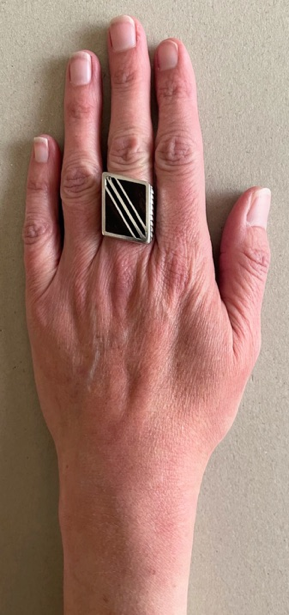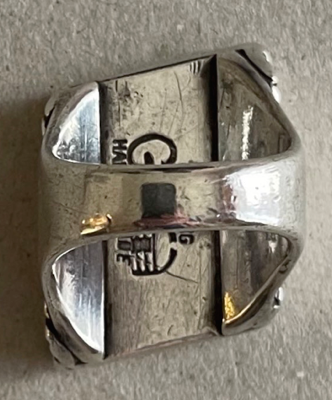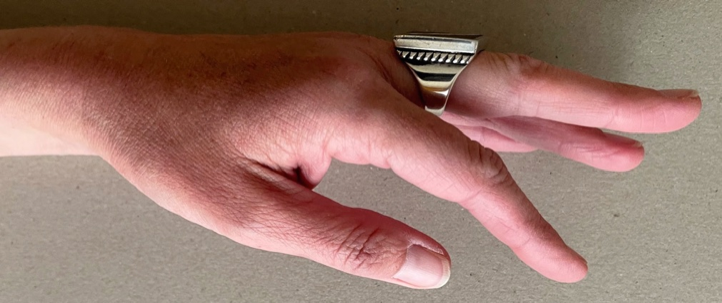 A modernist-style Navajo Silver and Desert
Ironwood ring by George Kee for The White Hogan Shop, Scottsdale, Arizona, c.1950's
This striking ring was made by the great 20th Century Navajo silversmith, George Kee (1930-1980) who learned his craft first at the famed Navajo Arts and Crafts Guild under Ambrose Roanhorse and later from his famous cousin, the brilliant ground-breaking Navajo silversmith, Kenneth Begay (1913-1977). In the 1950's and 60's Begay, George Kee and Kee's two brothers, Allen and Ivan headlined an all-star team of Navajo silversmiths at Scottsdale's famed White Hogan Shop, turning out an extraordinary array of sleek Modernist-style Navajo silver jewelry, flatware and other precious objects.
This fascinating ring is made of finely cast and fabricated sterling silver with dark brown panels of desert ironwood that have been inlaid between the silver channel spacers (It is difficult to see in the photos, but there are two triangular pieces of wood set on both sides of the deep silver channels.) The face of the ring was deliberately designed with a sharply offset rectangular face, a parallelogram form which gives it a distinct sense of motion and a very modern and unique dynamic appearance. The ring's face is nicely accentuated on both sides with a finely chiseled silver accent bar.
The ring measures a size 8 on a professional graduated ring sizer and it is in excellent original condition with some age appropriate wear. It is properly signed "GK" on the interior along with the White Hogan Shop's famous domed hogan hallmark and is also marked "Sterling" and "Hand Made". The ring measures 1" in height and 3/4" in width. It weighs a very comfortable and very wearable 21 grams or 3/4 ounce. This ring is an easy to wear modern-day Modernist classic piece from the talented mind and skilled hands of one of the 20th Century's finest Native American jewelry artists. 
Price $875