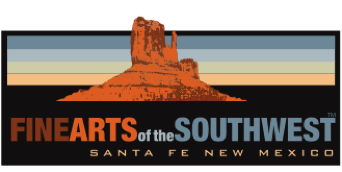 © 2010-2021 by Fine Arts of the Southwest, Inc. All rights reserved.
Unauthorized reproduction or use is strictly prohibited by law.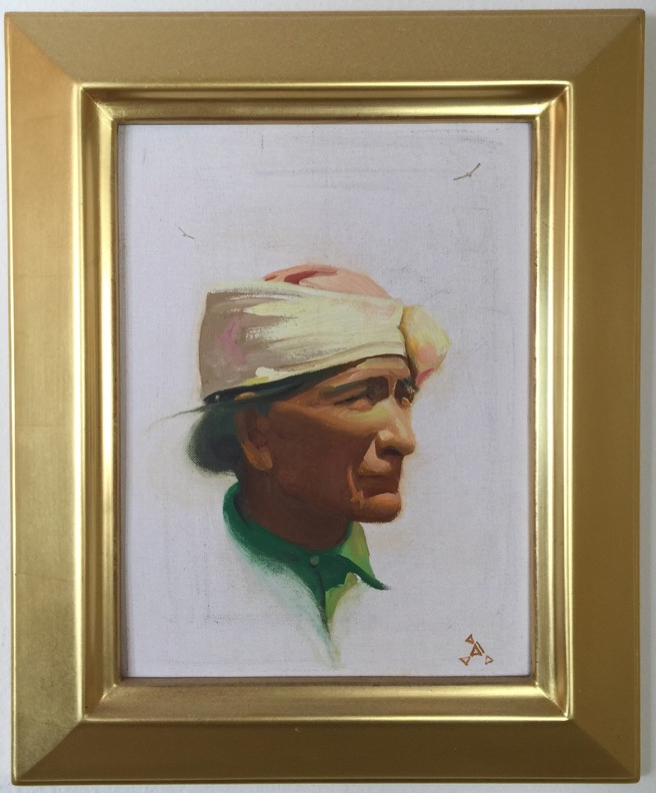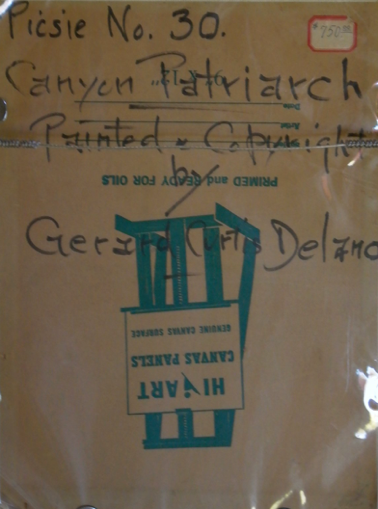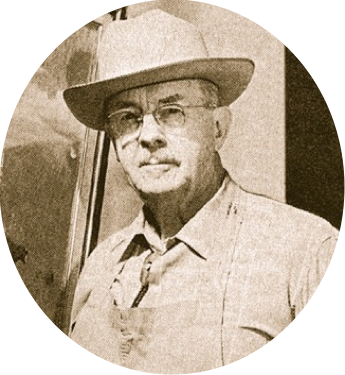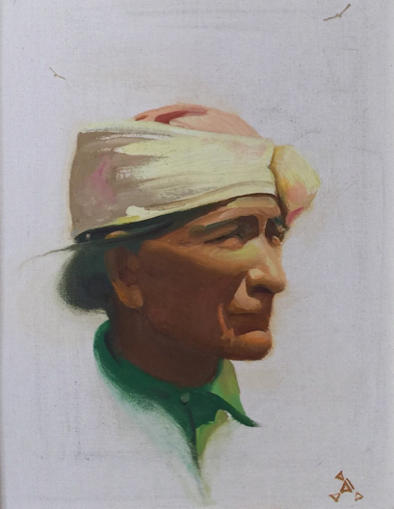 A marvelous, historic painting by Gerard Curtis Delano entitled "Canyon Patriarch", oil on board, 12" x 9", N.D.
Gerard Curtis (Jerry) Delano's (1890–1972) artistic passion was painting the Navajo Indians of Arizona, Utah and New Mexico; their unique life ways and their incomparable high desert and canyon landscapes, and, to that end, this small painting is a beautifully realized and completely authentic artistic gem.
"I do not paint for clients. I paint on faith. I love my work
and am completely at peace in doing it."
-Gerard Curtis Delano
The "Canyon Patriarch", a proud and dignified Navajo male elder, has been beautifully and lovingly portrayed here by Delano; completely spontaneous and fresh and yet perfectly composed at the same time. The restrained, high-key desert palette and precise yet free brushwork render the scene vividly to the point where one can almost feel the dry canyon wind blowing through the red rock and hear the sharp, lonely cry of the hawks or eagles circling high overhead.
The painting is signed with Delano's stylized "D" monogram at the lower right and it is also titled and signed as follows on the verso in the artist's distinctive hand: "Picsie #30 Painted and Copyright by Gerard Curtis Delano" with an original price sticker of $750.00. Delano used the term "Picsie" to denote his small generally painted on-scene, often impromptu, oil sketches. The painting is in excellent original condition and it is most beautifully framed in a 22K gold-gilded Modernist-style frame by Goldleaf Framemakers of Santa Fe, Santa Fe's premier fine art framers.
This wonderful and historic painting is a perfectly rendered unique and soulful slice of a now almost-vanished old desert Southwest by a highly accomplished artist who knew his subjects well and loved them deeply.
Price $6,250
Gerard Curtis Delano, circa 1970