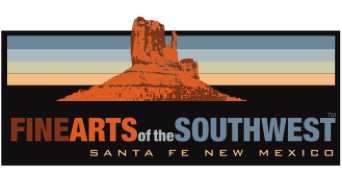 © 2010-2021 by Fine Arts of the Southwest, Inc. All rights reserved.
Unauthorized reproduction or use is strictly prohibited by law.

A mixed-media still-life painting by Gisella Lacher Loeffler, Taos, New Mexico, c.1940's-1950's
Austrian-born Gisella L. Loeffler's (1903-1977) whimsical and beautiful still-life paintings are among the most recognizable works by Taos Art Colony artists in the second half of the Twentieth Century. This piece, entitled "Beaded Indian dolls and silver jewelry" bears all the hallmarks of her distinctive and expressionistic style, profusely detailed, charmingly rendered still-lifes of the Native American artifacts she collected and of elaborately costumed Indian children and folk figures all depicted in a highly life-like and thoroughly delightful manner.
Her paintings and illustrations were always very popular in Taos, particularly among her close friends, such as Mabel Dodge Luhan. The painting is executed in watercolor, pencil and colored pencil and measures 11" by 11 1/4" (sight) and 18" by 18 1/4" (framed).
In addition to being titled along the right margin in the artist's hand, the painting is also signed "Gisella Loeffler, Taos, New Mexico" at the lower right. It is in excellent original condition and has been matted to the highest archival standards and framed in a hand-carved blonde wood frame under ultraviolet light-protective "Museum" conservation glass by Goldleaf Framemakers of Santa Fe.
Price $3,200