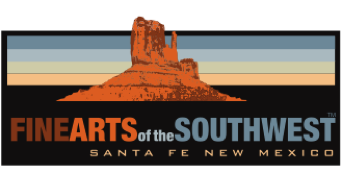 © 2010-2023 by Fine Arts of the Southwest, Inc. All rights reserved.
Unauthorized reproduction or use is strictly prohibited by law.
A contemporary Pueblo copper and turquoise
"Dragonfly" cuff bracelet by Greg Lewis
This beautiful bracelet has a whole lot of authentic goodness to it. Made from handwrought heavy copper the bracelet is crafted in the time honored and time-consuming traditional manner; with a beautifully hand-hammered
slab of heavy copper used to form the bracelet's shank then the shank being finely and sparingly decorated with
a beautifully rendered pictorial image of the sacred dragonfly; a creature sacred to the Pueblo people because of its close association with water and the fertility of the earth.
This is the talented Acoma/Laguna Pueblo jeweler Greg Lewis at his very best. Greg is one of the very few
Native American silversmiths today who works with copper, he loves it in fact, and he has been doing it ever since
he apprenticed for his Grandfather, the renowned Acoma Pueblo silversmith Alvin Concho Lewis who taught him
his craft and set him on his artistic path.
Like his traditionally-minded Grandfather, Third-generation Acoma-Laguna Pueblo silversmith Greg lewis (B.1954)
is an old-style fellow, he makes things like he was still living back in the 19th century and in a sense he still is.
He lives and works way out off the beaten path in the tiny Laguna Pueblo village of Paguate about 50 miles as the crow flies west of Albuquerque, New Mexico, under the shadow of the ancient volcano, Mount Taylor. He works in
his small stone house with handmade tools he mostly made himself and he makes his jewelry in the classic traditional manner in which he was taught. In recent years, Greg has often worked in conjunction with
his son and apprentice, Dyaami Lewis as he did on this piece.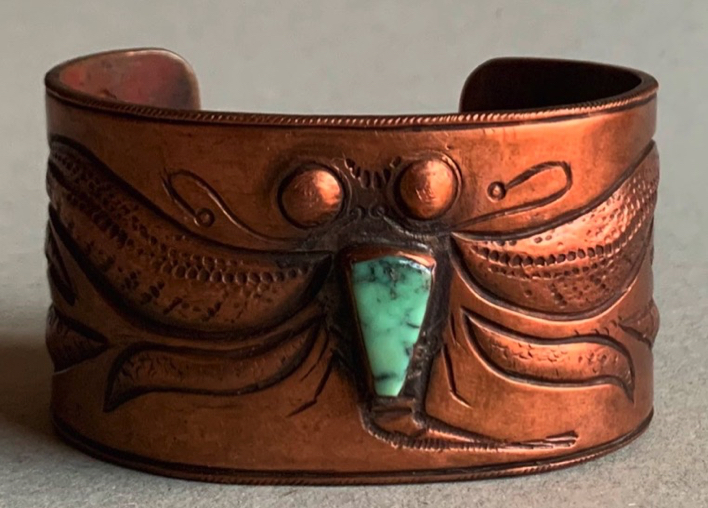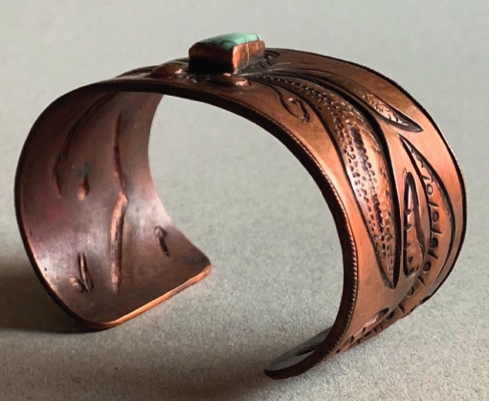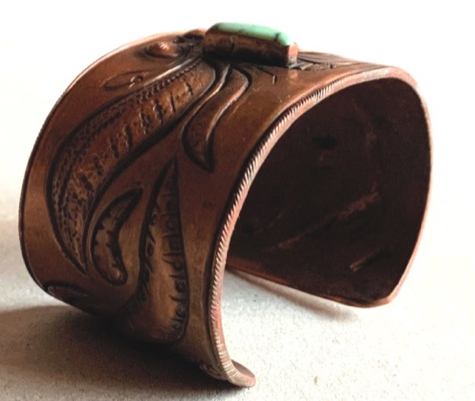 The bracelet's shank has been very elaborately repousseed or domed out to form the dragonfly's eyes and wings. The insect's wings are nicely textured with additional stampwork decoration. Fine chisel and stampwork is used to render the rest of the insects body, tail and antennae. The heart of the creature is formed by a beautiful triangularly-shaped piece of blueish-green turquoise with faint grey spiderwebbing which could very possibly be
from the New Lander Mine in Lander County, Nevada set in an old-style "foldover" type bezel. A nice finishing touch are the very finely filed top and bottom borders of the bracelet which extend all the way around the piece and
which nicely and subtly "frame" the central dragonfly image.
The bracelet measures 1 1/2" in width all the way around and the heavy copper shank is slightly over 1/16" in thickness. The inner circumference end-to-end is 5 7/8" and the gap between the terminals is 1 1/4" for a total inner circumference is 7 1/8". It weighs a substantial 101 grams or 3 1/2 ounces and it is in excellent original condition. The bracelet's terminals are very slightly misaligned which is of no real consequence and which only serves to underscore and highlight the completely handmade and somewhat rustic character of the piece.
The bracelet is properly signed on the interior with Greg Lewis' customary arrowhead hallmark, a cherished
hallmark he inherited from his Grandfather and there is also the circular punched hallmark of his talented son
and apprentice, Dyaami Lewis. We have had quite a few pieces of Greg Lewis' unique handwrought Pueblo jewelry over
the past 25 or so years that we have known him and we can say that this is one of the most striking looking and interesting pieces of his we have ever had, it's a beautiful and dynamic copper metal sculpture for your wrist.
SOLD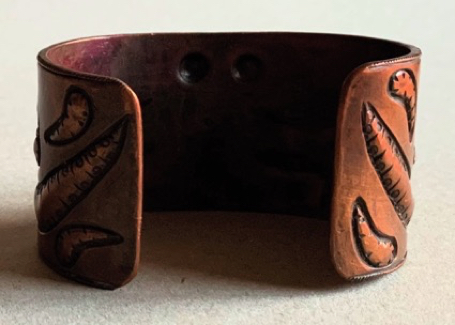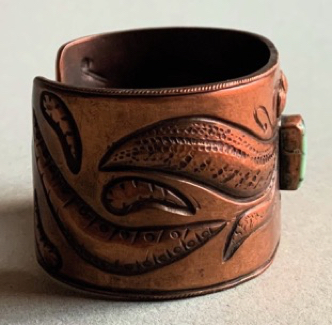 "I enjoy showing people my methods because they reflect the traditional
ways my grandfather taught me. It is very important that these time-honored
skills be kept in the family and passed on to future generations."
-Greg Lewis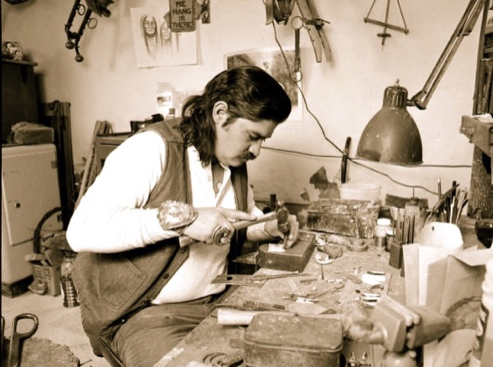 Greg Lewis making jewelry, Paguate Village, Laguna Pueblo, NM, c. 1976
Photo by Lee Marmon. Photo source and © Center for Southwest Research, University of New Mexico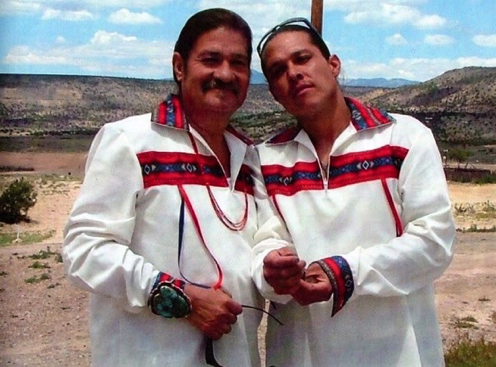 Greg Lewis, at left, and his son Dyaami Lewis, at right, c. 2008. Greg is still wearing the same bracelet as he was thirty-two years earlier in the photo at left.