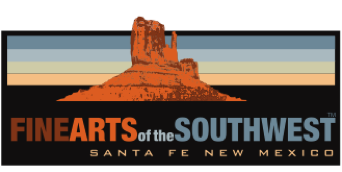 © 2010-2023 by Fine Arts of the Southwest, Inc. All rights reserved.
Unauthorized reproduction or use is strictly prohibited by law.
A contemporary, "old-style" ingot-silver
and turquoise cuff bracelet by Greg Lewis, Laguna Pueblo, NM, 2016
The talented third-generation Laguna Pueblo silversmith, Greg Lewis (1952-2021), was a traditional Native silversmith in the great old style whose work exhibits a consistently high level of quality and craftsmanship which you will seldom find on most modern-day pieces.
Greg learned his craft as a young man from his beloved Grandfather, renowned Acoma Pueblo silversmith, Alvin Concho Lewis (Active 1920's-1980), and he makes his silver in exactly the same way it was done at the turn of the last century using coin-silver, cast ingots, handmade tools, handmade stamps and restrained and classic tradational designs with the occasional humorous modern twist. If you didn't know better, you would swear that many of Greg's pieces were made over 100 years ago. It's so completely "old-style" that it's really difficult to believe it isn't really old. Some of the finest of all historic Southwest Native American silver work came from the hands of Pueblo silversmiths like Greg's Grandfather and with Greg's exceptional work and that of his talented son and apprentice, Dyaami Lewis, that still holds true today.
This wonderful bracelet is a fine example, with a substantial cast-ingot silver shank decorated with four small precisely repousseed diamond-shaped bump-outs and some elaborate, yet very restrained, stamp work designs all surrounding the single large centrally-placed blue-green, high-domed turquoise stone. There are also, interestingly, two tiny little stamped hearts, one near each terminal. The level of detailing and hand craftsmanship lavished upon this piece is remarkable; it's almost as if the piece was hand-carved from a block of silver. Interestingly, Greg chose to let some of his tooling and fashioning marks remain on the surface of the finished piece as opposed to buffing and polishing them all out which gives the bracelet a rustic and authentic hand-hewn character.
"I enjoy showing people my methods because they reflect the traditional
ways my grandfather taught me. It is very important that these time-honored
skills be kept in the family and passed onto future generations."
-Greg Lewis
Quotation source and © Four Winds Gallery, Pittsburgh, PA
This is a good-sized bracelet made for a good-sized wrist. The bracelet measures just under 1 1/2" in width all the way around and the silver is 1/8" in thickness. The bracelet's inner circumference end-to-end is 5 7/8" and the gap between
the terminals is 1 5/8" for a total interior circumference of 7 1/2". The bracelet weighs a very substantial 101 grams or
3 1/2 ounces, yet it sits very well and extremely comfortably on the wrist. The bracelet is in like-new original condition
and it is properly signed with Greg Lewis' customary arrowhead hallmark on the interior, a family hallmark that Greg's Grandfather originally created and started using over a century ago in 1922.
Sadly, Greg died recently in 2021 so there will be no more Greg Lewis pieces made, but his distinguished artistic legacy lives on with his talented son, Dyaami and in jewelry pieces like this one. This exceptional bracelet was made in 2016, but
it looks and feels for all intents and purposes like it was made back in 1916. It is a modern, yet completely classic piece.
SOLD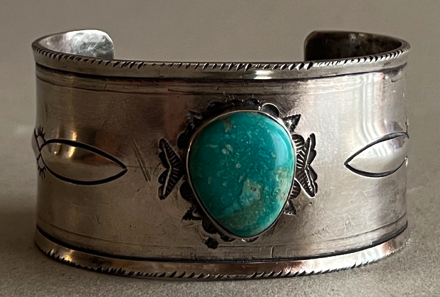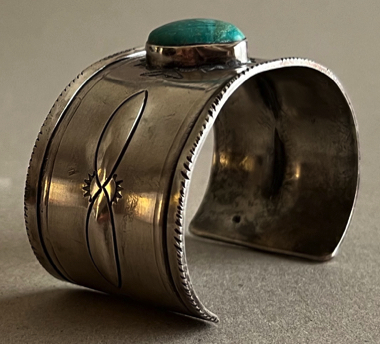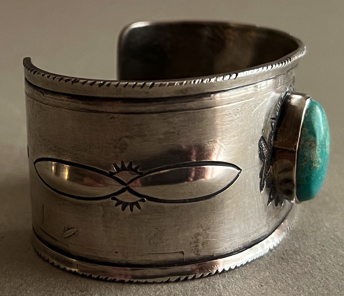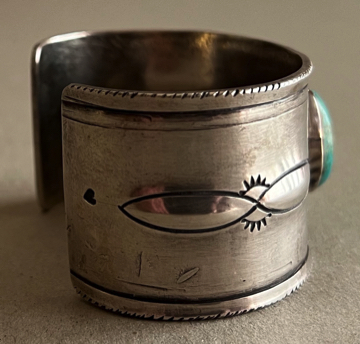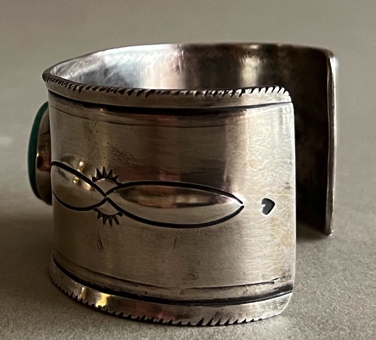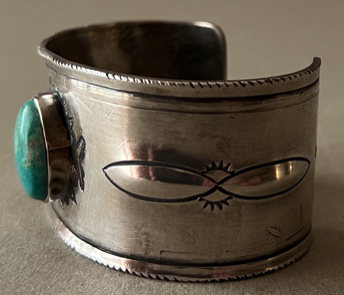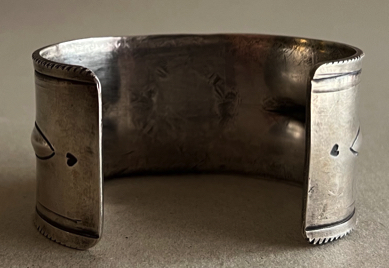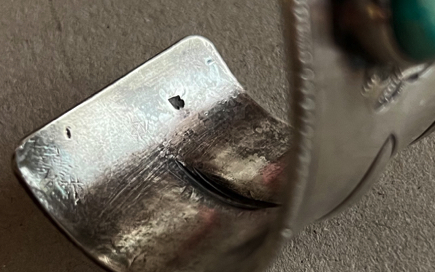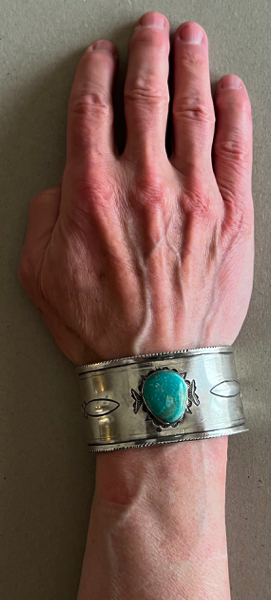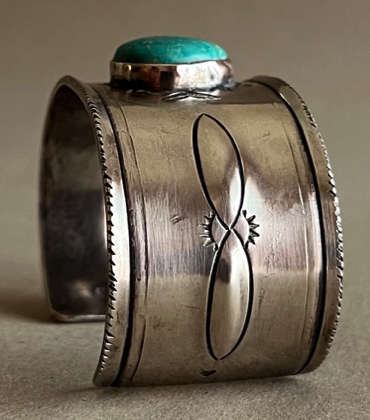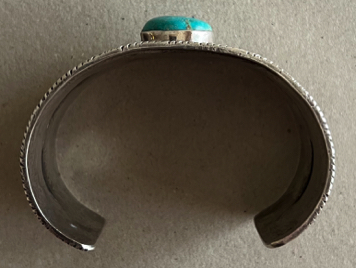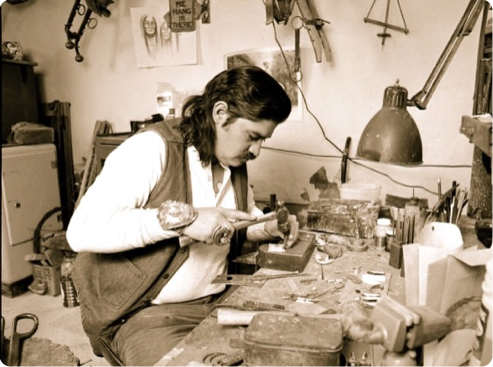 Greg Lewis making jewelry, Paguate Village, Laguna Pueblo, NM, c. 1976
Photo by Lee Marmon. Photo source and © Center for Southwest Research, University of New Mexico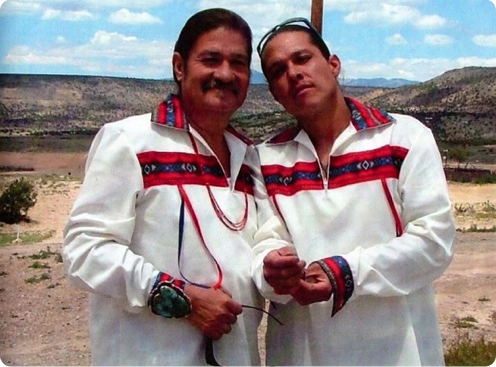 Greg Lewis, at left, and his son Dyaami Lewis, at right, c. 2008. Greg is still wearing the same bracelet as he was thirty-two years earlier in the photo at left.
Photo source and © Martha Struever